Glenn Beck spoke at a rally opposing the Iranian nuclear agreement on Wednesday, and on Thursday, he shared some of what happened behind the scenes that made him say "my gosh, we're grotesque."
"I get off the stage and somebody from, I think it was the Daily Mail or the Guardian from England, came right up to me right after my speech," Beck said on his radio program. "Now in my speech, I'm not talking about politics at all. I'm telling you, 'This is the moment of choosing, or our way of life and, quite honestly, we as Americans will be wiped clean off this land.'"
But Beck said the reporter's first reaction was: "Can you tell me what happens if Hillary Clinton is elected?"
"I looked at her and -- I mean, I was stunned," Beck related. "I don't even think I responded to her at first! I looked at her like, 'Am I in some sort of a fever dream right now? What is this conversation?' And I said, 'Excuse me? ... Did you listen to anything I just said? I have no idea what is going to happen with Hillary Clinton. We may not make it to Hillary Clinton! Are you that out of touch?'"
Beck compared the situation to desperately warning a World War II-era crowd that Jews are being rounded up and put in death camps, but reporters only care about whether Wendell Willkie gets elected.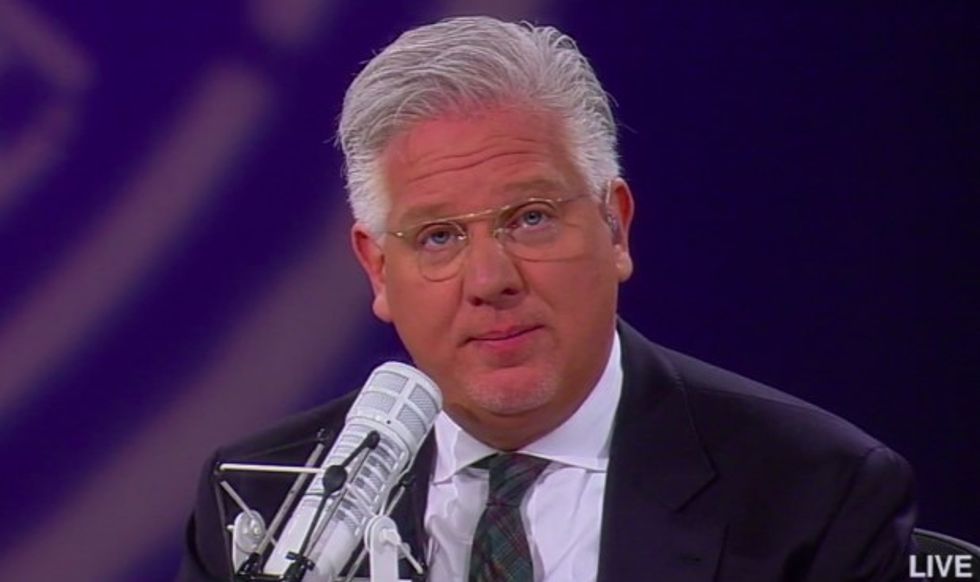 Glenn Beck speaks on his radio program June 8, 2015. (Photo: TheBlaze TV)
"Did you hear they're stuffing Jews into ovens? Did you hear that part?" Beck demanded. "That's the conversation we're supposed to be having right now! We're supposed to be having the conversation about, 'Do you know that they're raping children as young as six, as many as ten times a day? Do you realize they're crucifying people?' Crucifying people! You know that's going on right now, right? ... My gosh, we're grotesque."
Beck said other reporters asked him about what former Alaska Gov. Sarah Palin and Republican presidential candidate Donald Trump said, but he was much more concerned about the violence and persecution happening in the Middle East.
"I don't care what Sarah Palin says anymore. Sarah Palin has become a clown. I'm embarrassed that I was once for Sarah Palin. Honestly. I'm embarrassed," Beck said. "I don't know who she is anymore. I don't know what she stands for. I saw a clip of her talking to Donald Trump. What the hell is that?"
"Same thing with Donald Trump. You won't believe what happened with his people and my people yesterday," Beck said. "And I'm thinking, 'You're having this conversation while people are dying and we're talking about a deal that will vaporize millions of people? Really? We're having this petty conversation?'"
Beck said Trump expects him to personally call and "kiss the ring," which no one has ever asked Beck to do in his 35 years of broadcast.
"I'm telling you, dealing with Donald Trump is like dealing with a third grader. And I'm not dealing with a third grader anymore because the world is on fire," Beck said heatedly. "You want to come on the show, great. You don't want to come on the show, great. I don't really care. ... Enough of the third grade politics. Grow up, Donald Trump. Grow up."
The full episode of The Glenn Beck Program, along with many other live-streaming shows and thousands of hours of on-demand content, is available on just about any digital device. Click here to watch every Glenn Beck episode from the past 30 days for just $1!