Ted Cruz's presidential campaign has a teenage dream, and they hope the odds are ever in their favor.
In an exclusive interview with TheBlaze Monday, CJ Pearson, national chairman of Teens for Ted, unveiled the Republican presidential campaign's latest mission — target high school students, specifically 17- and 18-year-olds.
The Texas senator's "TFT 150" initiative, Pearson explained, is the campaign's latest goal to establish 150 pro-Cruz chapters on high school campuses nationwide by Dec. 30. These chapters will specifically target high schoolers who will be able to vote in the 2016 election, although those too young to vote in 2016 will still be able to join and volunteer with phone calls, signs and events.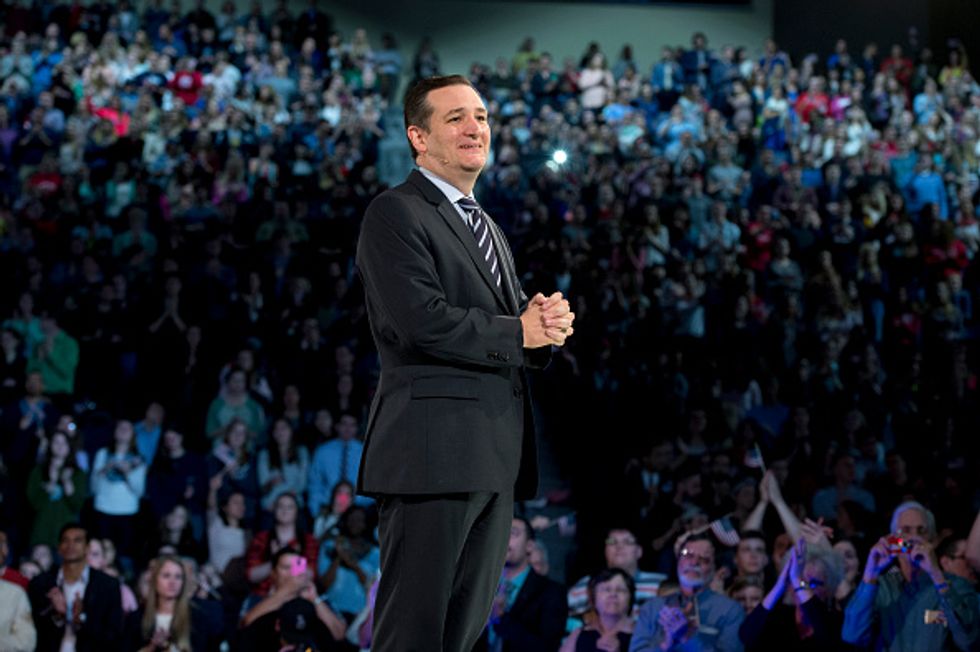 UNITED STATES - MARCH 23: Sen. Ted Cruz, R-Texas, speaks during a convocation at Liberty University's Vines Center in Lynchburg, Va., where he announced his candidacy for President of the United States, March 23, 2015. (Photo By Tom Williams/CQ Roll Call)
"We are the first campaign on both sides of the aisle thus far in the 2016 election specifically targeting teenage voters," Pearson, who is 13-years-old, told TheBlaze. "A reason why we have been one of the first campaigns to start engaging young people and targeting them and actively pursuing their support is because we believe we're not going to fall victim to what Mitt Romney did in 2012. If Mitt Romney would have split the youth vote 50-50 in four battleground states, he would be the President of the United States right now."
Pearson, who garnered national media attention when the black teenager was chosen for a leadership role within Cruz's campaign, told TheBlaze that he's so confident that they will meet their student group goal, that if they fail, he promised to resign his position.
Cruz's campaign believes high schoolers are move volatile, according to Pearson, as they can go with their parents to the polls in November 2016 and don't have to worry about remembering to send in an absentee ballot if they decide to travel outside of their voting district for college.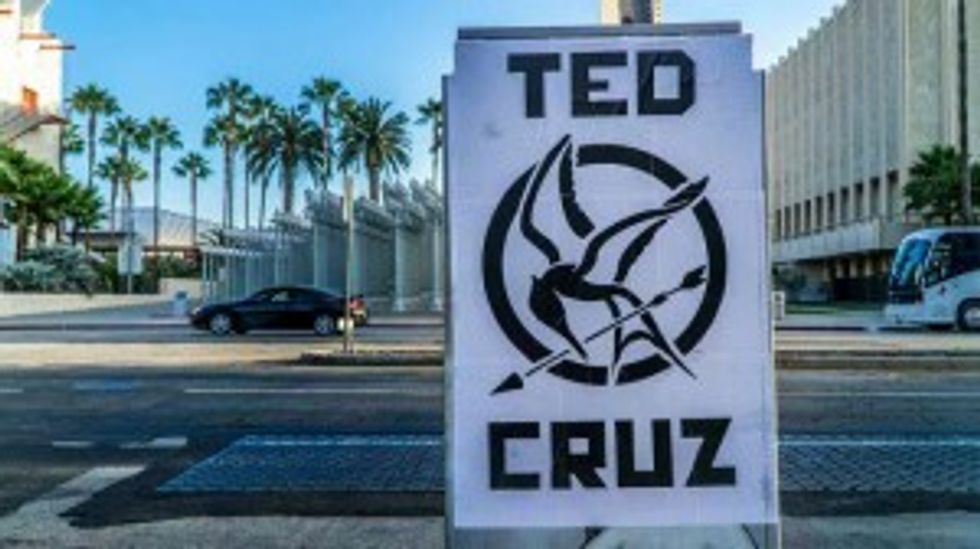 Ted Cruz's campaign released a series of posters to appeal to the younger demographic. (Image provided by CJ Pearson)
But in order to reach the high schoolers, it's important to speak in their language, Pearson said, before he turned Cruz into a "Hunger Games" analogy.
"In Washington, he's fighting against the establishment, but at the end of the day, I don't know of any teenagers that know what the establishment is and know what I mean when I say it. But what I can say is that Ted Cruz is basically the Rebellion, he's basically Katniss, he's basically Peeta," Pearson said.
According to data compiled by Project Vote, registration and voting rates among 18-year-olds compared to other ages within the youth category are low. In November 2008, the registration rate for 18-year-olds was 22 percentage points lower than the general voting-eligible population; the voting rate was 21 percentage points lower than the general voting-eligible population.
Cruz's college outreach initiative, Millennials for Cruz have 25 college chapters nationwide with no current initiatives in place for a rapid growth like the campaign's high school outreach, according to Pearson. Over the weekend, Republican Presidential candidate Sen. Rand Paul announced that his campaign had surpassed their goal of establishing 300 student groups on college campuses in 30 days. 
"Students for Rand is confident that we will be the only youth effort in the 2016 election that mobilizes students to take action. Many campaigns will tout youth support, but we will let the numbers do the talking," Cliff Maloney, the National Youth Director for SFR, told TheBlaze Monday evening. "339 college chapters in the first 30 days. When I say chapters I don't just mean leaders. I mean liberty warriors building an organization on their campus that will recruit, energize, and mobilize thousands of voters for Senator Rand Paul. On election day, we'll let numbers do the talking."
While high school students can be more apolitical, Pearson said they are looking for a "maverick," and Cruz's interactions with viral news outlets such as BuzzFeed and IJ Review have shown that he's "unorthodox" in a way that can relate to that younger demographic. And because Pearson said most teenagers aren't able to identify every single candidate who is running for president — especially with the Republican field as vast as it is — the Teens for Ted campaign is a way to feature Cruz as apart from the rest of the pack.
"It's one thing to have Ann Coulter talk about why she supports [Donald] Trump," Pearson said. "No one [16- or 17-years-old] that's really not involved in politics at this point is going to pay much attention to what Ann Coulter's saying. But let's change that. Let's put a teenager that is in their class and sitting right next to them most of the day in a Ted Cruz t-shirt." 
Pearson was named to his national chairman position with Cruz's campaign at the beginning of September, but as early as April 28, he was endorsing Paul for the Republican presidential nomination. That video has since been removed from YouTube.