He's gone from playing Martin Luther King Jr. in last year's "Selma" to starring as a convicted murderer who massacred a courthouse. No matter the subject, actor David Oyelowo said his four kids are his biggest consideration for his roles.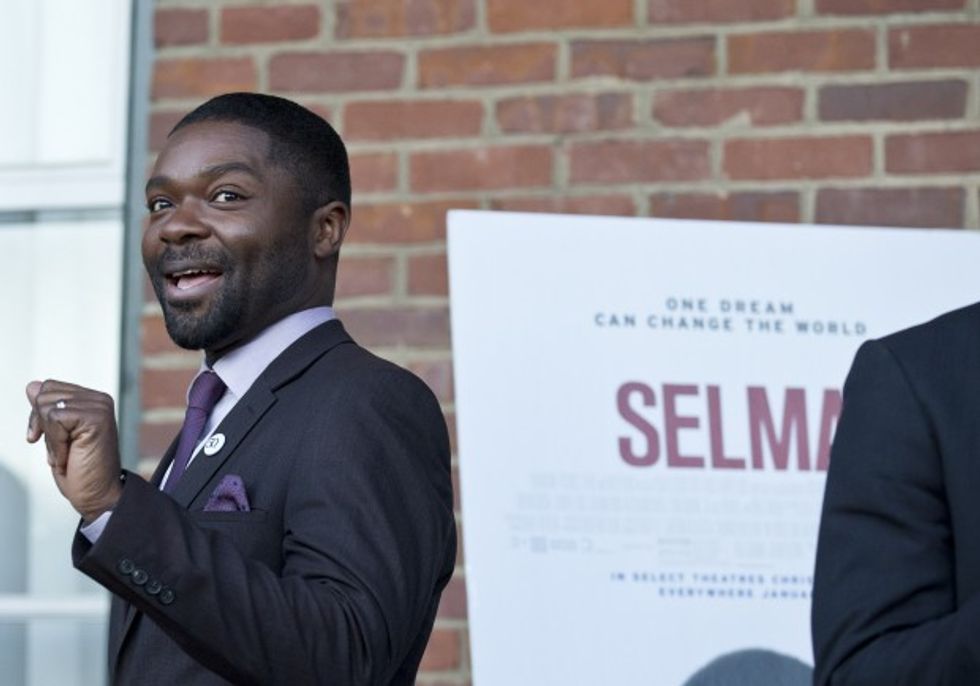 David Oyelowo, who portrays Martin Luther King Jr. in the movie "Selma," just before marching to the Edmund Pettus Bridge in honor of Martin Luther King Jr., Jan. 18, 2015, in Selma, Ala. (AP Photo/Brynn Anderson)
"I have four children, and I'm trying to raise them in a certain way, with certain values," Oyelowo, who stars as Brian Nichols in the new film "Captive," told TheBlaze on Monday. "I don't want the values I teach them to contradict the work I do."
The British actor, who is a Christian, said he regularly turns down roles that don't fit his personal moral framework. While these projects might not be bad films per se, he's always looking to make sure that he's choosing movies that hold a special meaning in some way.
"I've never really regretted turning anything down," Oyelowo said. "I think about it long and hard. I pray about it. It's never a light decision."
He's most interested in "redemption" story lines and plots in which "light" is "able to overwhelm" — projects that hold the power to leave the audience with some positive or uplifting sentiment.
"I don't shy away from dark roles, but don't gravitate toward films that glamorize or glorify darkness," he said. "I'm not interested in leaving audiences bereft of hope."
Oyelowo believes that faith should govern all aspects of his life, and said that having authentic religious beliefs hasn't been a barrier in Hollywood. He said taking a non-judgmental approach and instead acting through love generally yields respect from others.
"People respect it, accommodate it and actually gravitate toward it," he said. "If it's authentic, it's what people admire."
Oyelowo said that he's specifically interested in roles that challenge him and offer a fair bit of complexity — something that he said was offered with his portrayal of Nichols, a man who murdered four people in a real-life killing spree in Atlanta in 2005.
"I don't think that there's much artistic merit to be gained by keeping it safe. That's where a long career lies, that's where you continue to grow as an actor," he said. "In playing Brian Nichols, I was very far outside of my comfort zone. I'm looking for those unchartered territories."
One of the biggest challenges in playing the role, Oyelowo said, was trying to dive into the character of a man responsible for such carnage.
"As an actor, part of your job is to be able to inhabit the headspace of [a character]," he said. With Nichols, this was not a comfortable place to be.
But the biggest challenge was trying to balance how to humanize Nichols without crossing a line into providing an exoneration of his actions.
"I think the big challenge was literally — you can't play a role like Brian without giving him a level of dimension, and there is a danger with that, because what you don't want to do is to seem like you're excusing the character by what they did," Oyelowo said. "By making them someone who potentially would evoke empathy, there is a real danger that it's an attempt at exoneration."
"Captive" tells the real-life story of Ashley Smith Robinson, a woman whom Nichols held hostage after randomly selecting her apartment to hide out in after the courthouse murders.
At the time, Robinson had been desperately trying to stay clean from drugs, working to put the torn pieces of her life back together; she told TheBlaze back in June that the ordeal in her home has had a profound impact on her life.
"It was really honestly like God … said, 'This is it. This is your life … either you choose to do these drugs and your life is over and you choose not to and you can't imagine what I have in store for you,'" said Robinson, who is portrayed in the film by Kate Mara. "I really saw God was asking me really clear: 'Do you want to live or die?'"
Robinson gained Nichols' trust over the course of that fateful night, reading selections from Rick Warren's "The Purpose Driven Life," to which he was receptive. Hours passed and she convinced him to let her make good on plans she had to see her daughter that next morning, who was in her aunt's custody at the time.
Nichols allowed her to leave, so long as she agreed to return to the house afterward; she phoned the police immediately after leaving her apartment. Nichols was subsequently arrested and is spending his life behind bars, but the lessons that Robinson learned that night have not escaped her, as she continues to publicly and privately process what unfolded.
Oyelowo is hoping that viewers of "Captive" will see themselves through Robinson and her story.
"We've all had things that we're captive to ... we know we could have made better choices," he said. "Everyone wants a knowledge and a notion of the fact that you can make a bad situation into a better situation, especially using the experience you have learned to move forward."
"Captive" hits theaters nationwide on Sept. 18.