© 2023 Blaze Media LLC. All rights reserved.
New Undercover Planned Parenthood Video Claims to Feature Top-Level Execs: Some Clinics 'Generate a Fair Amount of Income Doing This
"The headlines would be a disaster."
A pro-life, medical ethics group has released the 10th video in an ongoing undercover and investigative series that purports to show that Planned Parenthood sells organs and tissue from aborted fetuses.
The latest video includes comments from Deborah VanDerhei, director of Planned Parenthood's Consortium of Abortion Providers, in which she says that some "independent colleagues...generate a fair amount of income," according to the Center for Medical Progress. 
VanDerhei was seemingly speaking here about clinics that are unaffiliated with Planned Parenthood, going on to say that tissue can be extremely beneficial for these organizations.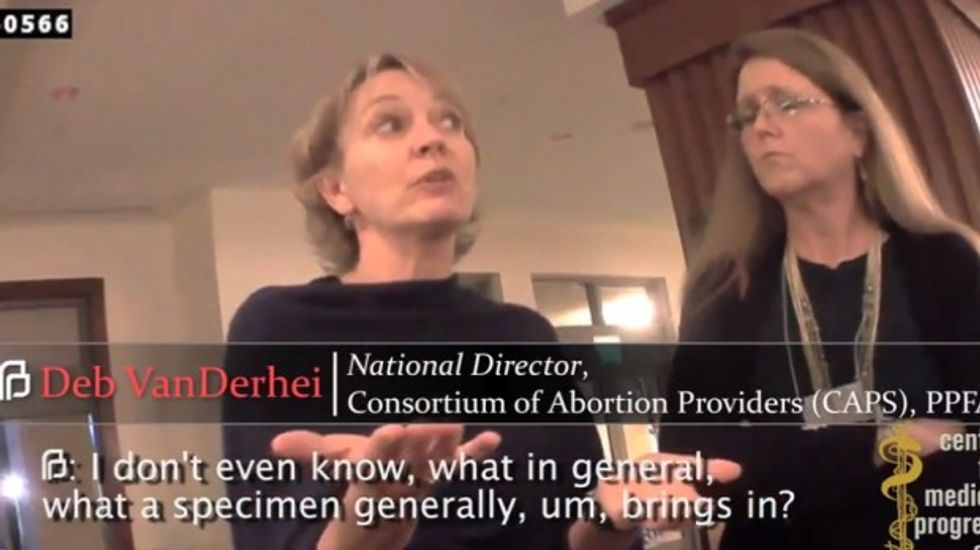 Center for Medical Progress
"If they have smaller margins or don't have the ability to fundraise because they are not a nonprofit, that's really helpful," she told undercover pro-life activists posing as tissue buyers.
As for clinics that are affiliated with Planned Parenthood, VanDerhei said that her organization is cautious, telling them to think carefully about entering into fetal tissue agreements.
She repeatedly noted that it was a sensitive subject — one that Planned Parenthood has been carefully navigating.
"I have been talking to the executive director of the National Abortion Federation. We're trying to figure this out as an industry, about how we're going to manage remuneration," VanDerhei said in an undercover clip. "Because the headlines would be a disaster."
When creating policies on the matter, VanDerhei said that Planned Parenthood encourages affiliates to "think 'New York Times headline'" when making such considerations. She also said at another point that staffers are "not that comfortable" talking about these issues via email and would, instead, "want to have the conversation in person."
In a separate conversation, Dr. Carolyn Westhoff, senior medical advisor for Planned Parenthood, described the types of tissues that the organization has been dealing with.
"We've just been working with people who want particular tissues, like, you know, they want cardiac, or they want eyes, or they want neural," she said, according to the Center for Medical Progress. "Certainly, everything we provide — oh, gonads! Oh my God, gonads. Everything we provide is fresh."
Westhoff also warned of the potential for a "huge P.R. disaster" if not handled correctly.
Watch the video below (caution: graphic):
VanDerhei and Dr. Deborah Nucatola, Planned Parenthood Federation of America's senior director of medical services, are both seemingly shown in the video stating that Planned Parenthood purposefully has no set policy on tissue procurement.
"We don't have a policy per se, and that is by choice," Nucatola said. "So, for now, that's the way it will be."
This video is the 10th overall release and the fourth documentary in an ongoing "Human Capital" video series that is being released by the pro-life group.
This is a breaking news story. Stay tuned for updates.
Follow the author of this story on Twitter and Facebook:
Want to leave a tip?
We answer to you. Help keep our content free of advertisers and big tech censorship by leaving a tip today.
more stories
Sign up for the Blaze newsletter
By signing up, you agree to our
Privacy Policy
and
Terms of Use
, and agree to receive content that may sometimes include advertisements. You may opt out at any time.