© 2023 Blaze Media LLC. All rights reserved.
Football Coach Started Praying at the 50-Yard Line and Inspired His Players and Opponents to Do the Same. Now, He's Being Investigated.
"People can believe whatever they want. I'm just exercising my right."
A high school football coach is reportedly being investigated for praying on the field after every game — a scenario that has motivated scores of locals in his community to come out and support him amid uncertainty.
Joe Kennedy, a football coach at Bremerton High School in Bremerton, Washington, told KING-TV that he routinely prays on the 50-yard line, thanking God for each and every one of his players.
But while he's sometimes alone when he appeals to the Almighty, students and players often join him — and that has apparently sparked some controversy.
A Facebook event page setup in honor and support of Coach Joe Kennedy
"I never asked anyone. They just all showed up one day and the next thing I know, the other team was showing up with us," Kennedy said. "I spent 20 years in the Marine Corps, and it's been about protecting the freedom of other people. It's about the freedom, and people can believe whatever they want. I'm just exercising my right."
It is unclear what sparked the investigation, though the Freedom From Religion Foundation, an atheist activist group, has been active of late in going after coach-led prayer, among other perceived constitutional violations; a request for comment from the Freedom From Religion Foundation has not yet been returned.
Bremerton School District superintendent Aaron Leavell released a statement on Tuesday, declaring that the district has an "obligation to protect the rights of all students and staff, including those fundamental rights protected by the First Amendment."
It then goes on to detail district policy when it comes to public employees who exhibit religious behavior and activities on the job. That policy reads as follows:
"As a matter of individual liberty, a student may of his/her own volition engage in private, non-disruptive prayer at any time not in conflict with learning activities. School staff shall neither encourage nor discourage a student from engaging in non-disruptive oral or silent prayer or any other form of devotional activity."
The letter explains that the district has not yet taken any action and expects to conclude its investigation by the end of the week. As for Kennedy, when it comes to his job he told KING-TV that he isn't worried about "all that nonsense" and that his concern is the kids he serves.
"It's not about what my beliefs are, it's about believing in each other," he said. "It's about the sport that we love."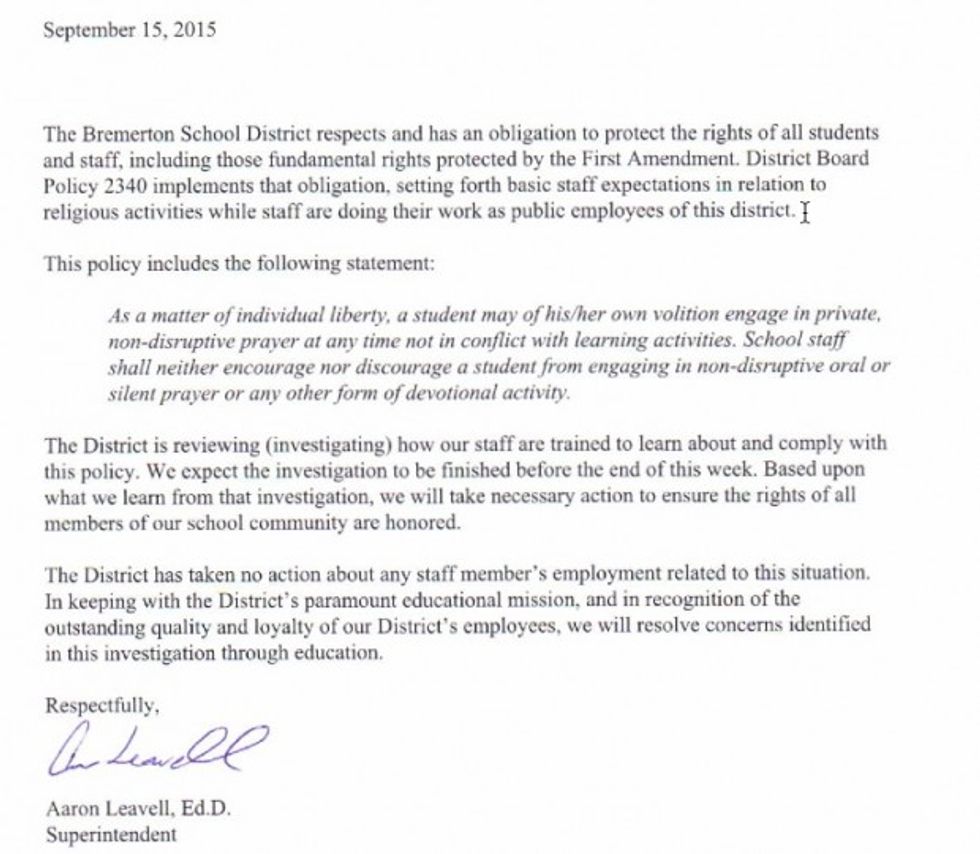 Bremerton School District
A rally to support the coach will attract at least 1,400 people on Friday, according to a Facebook event page.
(H/T: KING-TV)
--
Front page image via Shutterstock.com.
Follow the author of this story on Twitter and Facebook:
Want to leave a tip?
We answer to you. Help keep our content free of advertisers and big tech censorship by leaving a tip today.
more stories
Sign up for the Blaze newsletter
By signing up, you agree to our
Privacy Policy
and
Terms of Use
, and agree to receive content that may sometimes include advertisements. You may opt out at any time.