An escape artist was taken to the hospital Tuesday afternoon after he nearly drowned during a publicity stunt.
Spencer Horsman, along with other escape artists including Criss Angel, was performing for a crowd outside New Jersey's State Theater to advertise for the magicians' upcoming shows, "The Supernaturalists." However, the free show came to a premature end when Horsman had to be rescued from a locked box filled with water.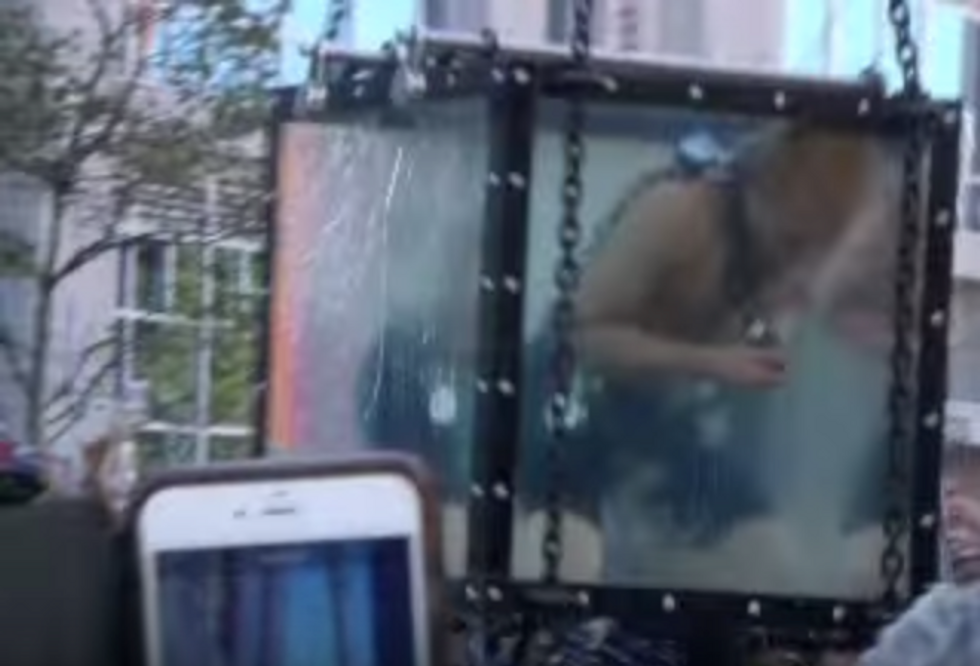 Image source: YouTube
In the "Water Torture Cell" stunt, which Angel designed, Horsman was locked in a glass box filled with water and hoisted in the air by a crane. The magician must pick a series of locks in order to escape from the glass cube, a task Horsman couldn't complete.
According to New Brunswick Today, after time ran out for Horsman to complete the stunt, the crane lowered him to the ground as emergency personnel extracted him from the box. Horsman was conscious when he was loaded on a stretcher and taken away by an ambulance to Robert Wood Johnson Medical Center, according to WNBC-TV.
Tuesday's event wasn't the first time Horsman has had to be rescued from the "Water Torture Cell." Performing in Connecticut in June, Horsman lost consciousness during the stunt in a dress rehearsal and had to be rescued by Angel and other stagehands.
The New Brunswick Today reported that Angel has said Harry Houdini would not be able to perform a stunt so dangerous if he were still alive.
"I am sorry that the outcome was not as planned, and we continue to await Spencer's evaluation. Thank you for your thoughts and prayers," Angel said in a statement released by the theater, according to the Asbury Park Press.
Early Wednesday morning, Angel tweeted that Horsman was "recovering well."
.@SpencerHorsman recovering well. pic.twitter.com/IIUljx6nvG

— Criss Angel (@CrissAngel) September 16, 2015
New Brunswick Today reported that the upcoming shows at the State Theater are expected to continue as planned.