MSNBC host Rachel Maddow said Wednesday that Donald Trump is either "in on some kind of scheme" or "just got duped and taken for a ride."
Maddow's charge, delivered the same night that the Republican presidential candidates debated one another for the second time, was referring to a speech Trump delivered a day earlier aboard the USS Iowa battleship to raise money for a veterans organization whose nonprofit status was revoked by the IRS.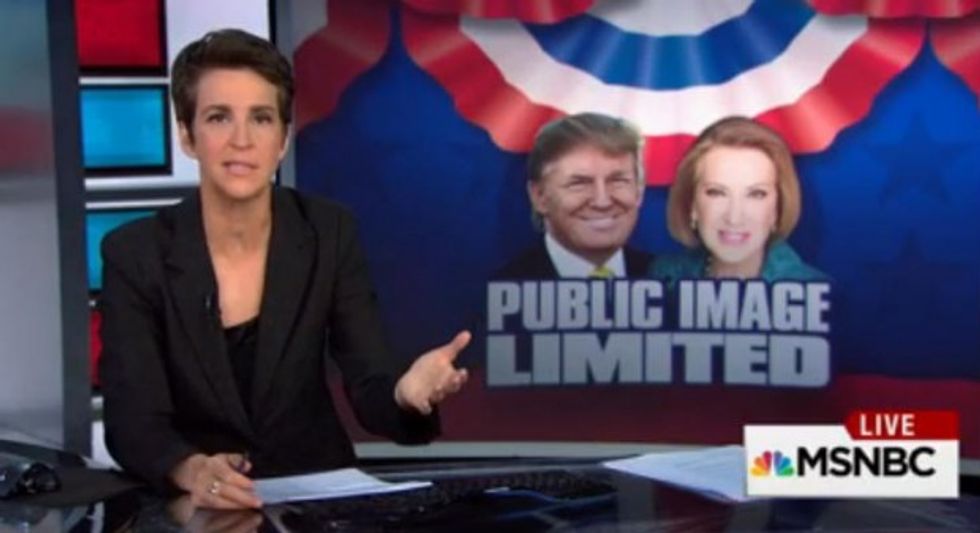 Image source: MSNBC
In addition to the organization's lack of nonprofit status, Maddow said Veterans for a Strong America chairman Joel Arends appears to be its only member, raising even more questions about Trump's claim on board the battleship that the group has "hundreds of thousands" of members.
"Something just didn't seem right about Donald Trump calling this a group with hundreds of thousands of people and doing this big high-profile fundraiser for them," Maddow said. "But now that we know more about this group – or this guy, which appears to be the whole group – it now seems clear that Donald Trump and his campaign are either in on some kind of scheme with this group that is not a nonprofit or Donald Trump and his campaign just got duped and taken for a ride by a guy who you could suss out pretty easily with literally a page of Googling in 30 spare seconds."
U.S. law prohibits outside candidates from coordinating events with outside groups and limits the amount of money corporations can spend on endorsements.
"You can do what you want so long as you're independent. But if the FEC finds coordination, a whole lot of rules kick in," former FEC attorney Kenneth Gross, who currently works for Skadden, Arps, Slate Meagher & Flom LLP in Washington, D.C., told the Associated Press.
But when asked about the legality of the event on Tuesday, the Trump campaign denied that there was ever an issue.
"The FEC has ruled that a candidate may attend, speak at, and be a featured guest at such events," the Trump campaign said in a statement.
Arends also dismissed legal questions, telling the AP, "We've got top national election law attorneys that advise and consult with us."
–
Follow Jon Street (@JonStreet) on Twitter