A Georgia sheriff is speaking out against anti-police rhetoric for the first time since riots and protests erupted in Ferguson, Missouri, last year – and he's holding nothing back.
Gwinnett County Sheriff Butch Conway spoke with reporters on Wednesday, one day after the Atlanta Journal Constitution published what it called a "scathing" essay in defense of law enforcement officers facing racism allegations from "hate groups" and "domestic terrorists."
"I was embarrassed that I hadn't said something sooner because I think people expect me to tell them what I think of something," Conway said Wednesday, according to WSB-AM.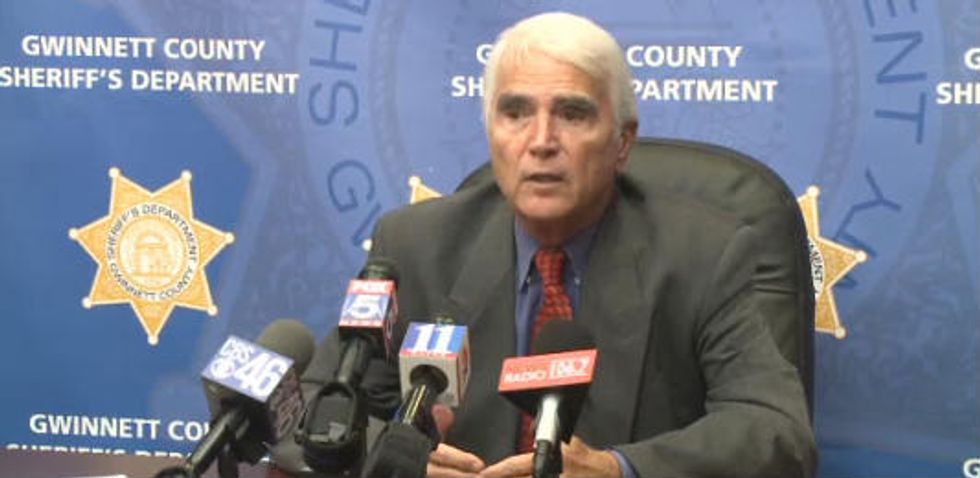 Image source: WXIA-TV
Conway used the address the clarify his comments, especially his use of "all lives matter." The sheriff faced harsh criticism from Black Lives Matter supporters, who claimed the sheriff's statements were targeting them.
"Nowhere in that statement does it say Black Lives Matter, and if that's a legitimate group and they want to talk to me, I'd love to talk to them," Conway said WABE-FM reported.
Conway said he received mostly positive feedback from his op-ed, but acknowledged that he was surprised by some of the negative comments.
"Even this story, I saw a comment on Facebook… where it says, 'if you keep acting like you do, we're going to keep killing cops,'" Conway said, WSB-AM reported.
Conway wrote at the beginning of his op-ed that "I can no longer remain silent" about the "senseless killing" of police officers around the country in recent months.
"These hate groups are using the excuse that they have been mistreated by police to justify their actions. If someone feels they have been wronged by a law enforcement officer, there are clear avenues to pursue it through legal means," Conway wrote. "There is no justification for assaulting or murdering law enforcement officers."
Conway added that those who incite riots and kill police officers are "domestic terrorists" who carry the message that police lives don't matter, which "sounds like a hate group."
"It should be concerning to every law abiding citizen that respect for the badge and for those who wear one is diminishing because respect for the law is the structure of a civilized society," Conway wrote.
Read the sheriff's entire op-ed here.
–
Follow Jon Street (@JonStreet) on Twitter