A South Carolina father was left stunned by the social studies homework assignment his fifth-grade son brought home from school Wednesday.
"It blowed my mind," Eric Robinson told WHNS-TV.
[sharequote align="center"]"It blowed my mind."[/sharequote]
Robinson's teacher, who attends Clinton Elementary School, handed her class an assignment seemingly asking for students to create a wanted poster for a Ku Klux Klan member.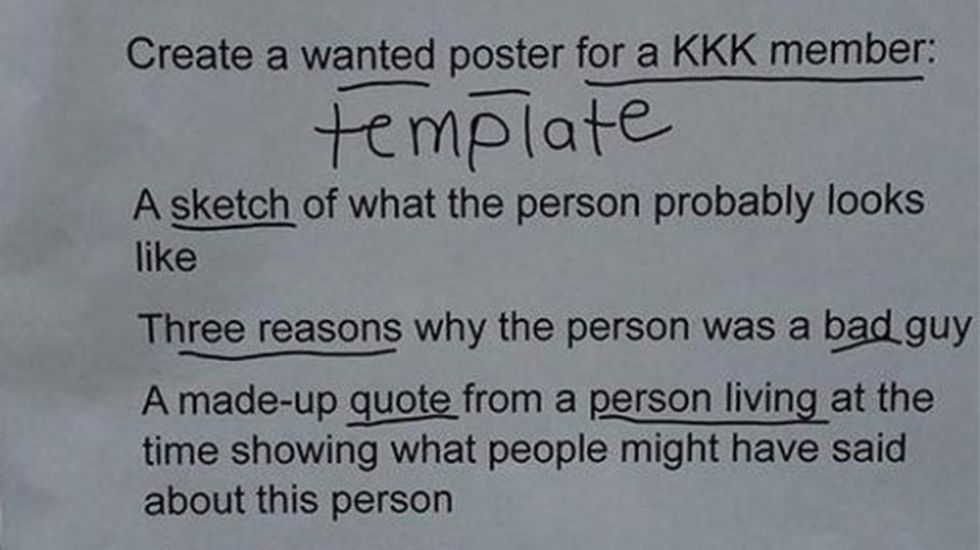 Image source: WHNS-TV
According to the school district's superintendent, David O'Shields, the assignment was aimed at fulfilling a state requirement to teach students that the KKK was a hate-group that encouraged violence against black Americans.
Robinson, who contended the homework could have ignited racial tension, said the assignment was still inappropriate.
"It's okay to teach kids about hate groups ... but to me she went too far with it," Robinson told WHNS.
WHNS reported that school officials talked to the teacher about the assignment. School officials then contacted Robinson to talk things over and he was satisfied with the steps taken.
Students won't have to complete the assignment.
—
Follow the author of this story on Twitter and Facebook: