COLUMBIA, S.C. (TheBlaze/AP) -- The friend of Dylann Roof, the man accused of shooting and killing nine black churchgoers in Charleston in June, pleaded not guilty to charges of lying to authorities and concealing information about the crime.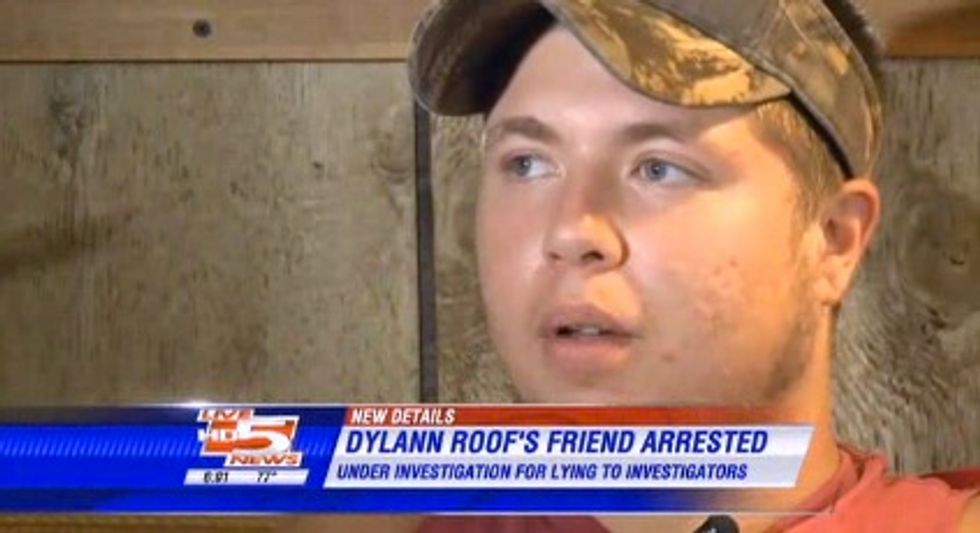 Joey Meek (Image source: WCSC-TV)
Joey Meek, a 21-year-old who said in media reports after the shooting that he had recently reconnected with Roof and recounted how Roof had said he had a "plan" and complained about "blacks taking over the world," pleaded not guilty before a federal magistrate in Columbia on Friday.
The magistrate set a bond of $100,000. It was not immediately clear if he would be able to make bail.
Meek is accused of knowing what Roof was planning June 17 in Charleston and failing to tell anyone about it. He also is accused of lying about the situation when he was questioned. The specific charges are misprision of a felony and making false statements.
"Meek is alleged to have taken steps to conceal his knowledge of the crimes committed by Dylann Storm Roof, and to have made materially false statements when Meek told a Special Agent of the FBI that he did not know specifics of Roof's plan to shoot individuals on a Wednesday, during Bible Study, at an AME Church in Charleston, South Carolina, prior to Roof's attack on June 17, 2015," a news release from the Justice Department stated. "The misprision count carries up to three years in prison and the false statement charge carries up to five years in prison."
Meek answered standard questions from the judge Friday, while several family members, including his mother and one of his brothers, sat behind him in court.
His mother would not talk with reporters after the hearing.
Meek was arrested Thursday. He had been informed more than a month ago that he was under federal investigation.
—