Sen. Bernie Sanders discussed his multiple labels with "The Late Show" host Stephen Colbert Friday night, specifically addressing comparisons voters have made between him and Republican presidential frontrunner Donald Trump.
Colbert asked Sanders what he thought about people comparing him to Trump and calling him the "Democratic Trump" as the two candidates appeal to voters' general anger. Sanders, who is leading polls among the Democratic presidential candidates in Iowa and New Hampshire, disagreed with the comparison and slammed Trump for previous comments he has made calling Mexican immigrants rapists or criminals.
"That's the same old that's been going on in this country for a very long time. You target some group of people and you go after them and you take people's anger and you turn it against them and you win votes on that. I think that is disgraceful and not something we should be doing in 2015," Sanders said.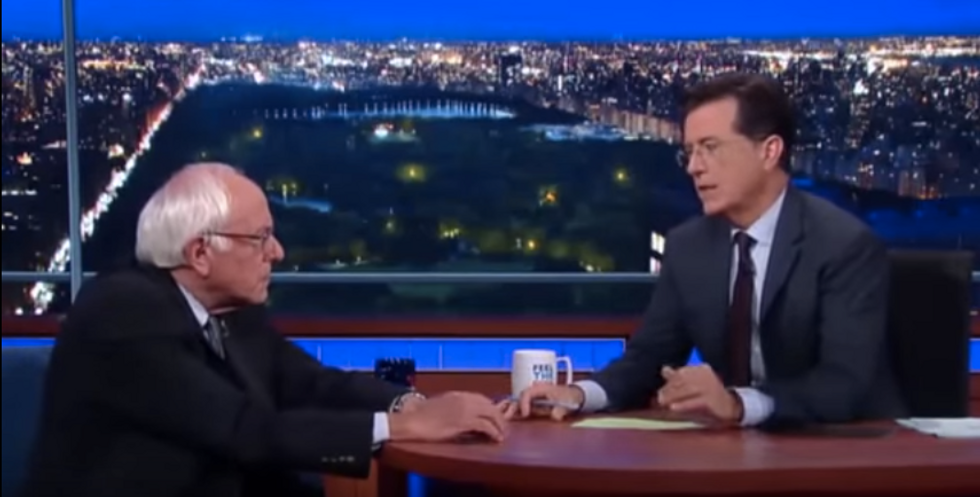 Image source: YouTube
"I think that what Trump is doing is appealing to the baser instincts among us — xenophobia and frankly, racism," Sanders said.
Sanders said his message is different in that his "vision" for the country "goes beyond telling us that we have to hate a group of people"
"What I am talking is saying that in the wealthiest country in the history of the world, there are extraordinary things that we can do when people come together — black and white and gay and straight — and demand the government start working for all of us, not just the few," he said. 
The Vermont senator said he disagreed with any comparison of him to any candidate who might be popular among Democrats but could not win an election. Sanders said polls show that he is doing better than Clinton when matched up with Republican presidential candidates.
Watch Sanders' segment on CBS' "The Late Show" below.