Sen. Rand Paul won the presidential straw poll at the Mackinac Republican Leadership Conference, his campaign announced late Saturday night.
More than 2,000 people attended the conference held at Mackinac Island, Michigan — a quaint island in northern Michigan void of cars yet teeming with horse and buggies. In a statement, Paul's campaign said the biannual MRLC straw poll is the largest pre-caucus poll now due to the cancellation of the Iowa Straw Poll.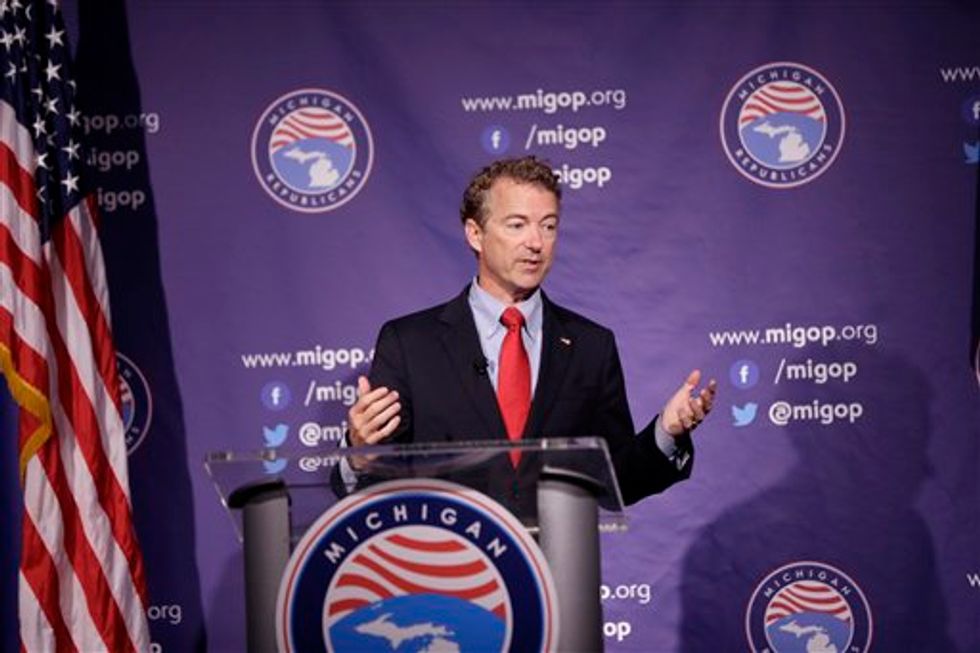 Republican presidential candidate, Sen. Rand Paul, R-Ky., addresses the 2016 Mackinac Republican Leadership Conference, Saturday, Sept. 19, 2015, in Mackinac Island, Mich. (AP Photo/Carlos Osorio)
"It is an honor to win the MRLC straw poll as it is voted on by the most influential Michigan GOP members, grassroots leaders and party activists from throughout the country," Paul said in a statement.
As the Detroit Free Press reported, Paul's win was the second for the Kentucky senator in two years. Paul was also the only presidential candidate who attended the gathering when it was last held in 2013 and this year. Former Republican presidential nominee Mitt Romney won the poll in 2011.
Paul received 22 percent of the vote with Carly Fiorina close behind with 15 percent. Ohio Gov. John Kasich had 14 percent, Texas Sen. Ted Cruz had 13 percent, former Florida Gov. Jeb Bush had 9.7 percent, Florida Sen. Marco Rubio with 8.4 percent, Donald Trump with 6.8 percent, Dr. Ben Carson with 5.5 percent and Wisconsin Gov. Scott Walker with 2.6 percent.
The Detroit Free Press reported that other candidates had less than 1 percent.
Bush, Cruz, Fiorina, Kasich and Paul were the only five candidate who spoke at the conference.
According to the Washington Examiner, Paul's speech was "lively and well-received" as he blasted Democratic presidential candidate Hillary Clinton for her "damn shenanigans" during his keynote address.
John Yob, a Grand Rapids consultant and Paul's national political director, told the Free Press that other campaigns spent a lot of money to attempt to improve their candidates' poll numbers.
"That's what organizational contests are all about," Yob, who was reportedly involved in a minor scuffle with a Rubio staffer during the conference, said. "Rand Paul is going to over-perform in organizational contests around the country."
Paul was also the winner of the 2015 Conservative Political Action Conference straw poll in February.