Researchers have released their first crack at a "tree of life" that depicts what they say is the relationship and  evolution of 2.3 billion species over a 3.5-billion-year timeline.
The circular tree of life comes from a collaborative effort of 10 institutions and, according to researchers, is the first time such a an all-encompassing tree of life has been created. They say though that the tree is a work in progress and they're making it available online for anyone to use and edit, similar to Wikipedia.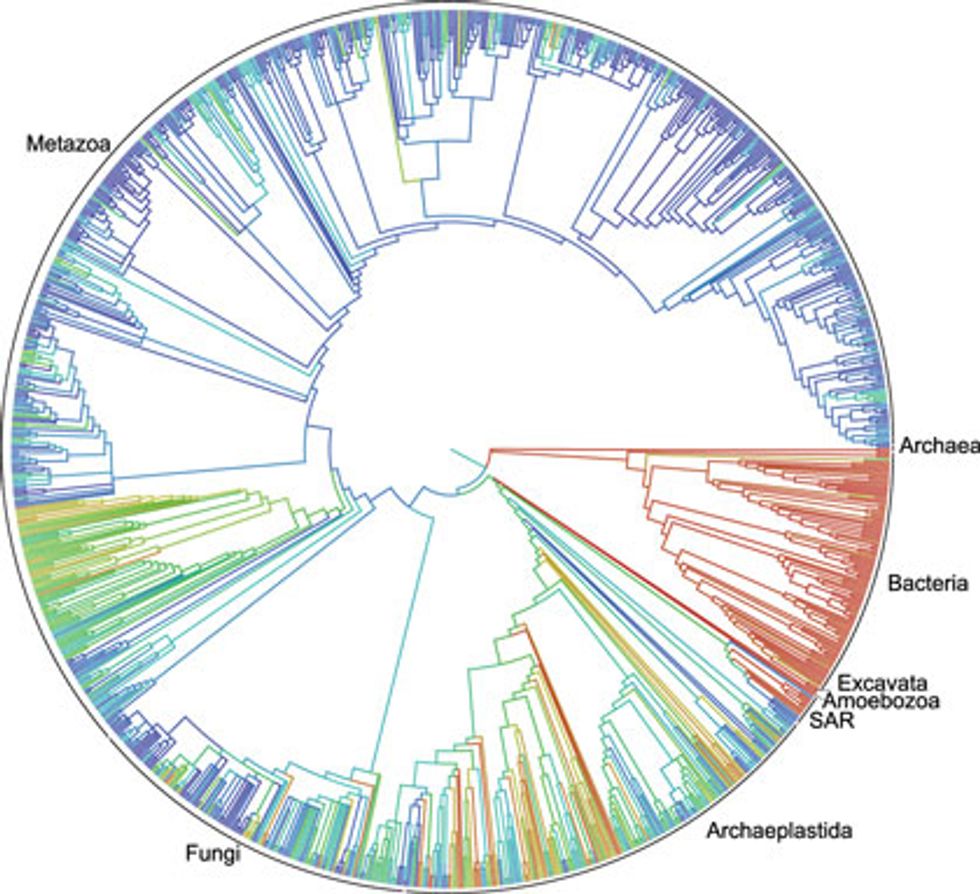 Image source: Duke University
"This is the first real attempt to connect the dots and put it all together," principal investigator Karen Cranston with Duke University said in a statement. "Think of it as Version 1.0."
Officially dubbed the "Open Tree of Life," it is described on its website as a "comprehensive, dynamic and digitally-available tree of life [created] by synthesizing published phylogenetic trees along with taxonomic data."
Acknowledging that thousands of smaller trees have been built in the past, these researchers pieced together 500 trees in this first draft at a more thorough work:
To map trees from different sources to the branches and twigs of a single supertree, one of the biggest challenges was simply accounting for the name changes, alternate names, common misspellings and abbreviations for each species. The eastern red bat, for example, is often listed under two scientific names, Lasiurus borealis and Nycteris borealis. Spiny anteaters once shared their scientific name with a group of moray eels
Going forward to further build out and refine this more comprehensive tree, a news release on the draft explained that one major challenge is that most evolutionary trees are not published in a digitally friendly format.
"As important as showing what we do know about relationships, this first tree of life is also important in revealing what we don't know," co-author Douglas Soltis of the University of Florida said in a statement.
The researchers are developing software to allow others to update the tree.
"Twenty five years ago people said this goal of huge trees was impossible," Soltis said. "The Open Tree of Life is an important starting point that other investigators can now refine and improve for decades to come."
A paper about this project was published in the Proceedings of the National Academy of Sciences.
"This comprehensive tree will fuel fundamental research on the nature of biological diversity, ultimately providing up-to-date phylogenies for downstream applications in comparative biology, ecology, conservation biology, climate change, agriculture, and genomics," the researchers wrote in the study's abstract.
(H/T: Science Daily)
—
Front page image via Shutterstock.