Senate Republicans are pushing a spending bill that would fully fund the federal government into December, but the legislation prohibits tax dollars from going to Planned Parenthood, which is facing multiple investigations following the release of a series of undercover videos related to the alleged sale of body parts from aborted babies.
But defunding the nation's largest abortion provider would harm health care and harm the economy, White House press secretary Josh Earnest told TheBlaze.
"What's clear is that they are trying to gain a political advantage by one sort or another by championing this issue," Earnest said to TheBlaze. "It certainly is not in the best interest of the economy, and it's not in the best interest of protecting health care for the American people."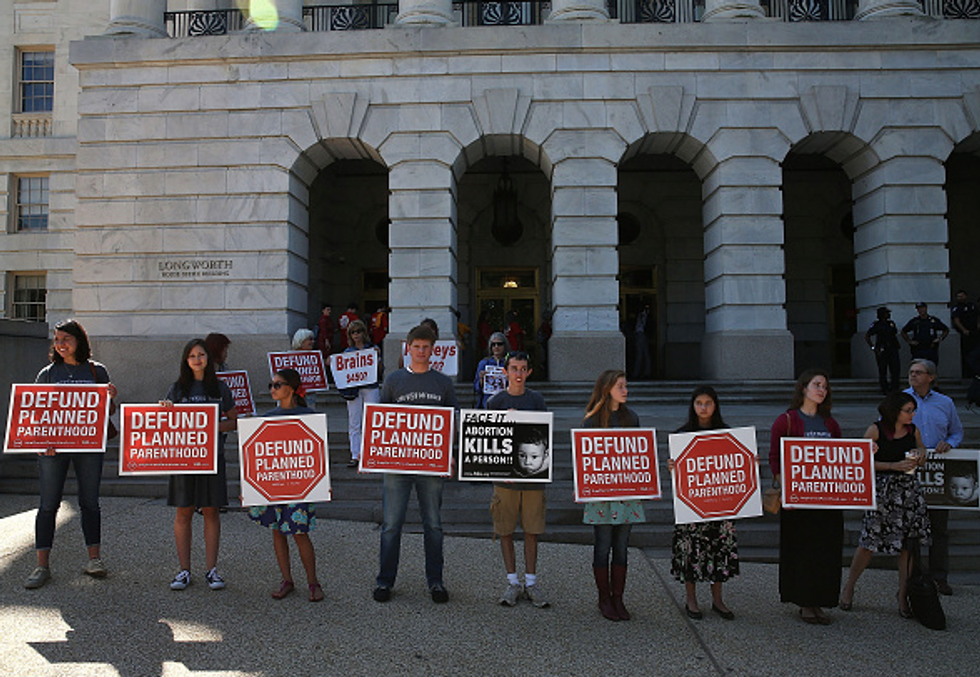 Protesters in front of the Longworth House Office Building on Capitol Hill call for an end to federal funding for Planned Parenthood. (Mark Wilson/Getty Images)
In an attempt to avoid a government shutdown, the Senate Republican majority has proposed a temporary spending bill, known as a continuing resolution, that would fund community health centers instead of Planned Parenthood.
TheBlaze asked if the CR would really be cutting funding to health care if the money is diverted to other health care organizations.
"It would because there are Planned Parenthood facilities whose very existence would be threatened by the stripping of this funding," Earnest said. "More importantly there is no legitimate explanation that anyone can offer up for that tactic. They say it's because they are opposed to abortion. But no taxpayer funds are used to perform abortions. That is a law that has been on the books for quite some time."
Congress and several states are investigating Planned Parenthood after a series of videos were released that appeared to show Planned Parenthood executives selling the body parts of aborted unborn babies.
The Planned Parenthood political action committee spent $886,510 in the 2012 election on Democrats running for the House and Senate, according to data from the Center for Responsive Politics. Additionally, the Planned Parenthood PAC spent $71,055 on the re-election of President Barack Obama. Planned Parenthood spent $676,773 trying to elect Democrats to the House and Senate in 2014.
In both election cycles, Planned Parenthood spent a combined $27,980 on the election of three Republican candidates.
TheBlaze also asked if the White House believed it is worth risking a government shutdown just to protect funding for a single organization.
Earnest stressed again that none of the federal funding goes to abortion.
"I think what's quite clear is that Planned Parenthood is an organization that provides health care to millions of families all across the country, and they do not use any of their taxpayer funding to perform abortions," he said. "That's expressly prohibited by law and enforced by the Obama administration."
Though stopping short of an actual veto threat, the Obama spokesman said that he doubts Republicans could push the CR through to the president's desk and that the president opposed the bill in its current form.
"The president has made clear that he is strongly opposed to any bill that would result in the wholesale defunding of Planned Parenthood," Earnest said.