MECCA, Saudi Arabia (TheBlaze/AP) -- At least 717 people have been killed in a stampede at the annual hajj pilgrimage, according to Saudi Arabia's civil defense directorate.
The directorate says at least 805 other pilgrims were injured in Thursday's stampede, which took place in Mina, on the outskirts of the holy city of Mecca. The initial deal toll was reported to be 150, but quickly rose to 717.
Some 2 million people are taking part in this year's hajj pilgrimage, which began Tuesday.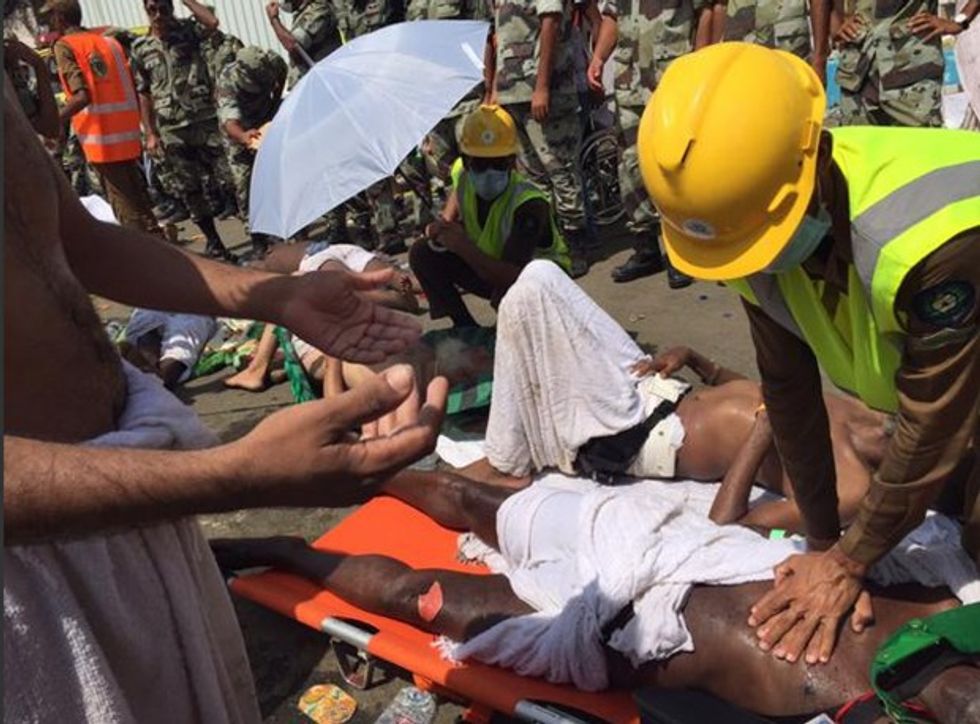 In this image posted on the official Twitter account of the directorate of the Saudi Civil Defense agency, a pilgrim is treated by a medic after a stampede that killed and injured pilgrims in the holy city of Mina during the annual hajj pilgrimage on Thursday, Sept. 24, 2015. (Directorate of the Saudi Civil Defense agency via AP)
Millions of Muslims converge to Saudi Arabia to visit Mecca and Medina each year for the hajj, an annual pilgrimage that, due to its massive attendance, many times poses major security and safety concerns.
The deal toll on Thursday comes after 107 people were killed just before the hajj earlier this month after a crane collapsed in the Grand Mosque in Mecca.
This is not the first year in which a deadly incident has unfolded during the hajj. Back in 2006, 360 pilgrims were killed during a stampede near Mecca, 244 died in 2004 and 35 died during a stampede in 2001.
But the biggest death toll came during a 1990 stampede in which 1,426 people died in a tunnel leading to Mecca's holy sites.
The hajj is a mandatory pilgrimage that is one of the Five Pillars of Islam — a requirement that every Muslim do at least one time during his or her life.
Read the full history here.