The superintendent of schools in Ithaca, New York, is reviewing its visitor policy after a Palestinian activist once convicted of inciting attacks against Israelis visited a third-grade classroom as part of a human rights curriculum.
Pro-Israel activists blasted Beverly J. Martin Elementary School's decision to allow Bassem Tamimi to speak to the 8- and 9-year-old children, but the school insisted that the Sept. 18 meeting was "in keeping with the third-grade curriculum standard to study human rights."
The event was first brought to light by Legal Insurrection, a conservative site run by law professor William Jacobson of Cornell University in Ithaca.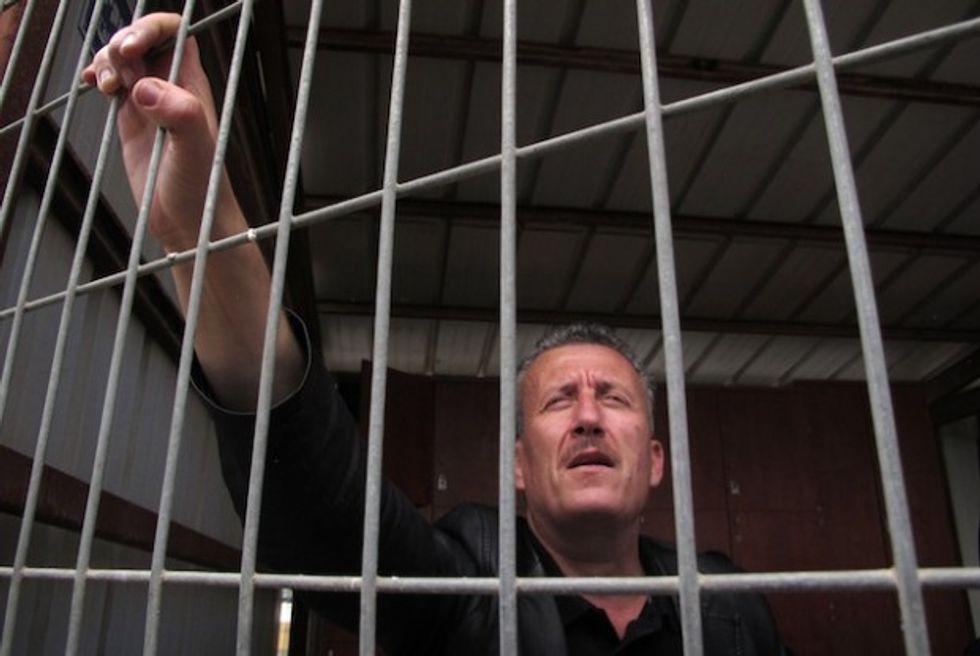 Palestinian activist Bassem Tamimi stands inside a waiting cell ahead of the verdict in his trial at Israel's Ofer military court near the West Bank city of Ramallah, May 20, 2012. (AP Photo/Diaa Hadid)
In a paper published this month outlining the array of anti-Israel groups sponsoring Tamimi's visit to the United States, the Jerusalem-based research organization NGO Monitor noted that Tamimi was convicted in 2012 of encouraging Palestinian youths to throw stones at Israeli soldiers.
"For many years, Bassem Tamimi has been exploiting his and other children for violent attacks used for vicious propaganda campaigns against Israel," NGO Monitor President Gerald Steinberg told TheBlaze. "Tamimi trains and coaches these children to take the lead in stoning attacks."
"When Israeli soldiers attempt to intervene, Tamimi's team films and edits the incidents, to make the soldiers appear to be accosting innocent youth," Steinberg said. "By pushing the children into the front lines in the Palestinian war against Israelis, Tamimi violates basic and universal moral codes."
Ithaca City Schools Superintendent Luvelle Brown told TheBlaze Thursday that he is reviewing the school visitor policy in the wake of the Tamimi visit.
"I have asked for an immediate review of current visitor policies and procedures," Brown told TheBlaze via email.
Brown said that Tamimi was "not an invited guest" but rather had accompanied two others who had been invited to speak about "universal human rights" which is part of the New York State third-grade curriculum.
However, the school's earlier statement sent to the Legal Insurrection blog said that Tamimi was one of the individuals "brought into the classroom" to "bring authenticity and local relevance to our [human rights] studies."
"During the discussion, the adults also shared examples of children's responses to [Israeli] soldiers in the [Tamimi's West Bank] village and what it means to live with a wall, as well as images of struggle," the school's statement read. "There were many adults present in the class and at no time was there an anti-Israel, anti-Palestine, anti-Jewish, or anti-Muslim stance."
Among the messages the school claimed children gained from the meeting were slogans such as "I can be an ambassador for peace," "Children want the option to live peacefully and to go to school. Children can help stand for these desires" and "Love will make peace, not hate."
Legal Insurrection described why Tamimi is a controversial figure, particularly in the area of child safety:
Tamimi is best known for his use of children, including his own, for media purposes. The game goes like this: Tamimi's children and other children from the village of Nabi Saleh are encouraged to confront Israeli soldiers in the hope of provoking a reaction. The children are surrounded by a phalanx of photographers and videographers waiting for the viral moment when the Israeli soldier reacts, which then is fed to the media through the Tamimi media operation and international activists who often participate.

Tamimi's daughter Ahed (the blond girl in this 2012 video) is world famous for such staged confrontations, having been given a heroism award by the anti-Israel Prime Minister of Turkey for this performance.
Legal Insurrection previously reported that Tamimi's daughter Ahed posted a Facebook profile photo captured while she was throwing stones at Israeli soldiers.
Multiple Israeli motorists have been killed in Palestinian rock attacks, including 64-year-old Alexander Levlovitz, who lost control of his car in Jerusalem during a stoning attack as he was driving home from a Rosh Hashanah dinner earlier this month.
Israeli infants and children have also been killed in similar attacks, including 4-year-old Adele Biton and 3-month-old Yonatan Palmer with his father, Asher.
Tamimi told the Jerusalem Post last month that he supported the involvement of children in protests: "We have the right to resist. Our children are doing their duty and must be strong."
Legal Insurrection's Jacobson noted that many questions about the Tamimi visit remained unanswered in the school's first statement, particularly if the children were offered a more balanced picture of the complex Arab-Israeli conflict or if it was simply "a propaganda event meant to turn young children against Israel."
The superintendent addressed some of those issues Thursday after they were forwarded by TheBlaze.
Brown said that it was his understanding that the suffering of Jewish children was not discussed with the third-grade children, nor was the issue of Tamimi's relative Ahlam Tamimi raised. Ahlam Tamimi was an accomplice to a 2001 suicide bombing in Jerusalem that killed 15, including seven children and a pregnant woman. Nor were the children told that Israel's security barrier (which Palestinian activists usually call a "wall") was erected in order to keep suicide bombers out of Israel and that since then suicide attacks have virtually ended, saving scores of children's lives.
Asked if any pro-Israel voices were invited to the classroom, Brown said, "No other speakers have been into this classroom to talk about human rights at this time."
Legal Insurrection earlier reported that the other visitors to the class besides Tamimi were locally known pro-Palestinian activists.
The Social Studies curriculum regarding human rights which Brown forwarded includes teaching concepts such as, "governments and citizens alike have a responsibility to protect human rights and to treat others fairly" and "When faced with prejudice and discrimination, people can take steps to support social action and change."
Read the extensive examination of the Ithaca visit at Legal Insurrection.
This story has been updated to include the Ithaca school superintendent's response.