WASHINGTON — After House Speaker John Boehner (R-Ohio) announced his resignation Friday, Louisiana Gov. Bobby Jindal said that Senate Majority Leader Mitch McConnell (R-Ky.) should be the next to go.
"Sure if he's not willing to fight, if he's not willing to lead," Jindal told TheBlaze in an interview Friday before speaking at the conservative Values Voter Summit. "The reality is, the only thing that has been worse than the House is the Senate. McConnell gave up the fight on Planned Parenthood before it even started."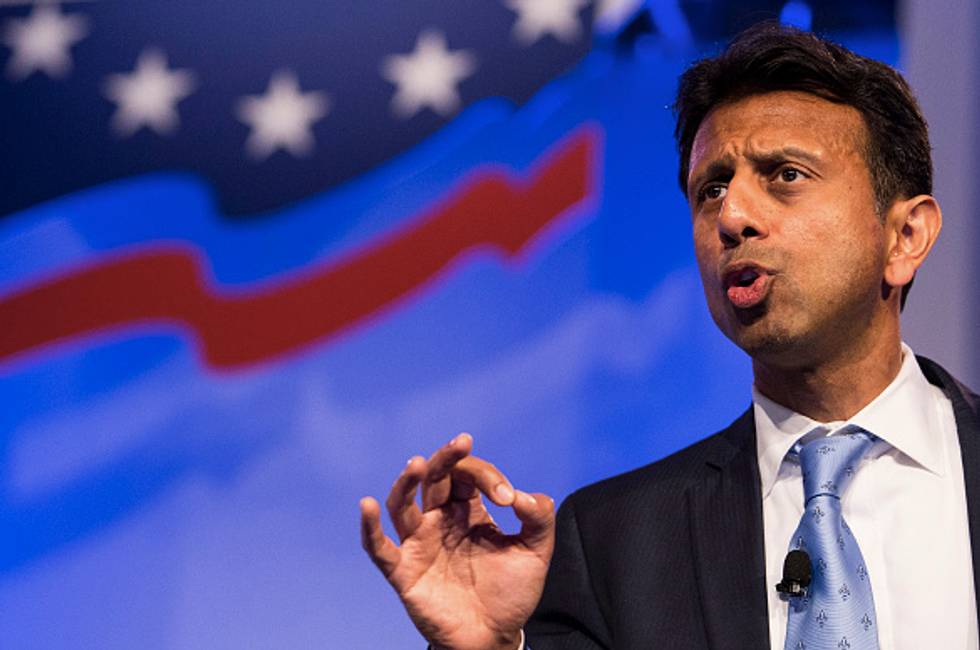 Bobby Jindal, governor of Louisiana and 2016 Republican presidential candidate, speaks during the Values Voter Summit in Washington, D.C., U.S., on Friday, Sept. 25, 2015. The annual event, organized by the Family Research Council, gives presidential contenders a chance to address a conservative Christian audience in the crowded Republican primary contest. Photographer: Drew Angerer/Bloomberg via Getty Images
Jindal, a Republican presidential candidate, even gave credit to Democrats in Congress such as Senate Minority Leader Harry Reid of Nevada and House Minority Leader Nancy Pelosi of California, for being willing to fight harder than Republicans.
"I don't like what Reid and Pelosi have done to our country, but they have fought intensely for socialism," Jindal said. "Why won't our side fight just as hard for freedom. Why won't our side fight just as hard for America?"
Jindal has frequently talked about what he called the "surrender caucus," his name for the Republican majority in Congress.
Asked if that would change with Boehner's exit, he said: "It depends on what the House does next. They've got an opportunity to elect a leader who will actually fight for our principles, to actually fight for our principles, actually fight to defund Planned Parenthood, stop the Iran deal, repeal Obamacare, get rid of amnesty. The reality is, I think we need to fire everybody in D.C. We are choosing between honest socialist and lying conservatives."
Earlier this week, Wisconsin Gov. Scott Walker dropped his bid for the Republican presidential nomination, and encouraged other candidates to drop out in order for conservatives to coalesce around a candidate to defeat Donald Trump.
Jindal, who stands at 0 percent in national polls and in New Hampshire, but is at 3 percent in Iowa, said he would not be the next to go.
"It's always the RNC, the donor types, I know they'd love to see a Jeb Bush-Trump fight," Jindal said. "They don't get to pick our nominee. Voters get to pick and that's a good thing for us."
"We're building a movement in Iowa. We're in every county. We're doing very well. Our numbers are growing," Jindal said. "We are moving up in the polls there. Our town hall attendance is growing. I've got the backbone, I've got the bandwidth, I've got the experience. I don't have a famous last name. My daddy wasn't president. I don't have a reality TV show. But, every Republican is talking about cutting spending. I'm the only one who has done it. I'm the only governor who has done it. None of the senators have done it."
Of frontrunner Trump, he repeated his criticism.
"In reality Donald Trump is about making Donald Trump great because he's a narcissist," Jindal said. "He's not a conservative. He's not a liberal either. He's about himself. We have a once in a lifetime opportunity to apply our conservative principles. Let's do that. Let's not go to a person who believes in nothing but himself."
—