U.S. President Barack Obama announced that he and Chinese President Xi Jinping addressed disagreements held between the two countries "candidly and constructively" this week.
One such issue discussed during Xi's visit to the White House was cybercrime, particularly theft of intellectual property from companies.
Obama said he raised "our concerns about growing cyberthreats. I indicated that it has to stop."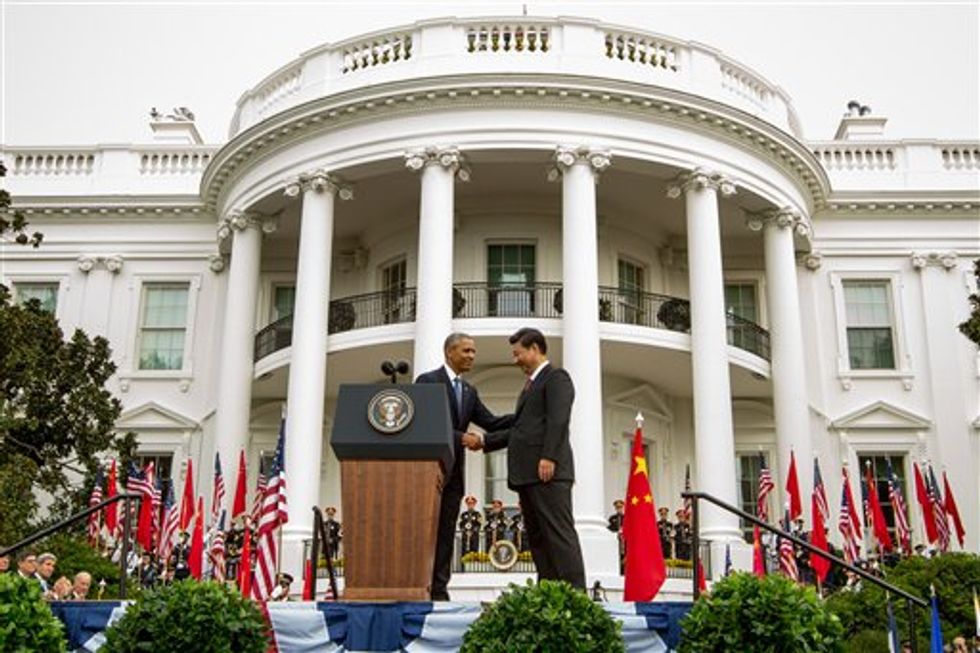 President Barack Obama shakes hands with Chinese President Xi Jinping after speaking during a state arrival ceremony for the Chinese president, Friday, Sept. 25, 2015, on the South Lawn of the White House in Washington. (AP/Andrew Harnik)
Just this summer, hackers linked to China were accused of infiltrating the federal Office of Personnel Management's system, accessing sensitive information on several million employees and contractors.
"Today I can announce that our two countries reached a common understanding on the way forward. The Chinese and the U.S. will not support theft of intellectual property," Obama said, calling the agreement "progress" but adding that work on the topic is not yet done.
Obama added that the discussions between the two presidents affirmed that governments do not engage in cyber-espionage for again against private companies.
"The question now is 'Are words followed by actions?'" the U.S. president added. "We will be watching closely and make an assessment."
Here's more from the White House on the agreement regarding cybercrime:
The United States and China agree that timely responses should be provided to requests for information and assistance concerning malicious cyber activities.  Further, both sides agree to cooperate, in a manner consistent with their respective national laws and relevant international obligations, with requests to investigate cybercrimes, collect electronic evidence, and mitigate malicious cyber activity emanating from their territory.  Both sides also agree to provide updates on the status and results of those investigation to the other side, as appropriate.

The United States and China agree that neither country's government will conduct or knowingly support cyber-enabled theft of intellectual property, including trade secrets or other confidential business information, with the intent of providing competitive advantages to companies or commercial sectors.
The White House and China also released a joint statement regarding their stance on climate change, "[reaffirming] their shared conviction that climate change is one of the greatest threats facing humanity and that their two countries have a critical role to play in addressing it."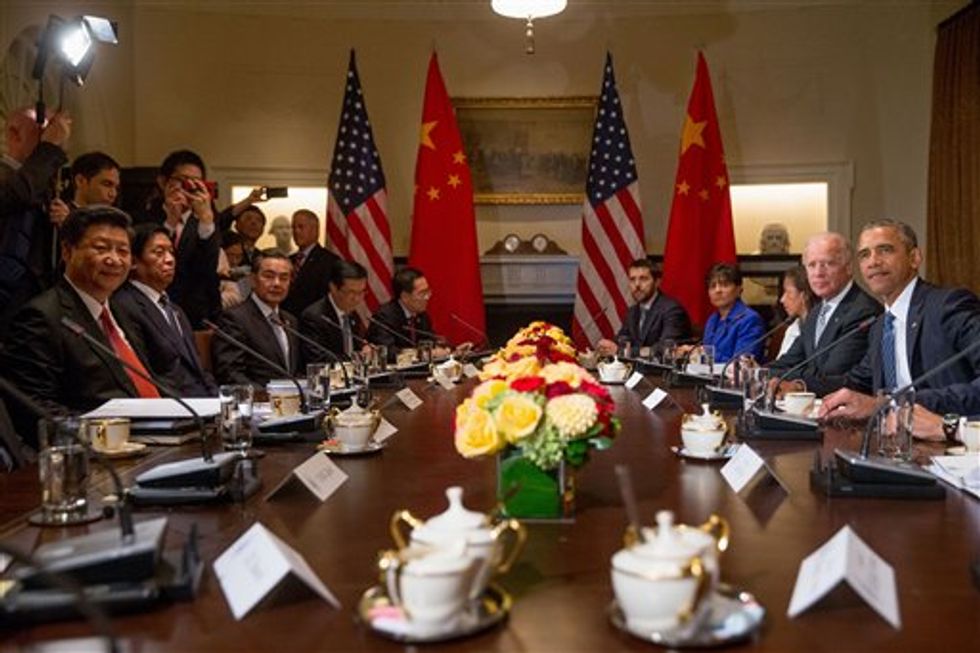 President Barack Obama, right, accompanied with Vice President Joe Biden, second from right, holds a bilateral meeting with Chinese President Xi Jinping, left, and other officials, Friday, Sept. 25, 2015, in the Cabinet Room of the White House in Washington. (AP/Andrew Harnik)
China announced Friday that it was contributing $3.1 billion to help developing countries reduce carbon emissions, as one of a series of measures taken with the U.S. to combat climate change. The U.S. earlier pledged $3 billion to a United Nations fund to aid developing nations reduce emissions.
The statement said China's financial support would aim to "help developing countries build low-carbon and climate-resilient societies."
China also pledged to launch a national system to limit greenhouse gases and force industries to purchase pollution credits, a cap-and-trade system that would take effect in 2017.
The two countries also committed to aligning their positions in negotiations on a broader global climate change treaty at a Paris conference in December.
—
The Associated Press contributed to this report.