Republican presidential candidate Donald Trump fought back against assertions that he is "thin skinned" in an interview set to air in full on "60 Minutes" Sunday.
"Why so thin-skinned?" CBS News anchor Scott Pelley asked the real estate tycoon.
Trump immediately responded with four words: "I don't like lies."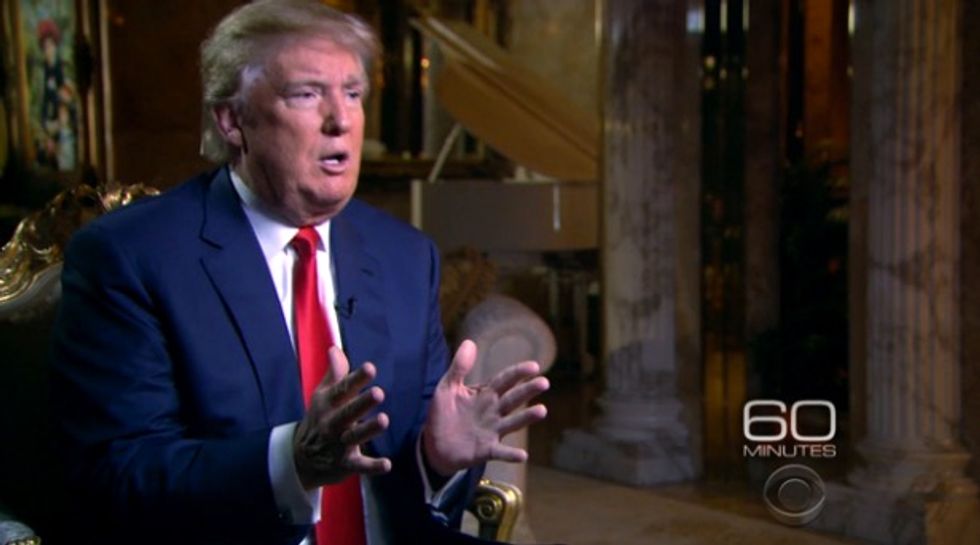 Image source: Screen gab via CBS Evening News
He added, "I--I don't mind a bad story. If you did a bad story on me for 60 Minutes, if it were a fair story I wouldn't be thin-skinned at all."
Trump said that some reporters are "among the worst people" he's ever encountered in his life.
"I mean a pretty good percentage is really a terrible group of people. They write lies, they write false stories. They know they're false. It makes no difference. And frankly I don't call it thin-skinned, I'm angry," he told Pelley.
"But a reporter asks you a couple of tough questions and the first debate and the whole week after that its war on that reporter," Pelley replied.
"Well, I don't think those were fair questions," Trump said.
Pelley told Trump that "an impression is created though that you like to dish it out but you can't take a punch."
"Oh I think I can take it," Trump answered. "I--I could take it if it's fair. Again, if people say things that are false which happens a lot with me -- if people say things that are false I will fight, like, harder than anybody. If I do something wrong, and that happens, and they write a fair story that I did something wrong, there's nothing to fight about. I can handle that. I don't like lying. You know I'm a very honorable guy, I don't like lies."
Trump earned himself a reputation for being sensitive to media scrutiny by way of blasting news outlets and reporters who are critical of his campaign. The billionaire has gone after multiple Fox News personalities, National Review's editor and Politico in recent days.
—
Follow the author of this story on Twitter and Facebook: