A report on a conservative political news website suggesting outgoing Speaker John Boehner (R-Ohio) cut a deal with House Minority Leader Nancy Pelosi (D-Calif.) before his exit is false, a person inside Boehner's office with knowledge of the situation told TheBlaze.
In the immediate aftermath of Boehner's resignation announcement, Breitbart published a story about a "rumor" swirling on Capitol Hill that indicated a deal had been struck between the two party leaders to continue funding some of President Barack Obama's most controversial measures.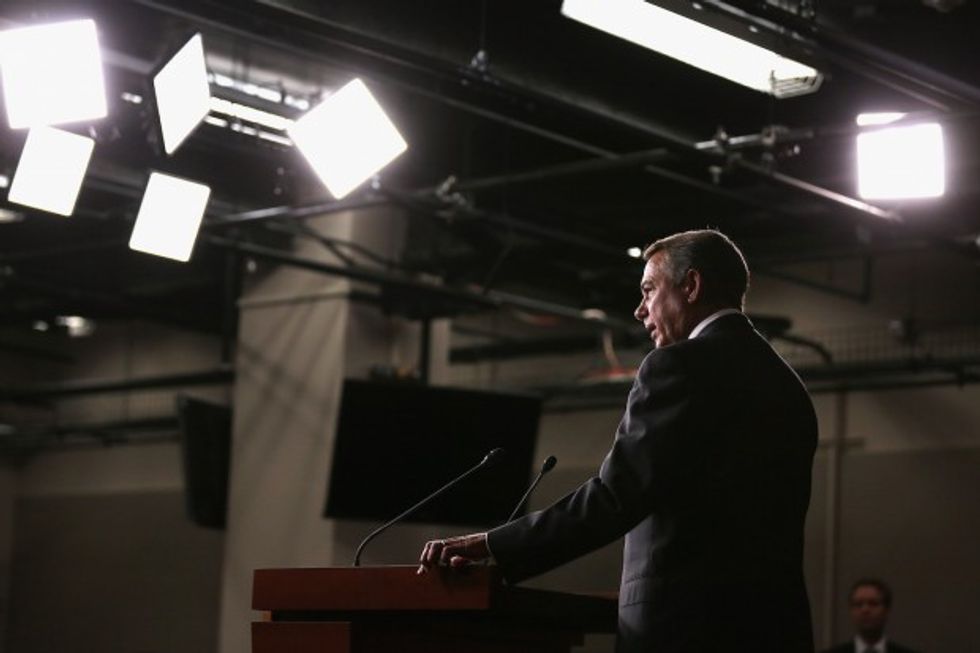 Speaker of the House John Boehner (R-OH) announces that he is retiring from the House and stepping down as Speaker at the end of October during a news conference at the U.S. Capitol September 25, 2015 in Washington, D.C. (Photo by Chip Somodevilla/Getty Images)
Sen. Ted Cruz (R-Texas), who has clashed with Boehner in the past, added fuel to the fire by repeating the rumor while at the conservative Values Voter Summit.
"I will say, the early reports are discouraging. If it is correct that the speaker, before he resigns, has cut a deal with Nancy Pelosi to fund the Obama administration for the rest of its tenure, to fund Obamacare, to fund executive amnesty, to fund Planned Parenthood, to fund implementation of this Iran deal — and then, presumably, to land in a cushy K Street job after joining with the Democrats to implement all of President Obama's priorities, that is not the behavior one would expect of a Republican speaker of the House," Cruz said.
Asked if the report were true, a Boehner aide who spoke to TheBlaze on the condition of anonymity said, "Not at all, as is typical of [Breitbart.]"
The aide said that the Senate "has demonstrated it cannot pass defunding of Planned Parenthood" and will pass a clean continuing resolution that will be brought to the House and passed with bipartisan support.
"House GOP will pursue the budget reconciliation process to defund Planned Parenthood and break Senate Dems' logjam," the aide said. "This is the strategy that will actually advance the pro-life movement, as National Right to Life has articulated."
The Boehner aide also took some shots at Breitbart and one of its star reporters, Matthew Boyle. Breitbart and Boyle are known to publish inflammatory stories highly critical of anyone that doesn't toe the hardline-conservative view.
"I have nothing against Daniel Webster, but it is hilarious to me that Breitbart is trumpeting the fact that he is running for speaker," the aide told TheBlaze, referring to Florida Congressman Daniel Webster. "Webster has endorsed Jeb Bush."
"I can see the Boyle headline now," the person continued. "EXCLUSIVE: BREITBART.COM PUSHES JEB SUPPORTER FOR SPEAKER."
Boehner is set to resign from Congress at the end of next month.
—
Follow the author of this story on Twitter and Facebook: