PHILADELPHIA (TheBlaze/AP) — Within an hour of the start of a festival headlined by Pope Francis, Mark Wahlberg already had made a joke about his raunchy movie "Ted."
The actor was the master of ceremonies Saturday night while Francis sat on stage to hear from families and musical performances at the World Meeting of Families event.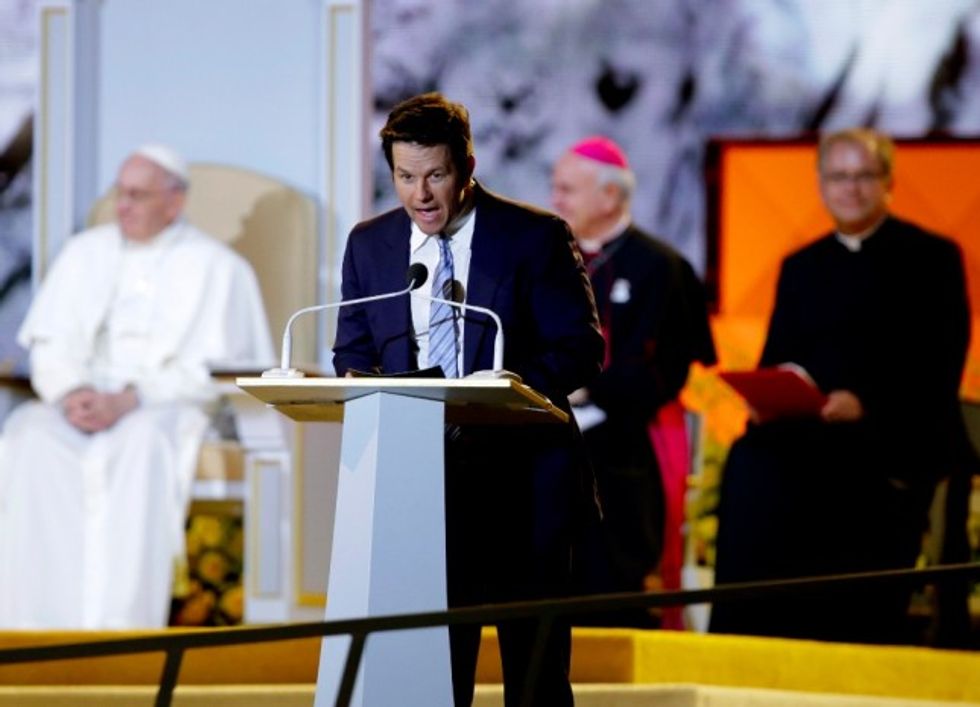 Actor Mark Wahlberg speaks as Pope Francis is seated nearby during the World Meeting of Families festival, Saturday, Sept. 26, 2015, in Philadelphia. (AP Photo/Matt Rourke, Pool)
After Bobby Hill, 14, of the Keystone State Boychoir performed an opera solo, he told Wahlberg that he liked his performance in the movie about an angry talking teddy bear.
"He whispered in my ear that he loved the movie 'Ted,'" Wahlberg said before adding the joke. "And I told him that was not appropriate for a boy of his age. Holy Father, please forgive me. I've always hoped that the good Lord has a sense of humor when comes and pertains to many of the movies I've made."
The Boston-born actor, who also played Vince Papale in "Invincible," a film about a real-life walk-on who signed with the Philadelphia Eagles in the 1970s, also offered a "Go Eagles!" after introducing Herb Lusk, regarded as the first player to take a knee and pray after a touchdown. Lusk left the Eagles for the ministry and is senior pastor at the Greater Exodus Baptist Church in Philadelphia.
—
Follow Dave Urbanski (@DaveVUrbanski) on Twitter