WASHINGTON (TheBlaze/AP) — NL MVP front-runner Bryce Harper and Nationals closer Jonathan Papelbon got into a dugout fight a day after Washington was eliminated from playoff contention, tangling in the eighth inning Sunday of a 12-5 loss to last-place Philadelphia.
Harper flied out in the eighth with the score 4-all. As he returned to the dugout, he exchanged words with Papelbon, who was acquired from Philadelphia in July to help with a possible postseason push.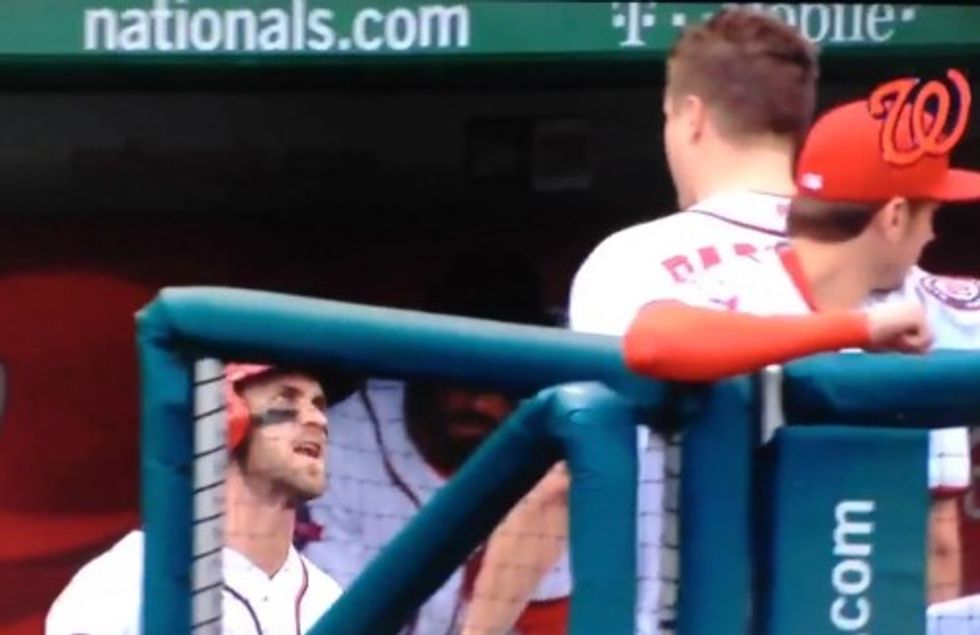 Image source: Twitter
Papelbon then reached for Harper's throat with his left hand and shoved the outfielder back toward the bench with both arms.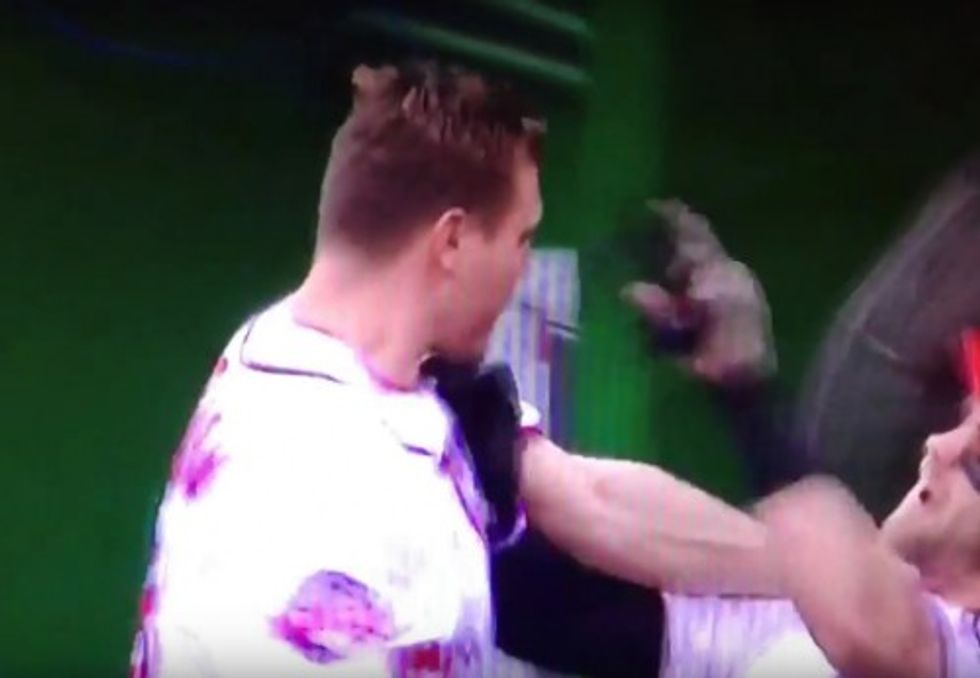 Image source: YouTube
Teammates pulled the pair apart.
Here's a clip:
Harper was replaced in right field for the ninth.
Papelbon (4-3) had entered the game in the top of the eighth and stayed in to pitch the top of the ninth, when he allowed Blanco's shot to left-center. The right-hander then loaded the bases, hitting Odubel Herrera with his final pitch before being removed by manager Matt Williams — and leaving the mound to a chorus of boos from the Nationals Park crowd.
On Wednesday, Papelbon plunked Baltimore star Manny Machado and was given a three-game suspension by Major League Baseball. Papelbon appealed, allowing him to continue playing.
Harper went 0 for 4 for the Nationals, who began the season as World Series favorites. They were eliminated from playoff contention Saturday when the New York Mets clinched the NL East title.
About 2 1/2 hours before the start of his team's first truly insignificant-in-the-standings game of 2015, Harper walked into the home clubhouse and began cleaning out his locker.
Harper threw away empty shoe boxes. The slugger rolled uniform pants and carefully folded T-shirts before placing them in a blue-and-red team duffel bag. He loaded other items into cardboard boxes.
Harper is the only Nationals player with any individual accolades to play for, entering Sunday leading the league in batting average (.339), homers (41), slugging percentage (.663) and on-base percentage (.470).
Here's a look at the Papelbon-Harper dust-up from another angle:
This story has been updated.
—
Follow Dave Urbanski (@DaveVUrbanski) on Twitter