NEW YORK (TheBlaze/AP) — Hillary Rodham Clinton on Sunday again defended her use of a private email server while she was secretary of state, comparing the multiple investigations to Republican-led probes into her husband's administration more than two decades ago.
"It is like a drip, drip, drip. And that's why I said, there's only so much that I can control," she said in an interview on NBC's "Meet the Press," adding that she has provided "more transparency" than other elected officials.
"I can't predict to you what the Republicans will come up with, what kind of, you know, charges or claims they might make."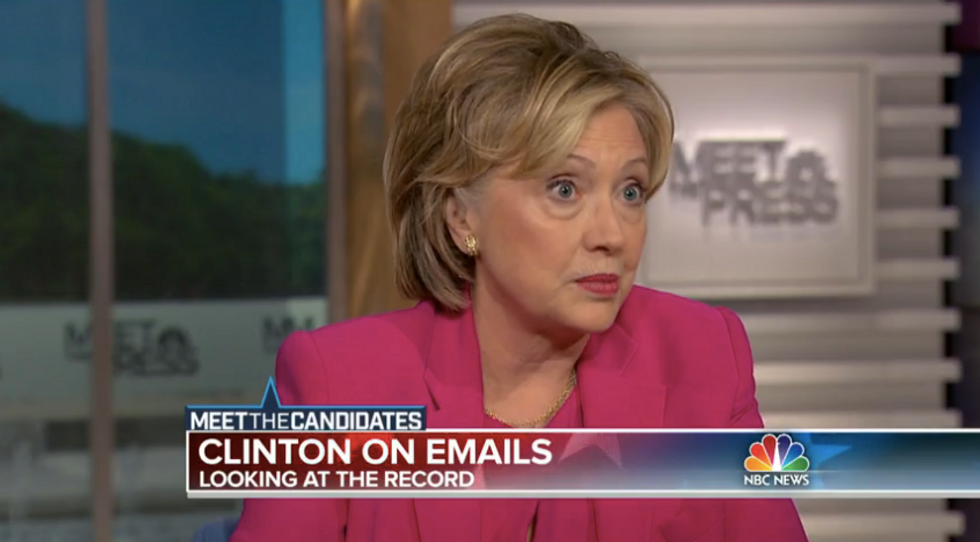 Image source: NBC News
"I think I have done all that I can to take responsibility," Clinton told "Meet the Press" host Chuck Todd, adding that she has turned over her server and testified about her emails.
Clinton likened the inquiries into her correspondence to controversies like the Whitewater land deal that trailed her husband's campaign and much of his administration, saying that voters in New York elected her to the Senate despite years of political questions.
"During the '90s, I was subjected to the same kind of barrage. And it was, it seemed to be at the time, endless," she said. "When I ran for the Senate, people said, 'Hey, we are more concerned about what you're going to do for us.' And I trust the voters to make that decision this time around too."
The historical comparison marks a new line of defense for Clinton, who's seen her poll numbers fall amid lingering questions about her email usage.
In a separate interview with CNN released on Saturday, former President Bill Clinton also equated the current investigations being conducted by congressional Republicans and federal agencies with questions faced by his administration.
"This is just something that has been a regular feature of all our presidential campaigns, except in 2008 for unique reasons," Clinton said. "Ever since Watergate, something like this happens." He added: "We're seeing history repeat itself."
Earlier this week, newly discovered email correspondence between Clinton and retired Gen. David Petraeus when he headed the military's U.S. Central Command, raised fresh questions about whether she truly provided to the government a full record of her work-related correspondence as secretary of state.
In August, Clinton submitted a sworn statement to a U.S. District Court saying she had directed all her work emails to be provided to the State Department.
"On information and belief, this has been done," she said in a declaration submitted as part of a lawsuit with Judicial Watch, a conservative advocacy group.
Clinton said there was about a monthlong gap between her use of a Senate account and her move over to the private server, which was already set up in her basement to handle the former president's personal correspondence. Her lawyers later tried to recover messages from that period, she said.
After the State Department requested her records, Clinton said her lawyer combed through her correspondence to determine what was work-related_a process she said she did not participate in. She then requested they dispose of any personal emails, saying she didn't "need them."
"I'm not by any means a technical expert. I relied on people who were," She said. "And we have done everything we could in response to the State Department asking us to do this review."