Ben Carson's campaign manager literally shut down a CNN interview on Sunday as anchor Jake Tapper grilled the Republican presidential candidate on his views on Muslims.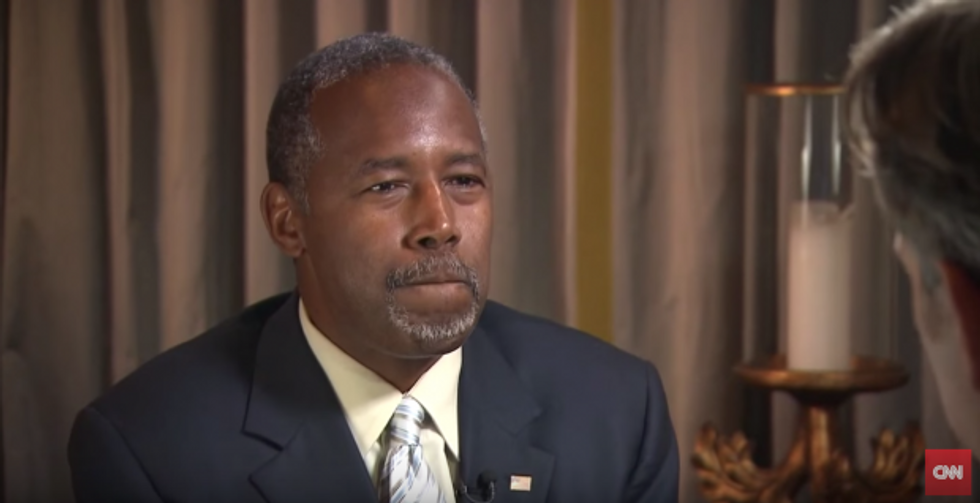 CNN
Asked about his recent remark that he wouldn't "advocate that we put a Muslim in charge of this nation," Carson clarified his statement by saying he would "have problems with somebody who embraced all the doctrines associated with Islam."
"If they are not willing to reject Shariah and all the portions of it that are talked about in the Koran — if they are not willing to reject that, and subject that to American values and the Constitution, then of course, I would [have problems]," Carson said.
He also declined to backtrack when Tapper asked if he could have made his statements on Islam any clearer.
"You seem to be singling out Muslims as individuals who automatically as a knee-jerk would put their religion ahead of the country," Tapper said to Carson. "I think that offended a lot of people, including a lot of patriotic Muslims."
Growing more frustrated, Carson suggested that the "media" think his comments are more newsworthy than do the American people.
"You're an African-American. You know what it's like for people to make false assumptions about you," Tapper said. "And you seem to be doing the same thing with Muslims. … You're assuming that Muslim Americans put their religion ahead of the country."
"I'm assuming that if you accept all the tenets of Islam that you would have a very difficult time abiding under the Constitution of the United States," Carson shot back.
Immediately after Carson's answer, a voice of Carson's campaign manager could be heard off camera stating, "This interview is over."
Watch the interview via CNN below:
(H/T: TPM)
---