A referee who had reportedly been manhandled throughout a soccer match in Brazil retaliated by retreating to the locker room and re-emerging with a gun.
In footage captured by a spectator, Gabriel Murta was restrained by a fellow referee as he held a gun in his right hand. According to the Mirror, Murta is also a police officer during the day.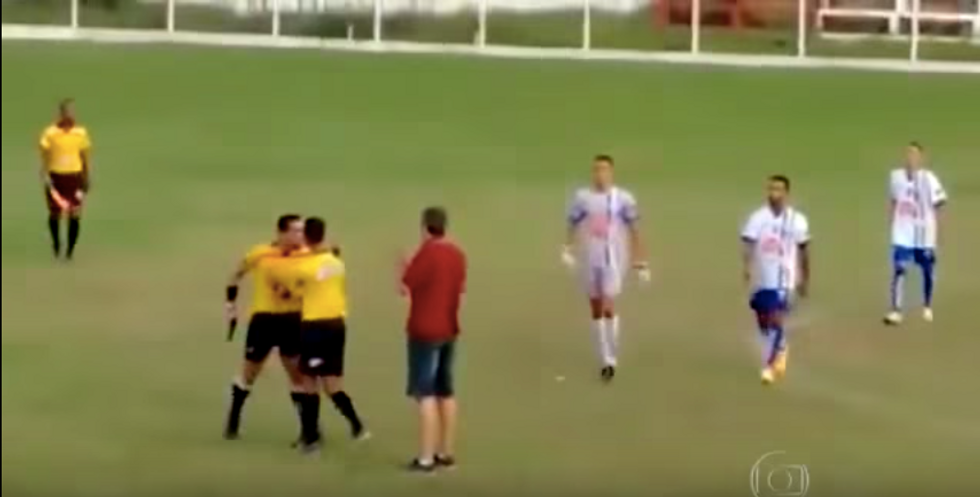 Image source: YouTube
Giuliano Bozzano, president of the referees' association, said Murta felt threatened by some of the players who slapped and kicked him throughout the game over the weekend. Bozzano said that Murta brought his weapon onto the field as he wanted to be able to defend himself against attacks.
"The Minais Gerais Football Federation has already summonsed the referee and a psychologist to a meeting and I'm going to talk with him today," Bozzano said in a statement to the Mirror. "On the basis of that conversation and his account of events and the results of the psychological assessment I'll decide what if any measures to take. What's happened is obviously not a common occurrence and I don't want to rush into anything. At the moment it happened he's opted for getting his gun because in his view it was a question of controlling a situation."
League president Valdenir de Castro told the Telegraph that the incident stemmed from a dispute over a red card. Murta could face suspension or a permanent ban.
The Mirror reported that the incident occurred at a regional league match in Brumadinho.