After President Barack Obama told other world leaders that violent extremism isn't limited to any one faith, British Prime Minister David Cameron didn't disagree — but he did add a pointed clarification.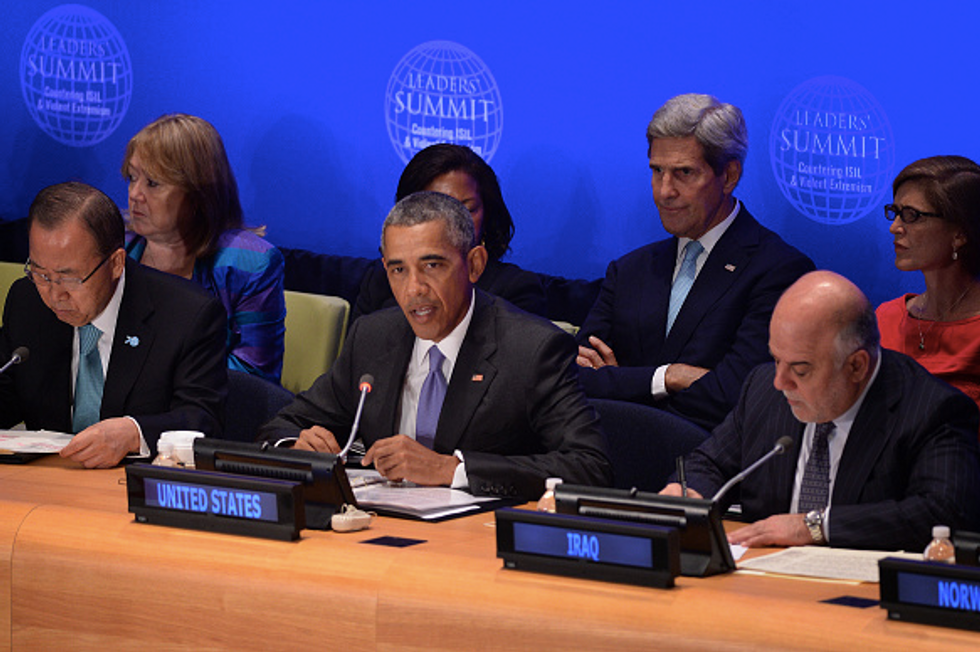 U.N. Secretary-General Ban Ki-moon, U.S. President Barack Obama, Iraqi Prime Minister Haider al-Abadi and others attend the Leaders' Summit on Countering ISIL and Violent Extremism at the United Nations, Sept. 29, 2015 in New York City. (Anthony Behar-Pool/Getty Images)
"Violent extremism is not unique to any one faith, so no one should ever be profiled or targeted simply because of their faith," Obama said Tuesday as he chaired the U.N. Leaders' Summit on Countering ISIL and Violent Extremism.
Cameron stressed that violence extremism can only be stopped at the root, which is radicalized Islam.
"Barack, you are quite right, that every religion has its extremists, but we have to be frank that the biggest problem we have today is the Islamist extremist violence that has given birth to ISIL, to Al Shabaab to Al Nusra, Al Qaeda and so many other groups," Cameron said.
Cameron went on to say that Muslim leaders around the world must speak out against the radical groups.
"These people claim to act in the name of the Islamic religion. They don't. I can say they don't over and over again. You can say they don't, but there is nothing more powerful than, for instance, what the king of Jordan has just said," Cameron said, referring to earlier remarks by Jordanian King Abdullah.
Abdullah said, "First and foremost, this is our fight. Muslims nations have to lead this fight."
Cameron also noted during his remarks that Western countries must take a firm stance to keep the root of violence from settling into Muslim communities.
"We need to challenge the extremist worldview right from the start. What does that mean? In Western countries it means we have to root out the extremists preachers that are poisoning the minds of young Muslims in our country," Cameron said. "We have to build more integrated societies so young people feel they truly belong. And we have to make sure we don't allow the incubation of an extremist worldview even before it gets to justifying violence. We've got to get it out of our schools. Get it out of our prisons. Get it out of our universities. I believe in freedom of speech. But freedom to hate is not the same thing."
Obama, who has a close relationship with Cameron, did not seem to take umbrage to the prime minister, as he briefly referenced the point before handing the chairman's gavel to Vice President Joe Biden.
"David Cameron's point is excellent, that our focus should not be just violent extremism, but stopping the incubation of violence emerging out of an extreme worldview," Cameron said.
The gathering of leaders occurs as Congress is investigating allegations of cooked intelligence that paints a rosier picture of how much progress the United States is making in pushing back the Islamic State one year into the coalition airstrike campaign.
Still, Obama said the terror group has lost nearly a third of the populated areas in Iraq that it had controlled.