Before he was put in handcuffs for bringing a "homemade" clock to school and became an overnight celebrity, Ahmed Mohamed "racked up weeks of suspensions" and clashed with authority while in middle school, the Dallas Morning News reported.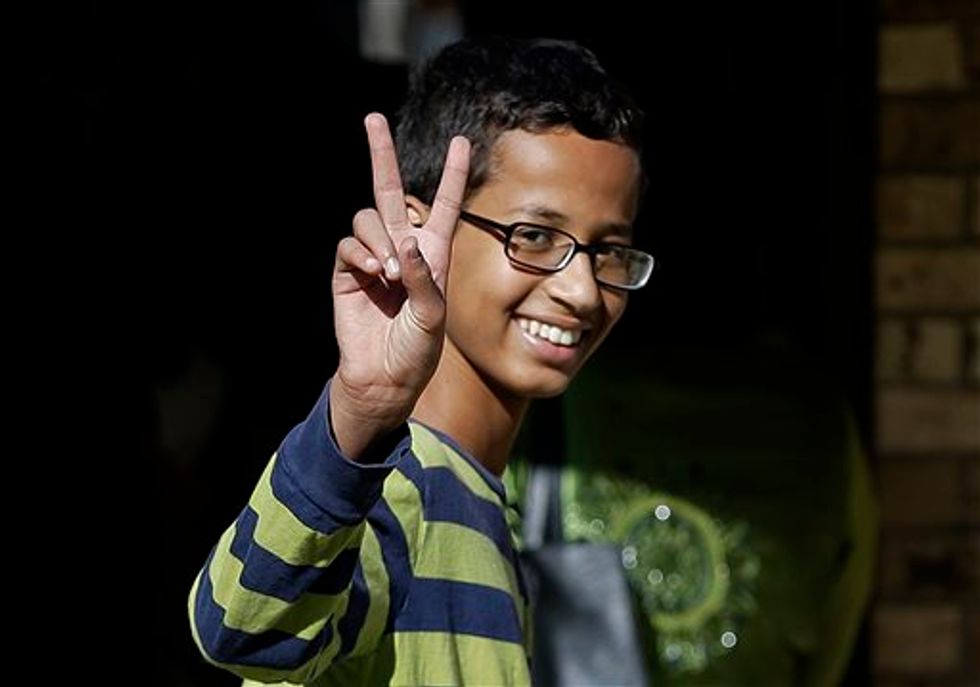 Ahmed Mohamed, 14, gestures as he arrives to his family's home in Irving, Texas, Sept. 17, 2015. (AP/LM Otero)
While attending Sam Houston Middle School in Irving, Texas, Mohamed "mastered electronics and English, once built a remote control to prank the classroom projector and bragged of reciting his First Amendment rights in the principal's office," according to the report.
Despite rumors about the 14-year-old's past disciplinary problems, Mohamed's status as a minor has prevented the Irving Independent School District from speaking out on the matter.
Critics have argued that his past behavior may have influenced how school officials responded to the clock that officials thought could have been a "hoax bomb." Irving Mayor Beth Van Duyne recently told TheBlaze that the Mohamed family has ignored requests by the school district to allow officials to speak out about the case. The context, she said, would help explain why the situation progressed as it did.
However, his seventh-grade history teacher, Ralph Kubiak, has become the first person to open up about the "weird little kid" that sat in his classroom.
"I saw a lot of him in me. That thirst for knowledge … he's one of those kids that could either be CEO of a company or head of a gang," he told the Dallas Morning News.
Kubiak also confirmed that Mohamed would regularly bring gadgets to school that were much more complicated than the clock assembled in a pencil box that recently got him into trouble.
Mohamed reportedly used a "hand-built remote control" to repeatedly turn off the class projector during a teacher's lesson in middle school. But he also once created a makeshift phone charger to give a tutor's dead cellphone some juice.
As an eighth-grader, Mohamed alleged anti-Muslim bulling by both a school administrator and students.
In a previous letter to the superintendent and other school district officials, a family friend, Anthony Bond, wrote, "Ahmed also alleges that everyday, students in the school are calling him 'Bacon Boy and Sausage Boy and ISIS Boy.'"
Bond, also a community activist who previously sued Irving Mayor Beth Van Duyne for defamation, went on to claim that Mohamed felt a school administrator had "been terrorizing him since the 6th grade."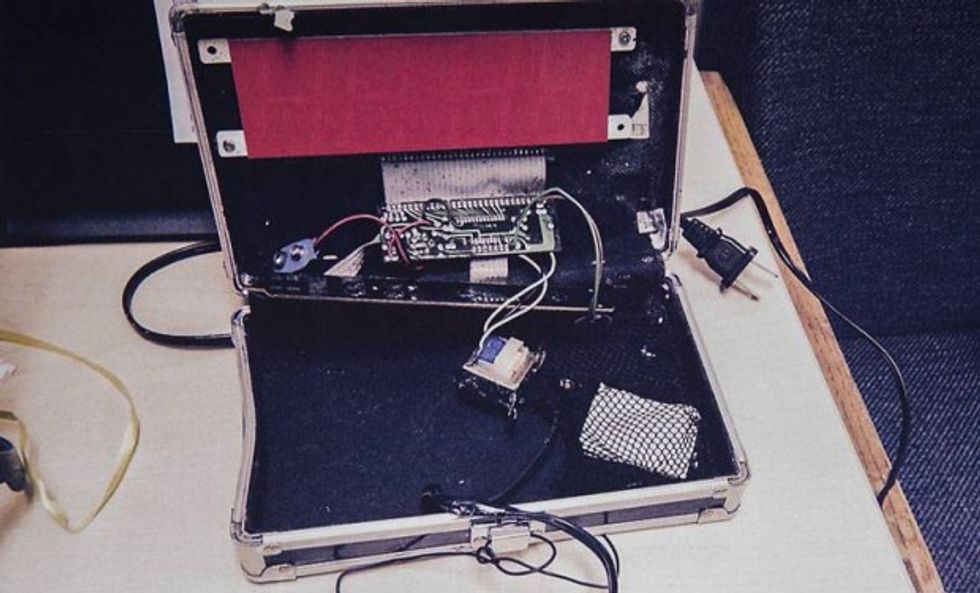 Irving Police Department
Among the "Muslim bashing" allegations against the administrator are that he hindered Mohamed from praying in school and dished out unfair punishments.
Kubiak, now retired, reconnected with Mohamed months after his final day at Sam Houston Middle School.
Speaking on the phone shortly after the arrest that turned him into a celebrity, Mohamed reportedly told his former teacher, "I told you one day I'm going to be — and you told me yourself — I'm going to be really big on the Internet one day."
Mohamed's parents have since hired two high-profile attorneys to pursue their "severely traumatized" son's "legal rights" in the aftermath of the clock incident.
Read the full report from The Dallas Morning News here.
---