A young boy walking with his father and brother was harassed to the point of tears Monday by a group of Palestinians who chased the family shouting "Allahu akbar" as they tried to leave the Western Wall following prayers for the Jewish holiday of Sukkot.
The moment was captured on video by a Palestinian social media group that positions cameras around the Old City where Muslim women spend their days chasing and egging on Jewish and Christian visitors.
Yishai Fleisher, an Israeli journalist and educator, said he was praying at a synagogue overlooking the site of the altercation and saw what transpired.
"I looked out the window and saw a mob of jihadists doing the whole Allahu akbar assault," Fleisher told TheBlaze by phone from Jerusalem on Tuesday.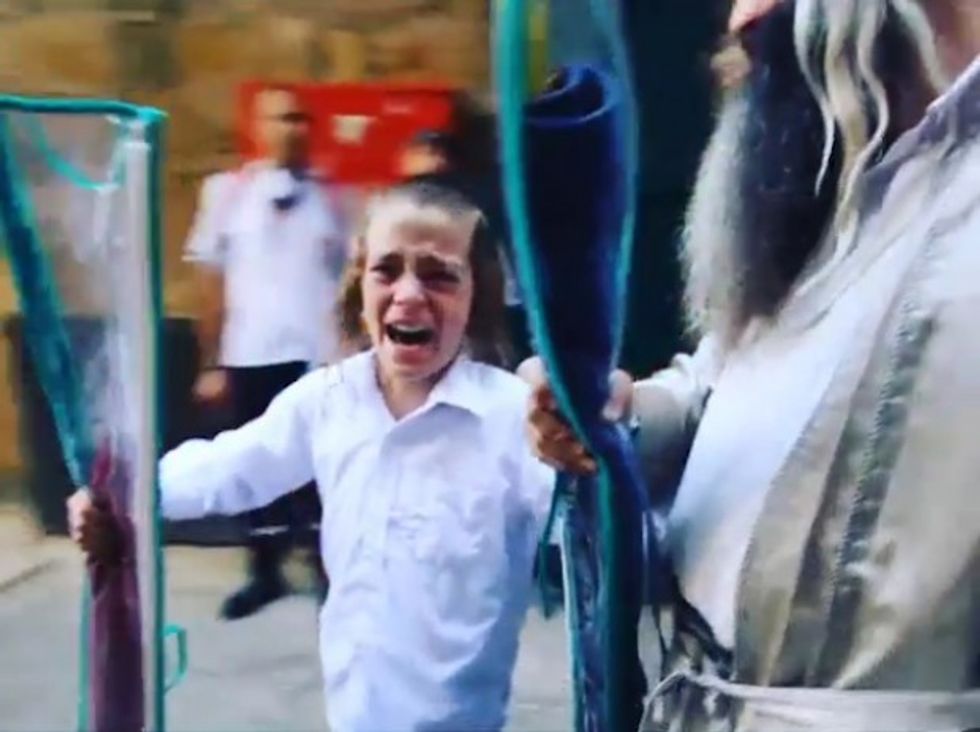 A boy cried as a group of Palestinians harassed him, his father and brother as they walked through the Muslim Quarter of the Old City after praying at Jerusalem's Western Wall for the Jewish holiday of Sukkot. (Image via Instagram/alyateema)
"They've created an 'Allahu akbar' barrier for people coming out of the [Western] Wall. They were leaving the Western Wall and walking through … the Old City of Jerusalem. As they were walking, this mob started harassing these people," Fleisher said. "I could see the kid was crying and the photographers were snapping photos and some of the Allahu akbar ladies were watching, and when they saw the child was crying and in distress, they clapped as a sign of success because they had intimidated a Jewish child and created a media moment."
Photographers can be seen in the video positioned along the alleyway where the crowd was harassing the family.
Fleisher, who writes about Jerusalem for various publications, suggested the propaganda motivation for the mob is no less significant than the harm the women he calls the "Allahu akbar ladies" inflict on the actual victims.
"These Allahu akbar ladies are surrounded by various cameras to create a story of scared, intimidated Jews and make sure Jews are scared in the Old City. This whole thing is a machine of propaganda to create fear and deter Jews from feeling comfortable in Jerusalem," Fleisher said.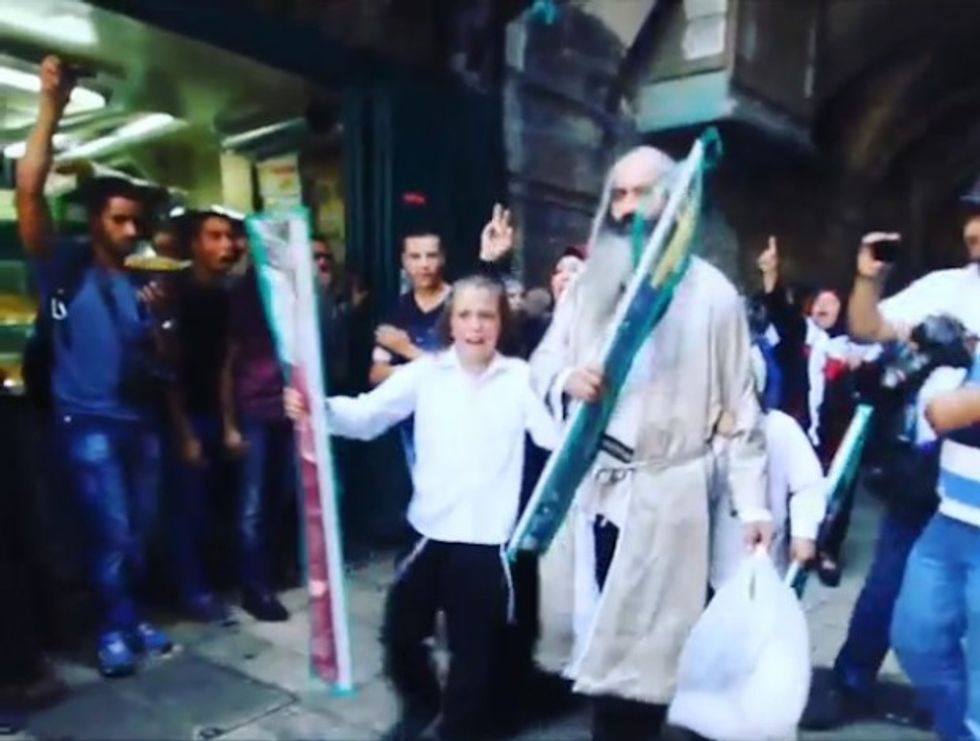 Palestinian bystanders appeared to express approval and encouraged the "Allahu akbar ladies." (Image via Instagram/alyateema)
Instagram user Alyateema/Al Aqsa Lion gleefully captioned the video with a phrase highlighting how the crowd had inflicted "horror" on the hearts of the Jews and on the "hearts of their children."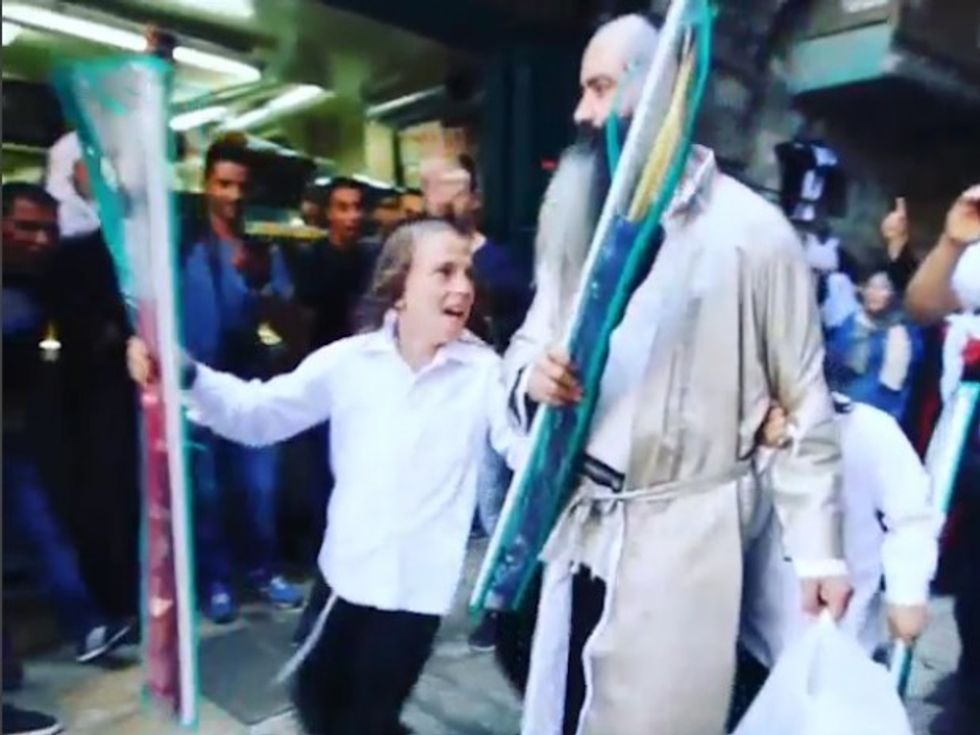 The younger brother tried to hide behind their father as they made their way from prayer services dressed in holiday clothes. (Image via Instagram/alyateema)
Fleisher said he also saw Christians on their way to and from the Christian holy sites being harassed by the mob.
"I also saw Christians looking very, very distraught and also seeing this Allahu akbar mob. That area is very few steps away from Via Dolorosa and the Christian landmarks on that street," he said. "It was not a tourism-friendly moment."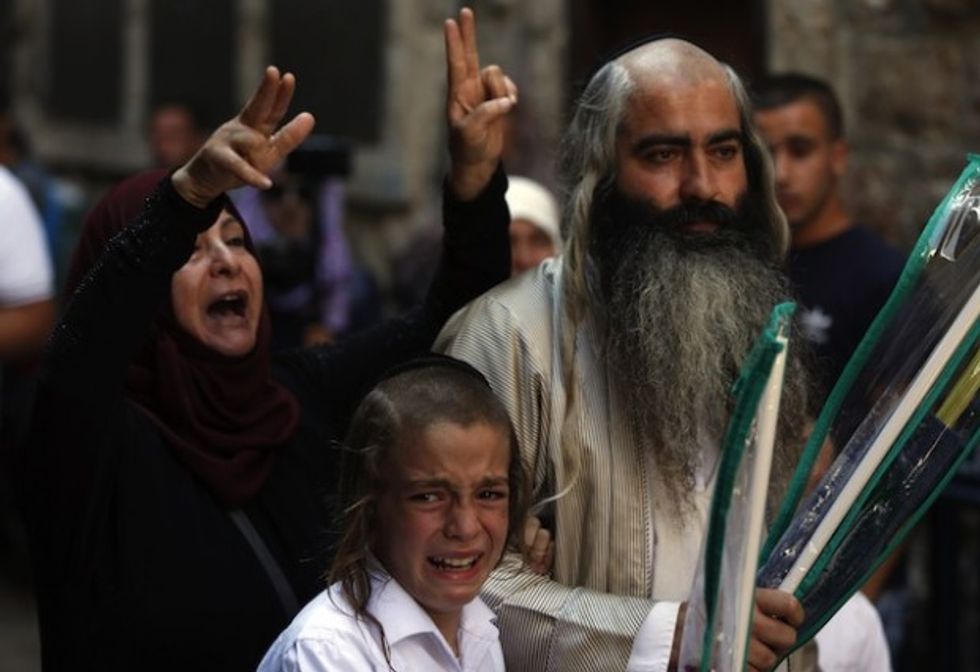 An AFP photographer also took photos of the scene. The AFP/Getty caption read in part: "A religious Jewish boy cries as him and his father walk past Palestinians shouting slogans to protest against what they see as interference by Israeli authorities in the al-Aqsa mosque compound, Islams third holiest site, on September 28, 2015, in Jerusalem's old city." The caption did not mention that the Temple Mount, situated above the Western Wall, is the holiest site in Judaism. (Photo: Ahmad Gharabli/AFP/Getty Images)
Fleisher said there were other Palestinian attacks on Jews throughout the day, including spitting and individuals who threw apples, bottles and rocks.
The journalist, who describes himself as a proponent of Jewish rights in Judea, Samaria and the eastern part of Jerusalem where all of the major Jewish holy sites are located said, "We will not be deterred by these tactics. We are absolutely determined, not deterred, to assert our rights to our official city and land and we will not be bullied."
"These bullying tactics have been their tactic for past 100 years and our population has soared in this region," Fleisher asserted. "It would behoove jihadists to understand we're tenacious and we are going to be victorious in the end."
The U.S. and other nations do not recognize Israeli sovereignty in east Jerusalem, captured from Jordan during the 1967 war, and have called on Israel to one day relinquish control of half of its capital to the Palestinians.
There have been multiple recorded incidents of Israelis and tourists being similarly harassed at the Temple Mount, the holiest site in Judaism and third holiest in Islam. On at least two occasions, visiting U.S. congressmen have been caught in the fray.