A receptionist for the Vatican Embassy in Washington, D.C., confirmed to TheBlaze Wednesday that Pope Francis met with Kentucky county clerk Kim Davis during his visit to the United States last week.
While information about what precisely was discussed during the meeting has not been released, the staffer with the Apostolic Nunciature of the Holy See to the United States said the meeting did occur, confirming statements from Davis' attorneys.
A Vatican spokesman initially would not confirm or deny whether the meeting happened; later Wednesday morning, Rev. Federico Lombardi finally told the New York Times he "did not deny that the meeting took place, but I have no other comments to add."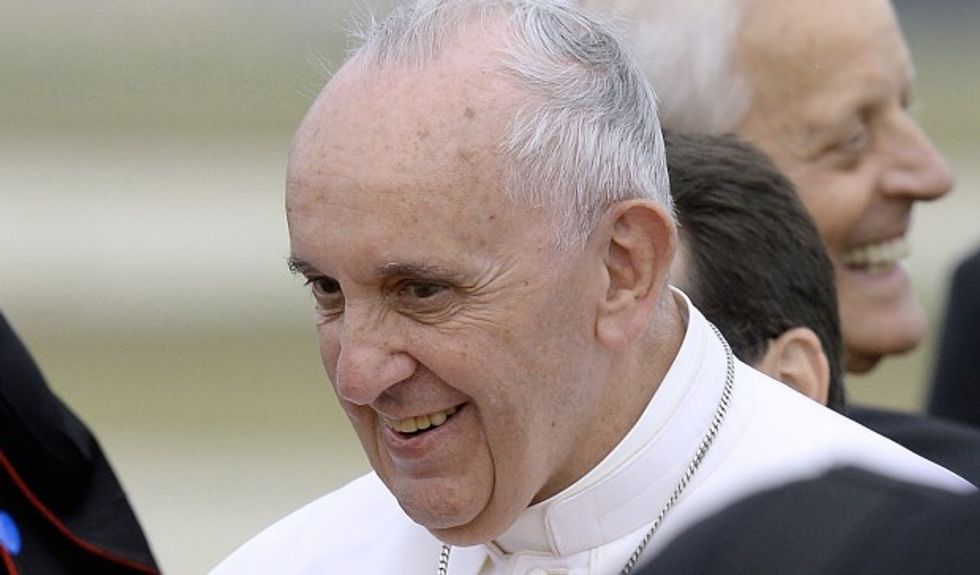 Olivier Douliery-Pool/Getty Images
As TheBlaze previously reported, Liberty Counsel attorney Mat Staver told CBS News on Tuesday that Davis and the pontiff met last Thursday at the embassy.
The Liberty Counsel in a statement Tuesday night said Francis met with Davis and her husband, Joe, on Thursday, and that the pontiff spoke to the couple in English.
"Thank you for your courage," the pope told Davis, according to the Liberty Counsel. "Stay strong."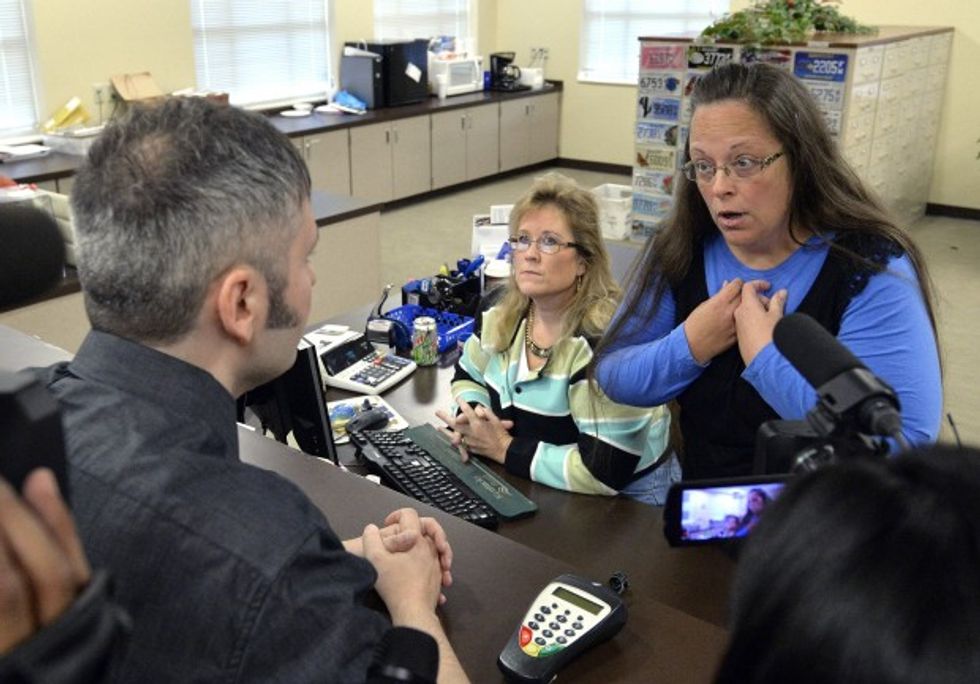 Rowan County Clerk Kim Davis, right, talks with David Moore following her office's refusal to issue marriage licenses at the Rowan County Courthouse in Morehead, Ky., Tuesday, Sept. 1, 2015. (AP Photo/Timothy D. Easley)
The statement said the two "embraced" and each asked for prayer. Expressing his gratitude to Davis, Francis also gave both Kim and Joe Davis each a rosary that he had blessed.
"I was humbled to meet Pope Francis. Of all people, why me? I never thought I would meet the pope," Davis said in a statement. "Who am I to have this rare opportunity? I am just a county clerk who loves Jesus and desires with all my heart to serve him."
Lawyers for Kim Davis just released this photo - says @Pontifex gave Davis and her husband these rosaries last week. pic.twitter.com/PwdDiWYvhu

— Hallie Jackson (@HallieJackson) September 30, 2015
Davis described Pope Francis as "kind, genuinely caring, and very personable."
Davis was in Washington last week to receive an award from the conservative Values Voter Summit. In an interview with TheBlaze, the clerk, who spent five days behind bars earlier this month, said that going to jail for refusing to comply with a court order to issue marriage licenses to gay couples because of her religious beliefs was "a joy."