WASHINGTON — Kentucky county clerk Kim Davis said it was a "joy" to be sent to jail for refusing to comply with a court order to issue marriage licenses to gay couples because of her religious beliefs.
The Rowan County clerk told TheBlaze in an interview Friday that she experienced a "flood of emotions" during her legal fight, which culminated with her spending five days behind bars earlier this month.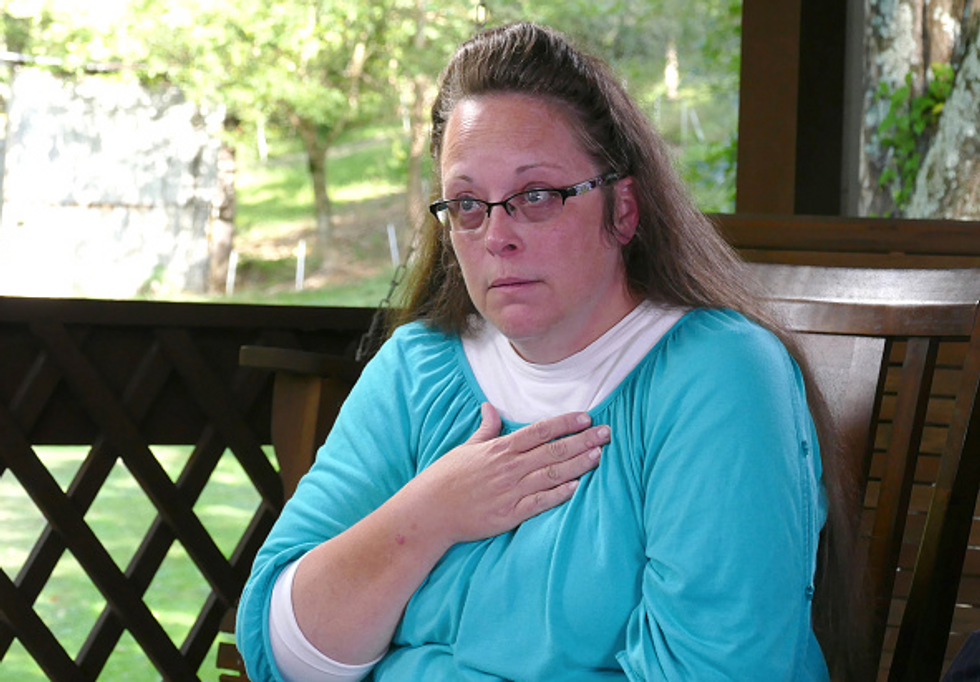 Photo by Ida Mae Astute/ABC via Getty Images
"Initially, I could see when we were in court that day how things were going to turn. I had already weighed the cost and I knew what I was prepared to do," Davis said. "When Judge Bunning told the marshals to remand me into custody, I sat there very calmly with just a flood of emotions going through me."
"I walked out of there calmly and as soon as they took me back into the holding cell, I hit my knees [and] I started praying," she said. "When I went to jail I was treated very fairly. I had to consider it all a joy. My Lord died for me. If I can't spend a little time in jail for him and his word and upholding what is right and true, what I did pales in comparison to what he did for me. When I got notice that I was being released, I wasn't prepared for that either. So, it was very humbling to walk out there and see all those people. It was very emotional and overwhelming."
Davis, who was in Washington to receive an award during the conservative Values Voter Summit, called her experience "something that will definitely affect each and every one of us personally in the United States."
"At one time or another they will be faced with the issue of whether they are going to be able to stand for their beliefs or not and uphold their moral convictions and maintain their conscience intact," Davis said. "It will affect each and every person."
Davis, who also announced Friday that she and her husband have switched from the Democratic Party to the Republican Party, reiterated that her stance is not about homosexuality itself.
"It's never been a gay or lesbian issue for me, it's about upholding the word of God. What we have asked for all along is a simple accommodation to remove my name and authority and the county clerk's name and authority off of the marriage license applications," Davis said. "We've made it clear from the beginning that the interpretations of other people is always their own."
[sharequote align="center"]Kim Davis: "I had to consider it all a joy."[/sharequote]
Davis said that her situation has been "pressure-filled" with critics calling her a hypocrite and other names.
"I've wondered why would God ever choose a woman like me stand up and defend marriage," Davis said. "It's not mine to question because his ways are perfect. It is by the blood of Jesus that I have been redeemed, I've been made whole, I am a new creature."
On Thursday, Davis' legal team filed a 40-page court document saying Kentucky Gov. Steve Beshear had "commandeered" the county clerk offices and had "usurped control of Kentucky marriage law." Beshear sent letters to 120 county clerks directing them to issue gay marriage licenses after the Supreme Court handed down its ruling recognizing gay marriage in all 50 states.
The case against Davis is not about marriage licensing, but about forcing her and others to act against their conscience, said attorney Matt Staver, chairman of the Liberty Counsel, which is representing Davis.
"If they really wanted a license, they could have a license, they could drive 30 minutes either direction. It's not that they want a license. They want Kim Davis' scalp on it. They want Kim Davis' name on the license," Staver told TheBlaze. "This is not unique to this case. It's the same that happens to a baker and a florist. There may be other options for a baker and florist to their wedding. But they want the person with the deeply held religious convictions being the one to do it."
The issue is about whether Christian or people of other faiths with deeply held convictions regarding marriage can hold public office, which is bigger than any individual, Staver said.
"If Kim Davis resigns, that means if you are a Christian and you believe that marriage is a union between a man and a woman — which people have believed through millennium and Jesus spoke about himself in the gospels — that means you better not run for office," Staver said. "If you're in office, you better resign. But it's not just for elected officials. It means everybody in public employment."