Melissa Klein, owner of the embattled Sweetcakes by Melissa bakery, explained on Monday why she and her husband, Aaron, continue to ignore a $135,000 judgement imposed over their refusal to make a lesbian wedding cake, saying that they don't want to set a bad precedent.
"We feel like we shouldn't have to pay when we haven't even gotten due process," Klein told TheBlaze. "We also feel like we're taking a stand for the next person ... that this could happen to. We don't want to set a precedent."
She continued, "We want to fight this, and we want to fight this all the way."
Her comments were in response to Oregon Bureau of Labor and Industries spokesman Charlie Burr, who recently told the Daily Signal that the agency is "exploring collection options," which could set the stage for the government to go after the Kleins' home and assets.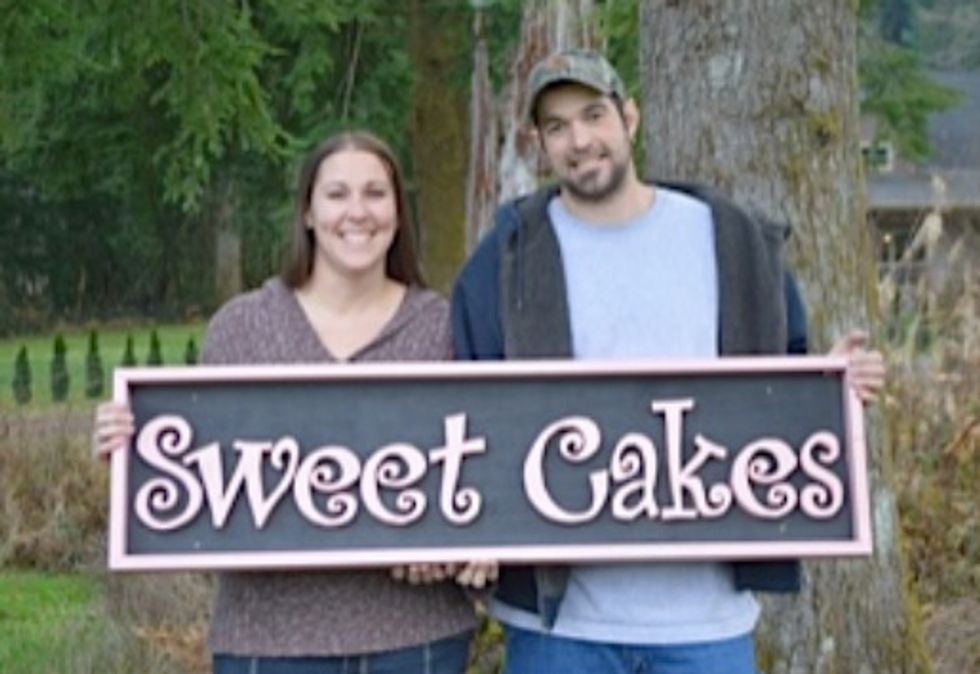 Melissa and Aaron Klein, owners of Sweet Cakes by Melissa (Sweet Cakes by Melissa)
"It's difficult to understand the Kleins' unwillingness to pay the debt when they have, very publicly, raised nearly a half million dollars," Burr said. "They are entitled to a full and fair review of the case, but do not have the right to disregard a legally binding order."
Supporters raised hundreds of thousands of dollars to support the Kleins through a crowdfunding campaign — a fact that Burr appeared to be referencing in his comments to the Daily Signal.
Klein said that she and her husband have received some of the money that was raised, but have not spent any of it.
"Right now, we're not touching that money, because we don't know what the future holds," she said. "We don't know what's going to come of all of this. We're in the appeal process."
Klein's comments mirror what her husband, Aaron, recently told the Daily Signal.
"There's legal reasons and there's also kind of personal reasons," he said of the refusal to pay the $135,000. "If a civil court or a circuit court judge had made this order, I would consider it legally binding. But when a bureaucracy does it and I didn't get due process, I don't call it legally binding."
Listen to the Kleins describe their case in a The Church Boys interview from earlier this year below:
As TheBlaze previously reported, problems for the Kleins began in 2013 after they declined to make a wedding cake for lesbian couple Rachel Cryer-Bowman and Laurel Bowman-Cryer based on the bakers' religious views; the government subsequently awarded damages to the couple.
The Kleins have repeatedly defied a July 13 order that they pay the couple $135,000.
A request for the Oregon Bureau of Labor and Industries to stay the order until the case plays out in court was denied, as the Kleins continue to await reply from the Oregon Court of Appeals. Read additional details about the government's latest move in the case here.
Follow the author of this story on Twitter and Facebook: