Bloomberg Politics reporter Mark Halperin tried to ask Hillary Clinton about gun control during a campaign stop Monday night, but she ignored him, even though he was standing just inches away.
Clinton didn't appear to be taking reporters' questions, but she was answering questions from voters. So Halperin got Clinton to answer his question by having a voter ask it instead.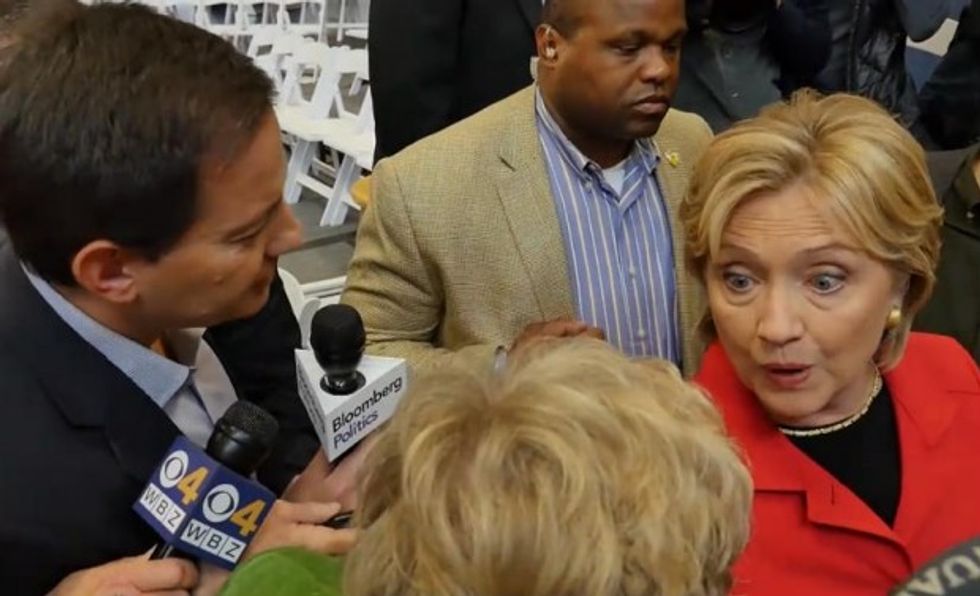 Image source: Bloomberg
"What's your message to the NRA, Secretary Clinton?" Halperin asked Clinton, as they were surrounded by other reporters and event goers.
But Clinton acted like Halperin wasn't there, failing to even look at him, despite standing just inches away.
Halperin tried again: "Can I ask you a question about guns, Secretary Clinton?"
Again, he got no response. So Halperin tried his luck a third time.
"Secretary Clinton, what's your message to the NRA?" he asked Clinton, who continued to seemingly ignore the reporter's question.
But Halperin wasn't going to let Clinton avoid answering that easily. Determined to pry out some sort of response from the presidential candidate, the veteran reporter enlisted the help of a voter who approached Clinton and asked her the exact same question."
"What's your message for the NRA? I know you've been talking about gun control," the voter said.
And just like that, Clinton finally gave a response.
"My message is not to them or for them," Clinton said. "My message is to the American people. It is time that we stood up together for common sense gun safety measures to end the epidemic of gun violence."
The question came less than one week after a gunman fatally shot nine people on the campus of Umpqua Community College in Roseburg, Oregon, once again renewing the national debate over gun control and the Second Amendment.
During a White House news conference just hours after the massacre, President Barack Obama called on Congress, state governors and state legislators to act on gun control. Responding to critics who have said in the past that he politicizes such violent killings, Obama said the issue was "something we should politicize."
(H/T: Washington Post)
–
Follow Jon Street (@JonStreet) on Twitter