A Tennessee county commissioner's proposed resolution that begs God for mercy and implores the Almighty to "pass" the county by during "his coming wrath" over the Supreme Court's legalization of gay marriage wasn't taken up on Tuesday night as expected.
The Blount County Commission decided to reject the agenda for the meeting, voting 10-5 to turn down a discussion and decision on commissioner Karen Miller's proposed resolution; members essentially adjourned the full committee meeting before it even began.
At least one critic who showed up in support of gay marriage shouted, "Cowards" at members of the commission for deciding not to take up the contentious agenda item, the Christian Post reported.
Miller, who expressed both surprise and disappointment that her resolution was essentially turned down, told reporters that she will likely reintroduce the measure, setting the stage for continued debate on the matter.
"I had no idea this was going to take place. I was totally in the dark. It was a total surprise," Miller told reporters after the meeting, according to WBIR-TV. "People have a right to speak. They're here. We're here to represent them, and they're here to speak to us. And I'm very disappointed that it was cancelled."
As TheBlaze previously reported, the original text of Miller's resolution took aim at the Supreme Court and begged God to spare the county what she believes will be impending punishment for the legalization of gay marriage.
"Federal judges have once again usurped powers not delegated to them, and have violated reason, the rule of law and natural law by purporting to strike down state laws and acts of the people recognizing and protecting natural marriage," the original resolution read in part.
The text went on to state that the resolution is being issued in an effort to protect the county from God's anger over gay marriage legalization.
"We adopt this Resolution before God that He pass us by in His Coming Wrath and not destroy our County as He did Sodom and Gomorrah and the neighboring cities," the text reads, in part. "As the Passover Lamb was a means of salvation to the ancient Children of Israel, so we stand upon the safety of the Lamb of God to save us."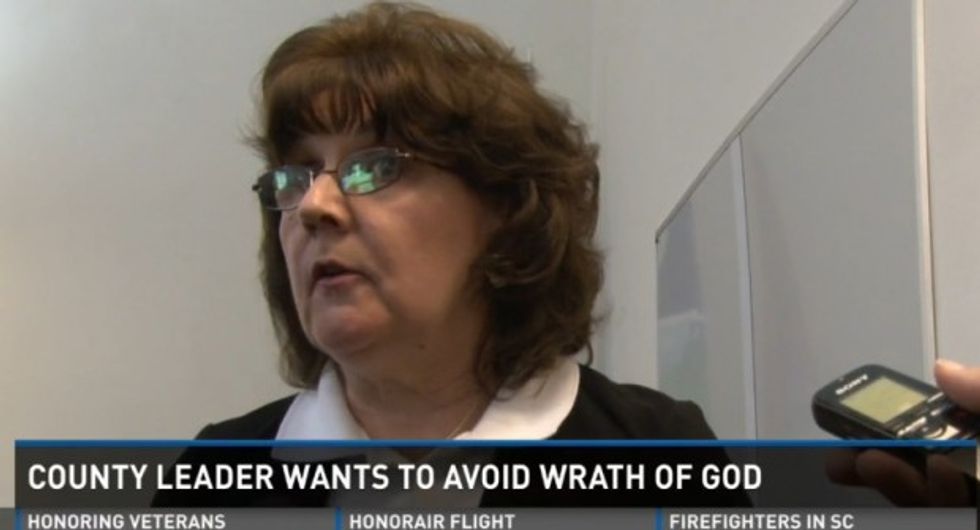 Commissioner Karen Miller (Photo credit: WBIR-TV)
The resolution went on to beg for God's "favor" in light of what it proclaims to be a "lawless judiciary" that legalized "what God and the Bible expressly forbids." Read more about it here.
(H/T: Christian Post)
Follow the author of this story on Twitter and Facebook: