A new video posted on YouTube appears to show a man in Gonzales, Texas, being arrested after he went over the 3-minute speaking limit during a city council meeting on Tuesday, where he unloaded some major allegations.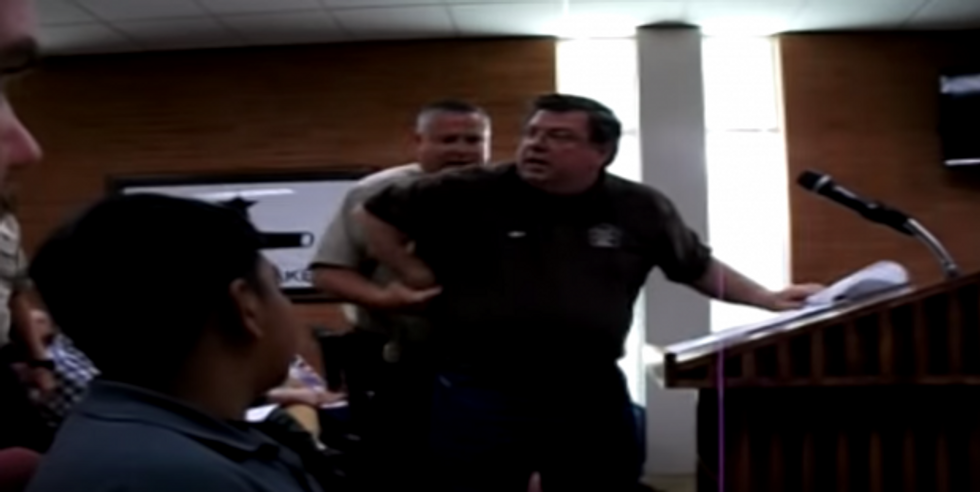 YouTube screengrab
Resident Mike Hanson accused the federal government of "taking over" the local government in Gonzales by subverting the authority of local law enforcement.
"I'm here to tell you and the public that I'm going to hold y'all personally responsible, mayor, when something happens. When somebody gets killed or hurt, we're going to hold you responsible after tonight because you're going to be informed," Hanson said during the meeting.
He said residents want to keep local police officers and sheriff's "local" and "locally controlled." He then alleged the U.S. Drug Enforcement Administration, Bureau of Alcohol, Tobacco, Firearms and Explosives and "God knows what else" has taken over the local government in Gonzales.
More specifically, Hanson alleged the federal agencies were seizing people's land and property in "asset forfeit seizures" and then giving some of it to local police officials.
Hanson also accused the local media of refusing to report on the story because of its association with his name.
After speaking through the 3-minute limit, one of the Gonzales City Council members told the resident that his speaking time was over.
"Im not done," Hanson replied.
Less than a minute later, an officer is seen in the video approaching him and handcuffing his hands behind his back.
"They do not want this out in this town!" the man shouted as he was placed under arrest.
The description in the YouTube video's description claims Hanson was charged with disrupting a meeting and resisting arrest.
Messages left with Gonzales Mayor Robert Logan and police chief Tim Crow were not immediately returned on Wednesday.
---