College student Kaytee Moyer was initially hesitant to watch now-infamous undercover videos from the Center for Medical Progress that purport to show Planned Parenthood selling fetal body parts, but after she did, she felt compelled to take action.
"After watching that first video that came out, I feel like the issue blew me wide open," Moyer, who recently hosted a campus protest against Planned Parenthood, told TheBlaze. "I have never felt so deeply for something so quickly, as when I watched those videos released."
Before seeing the controversial clips, Moyer, 25, who said that she is not a religious person, had avoided the abortion issue altogether. But something about the contents of the undercover videos led her to abandon her silence.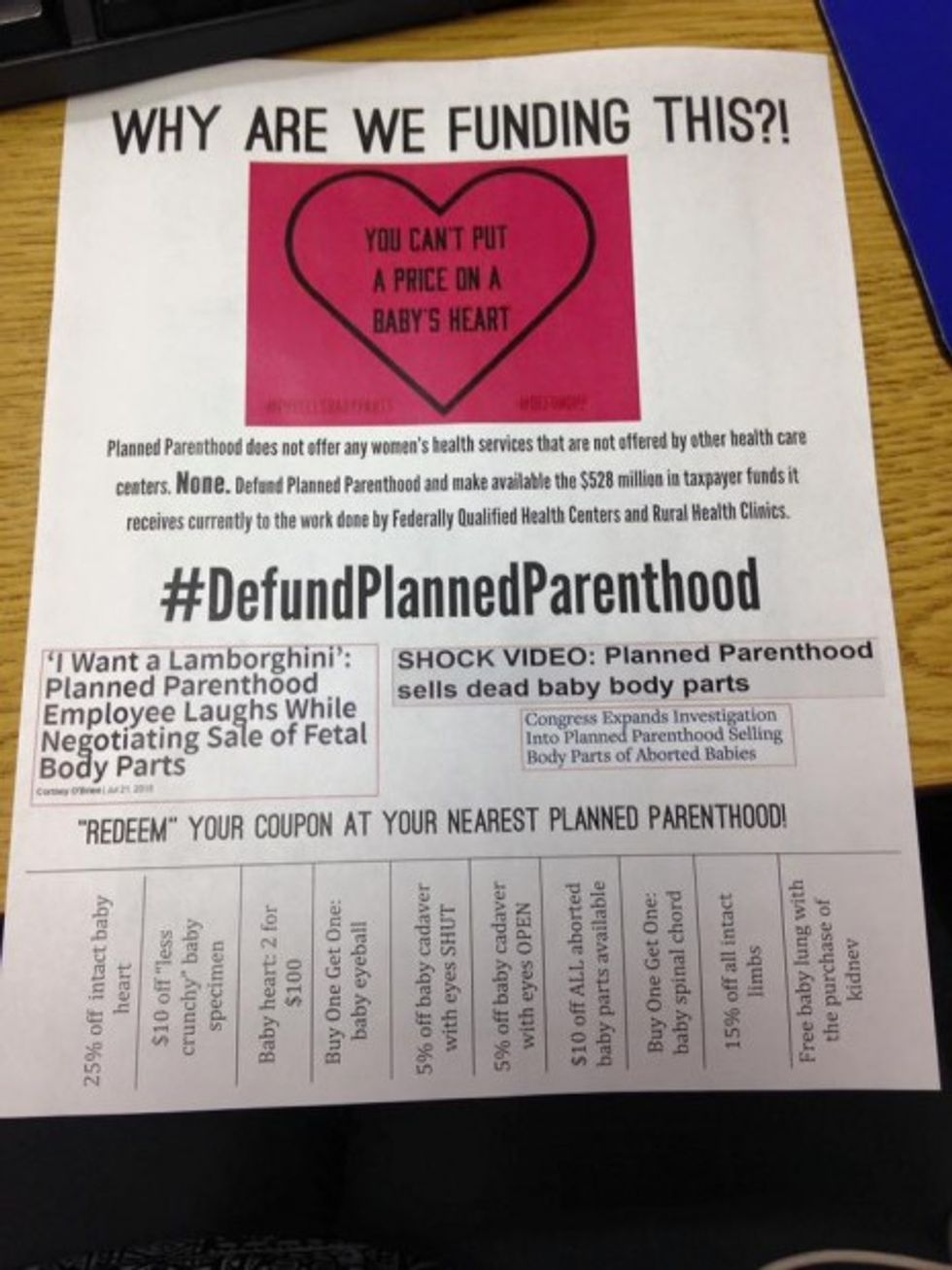 A flier created by Katie Moyer (Katie Moyer)
"Watching those videos made me realize this has nothing to do with religion, but everything to do with whats moral and ethical," she said.
"Forcing myself to sit through those videos and hear about what really happens was excruciating, but more impactful than I think I can honestly put into words."
Moved to action, Moyer said that she called some of her conservative friends and the group decided to host a small protest on their campus at Millersville University of Pennsylvania in Millersville, Pennsylvania.
The night before the event, though, she said that her friends got cold feet. Rather than back out, Moyer decided to continue on with her plans.
So, on October 5, she stood at the busiest intersection on campus and handed out fliers, but that's not all. Moyer also pinned specific price tags to different areas of her body, seemingly mimicking claims that Planned Parenthood has been selling fetal body parts.
"I also, once the lunch rush began, walked around both of the main cafeterias on campus, handing the flyers to students at the tables," she said.
Overall, Moyer said that the reception was overtly positive, with people shaking their heads in disgust when they read her flier — a dynamic that surprised her.
"The only negative reactions came from people that didn't read the flyer. They saw Planned Parenthood and scoffed or crumbled up the flyer," she said. "But the impact that I saw the knowledge having on my fellow students far outweighed those two minuscule reactions."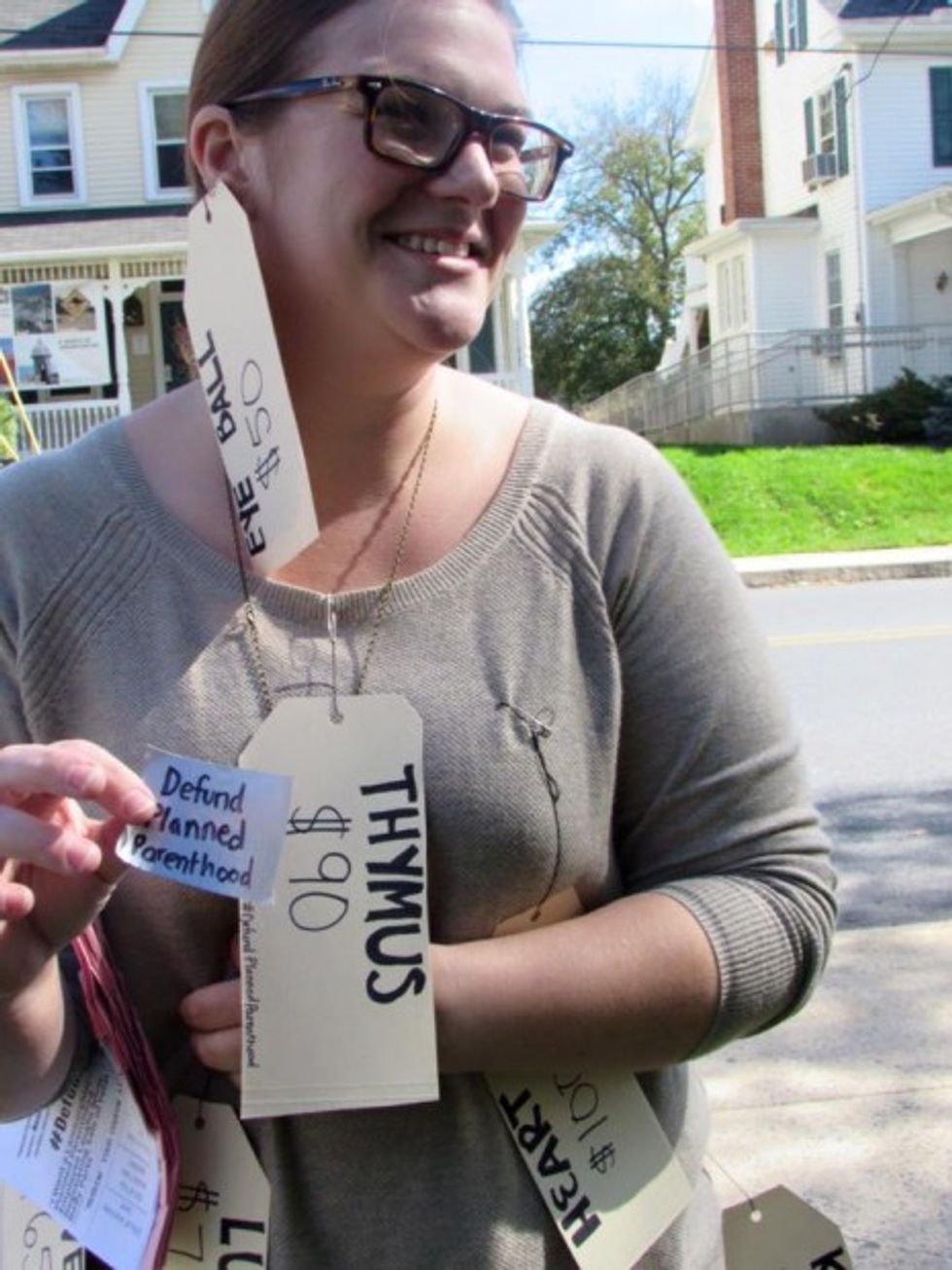 Katie Moyer protested against Planned Parenthood on her campus (Katie Moyer)
The move to go out on her own, though, didn't come without its challenges, as Moyer said that the hardest part was "standing alone."
"That is terrifying, to be completely honest. Especially when you are standing alone," she said. "It also turned out to be incredibly personally rewarding. I have so much faith in my generation."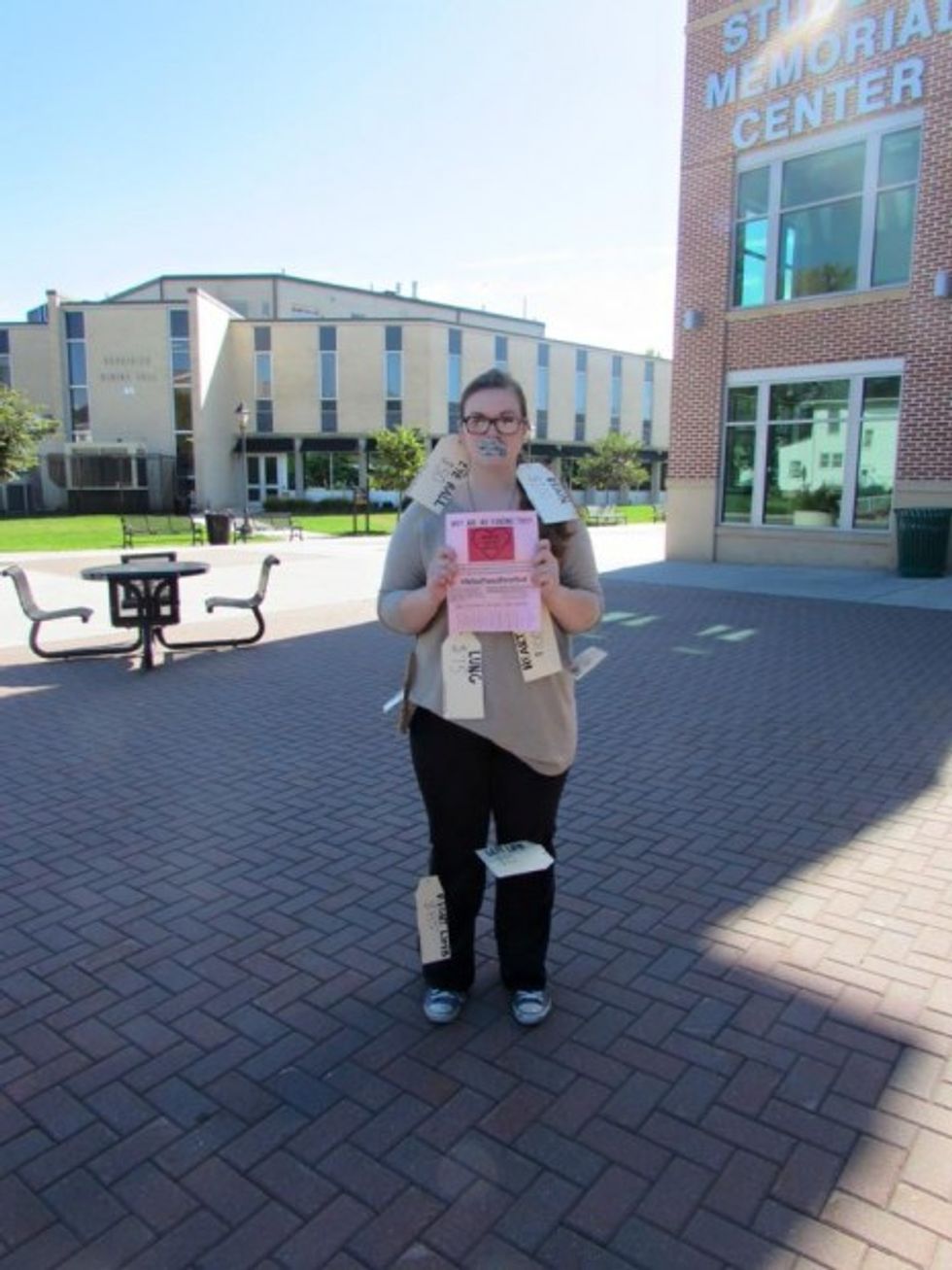 Katie Moyer shows her flier during her campus protest (Katie Moyer)
Moyer continued, "If we communicate our conservative principles effectively, millennials will catch on because liberty and conservatism resonate with young people."
Follow the author of this story on Twitter and Facebook: