Shortly before Nation of Islam's Minister Louis Farrakhan spoke to a massive crowd gathered on the National Mall in D.C. Saturday, one of Farrakhan's representatives, Reverend Tony Muhammad, accused the Centers for Disease Control of intentionally doctoring vaccines to injure black and Hispanic boys.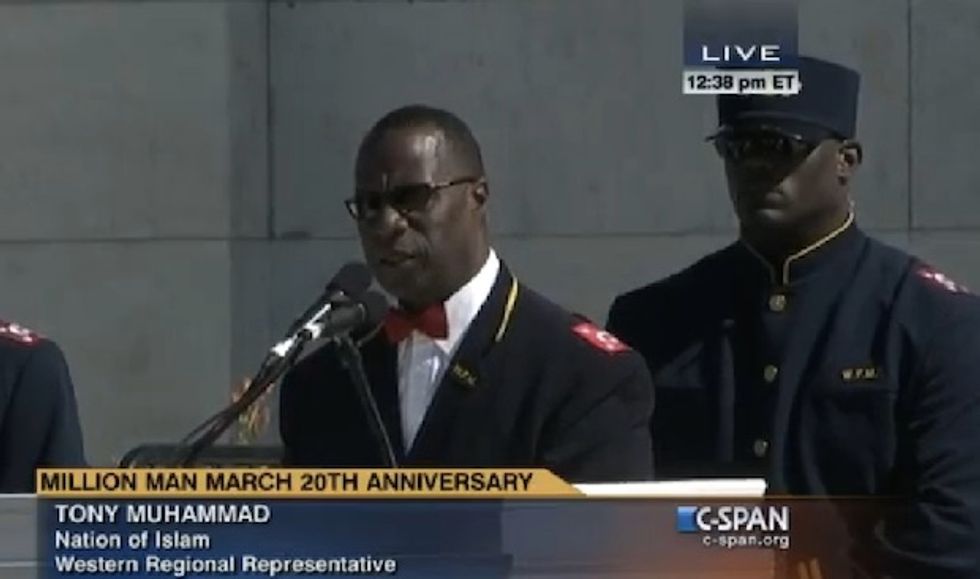 Image: C-Span
In a brief, but fiery address, Muhammad, the Western Regional Representative for the Nation of Islam, laid out shocking charges about the CDC. He claimed the information was given to him by Robert Kennedy Jr.
"Four months ago, Bobby Kennedy, the son of Robert Kennedy, met with me in Los Angeles to give me some shocking, revealing and I mean, terrible information on what's going on at the Center for Disease Control in Atlanta, Georgia.

It had been brought to our attention that the senior lead scientist for the Center for Disease Control has admitted that the MMR vaccine and many of the vaccine shots have been genetically modified to attack black and Latino boys."
Rev. Muhammad continued:
"And the pharmaceutical industry, along with the American Medical Association have found a way, like Pharaoh did -- doing the children of Israel when it was time for them to make an exit -- Pharaoh said, 'Let us kill all boy babies, two and under.'

Now, they are trying to force vaccines on baby boys...At least 80 shots before they are three-years-old."
The Nation of Islam representative followed this news by announcing the NOI's plan to protest outside the CDC in Atlanta, later this month.

Image: cdctruth.org
TheBlaze reached out to both the CDC and Robert Kennedy Jr. for comment. Late Tuesday afternoon, Kennedy spoke with us by telephone.
Mr. Kennedy confirmed the Los Angeles meeting with Muhammad did occur, approximately four months ago, "at a church." Kennedy told us Muhammad's comments were "not an accurate characterization" of that meeting, adding, "Reverend Tony was conflating the issue."
When asked if there was ever a discussion with Rev. Muhammad about the CDC altering vaccines to injure blacks and Latinos, Kennedy emphatically stated, "No, no, no."
We asked if there was any proof the CDC ever genetically modified vaccines, "There is no proof of that," Kennedy stated, adding, "Absolutely not."
The "senior lead scientist" at the CDC referenced by Rev. Muhammad, was likely Dr. Bill Thompson, a 17-year-employee of the federal agency. Back in 2014, Thompson (who was mentioned by Kennedy in our conversation) came forward with data the CDC reportedly told him to conceal. That data showed African-American babies who received the MMR vaccine before the age of three, were more than 3.3 times as likely to be diagnosed with autism.
A pro-vaccine person, Kennedy stressed to TheBlaze his interest in getting mercury removed from all vaccines, especially "pediatric vaccines." Citing a host of statistics about mercury and some of the devastating long-term effects the metal has on pregnant women and babies, Kennedy talked at length about the need for greater "transparent science" at the CDC.
Earlier this year, Kennedy published an open letter about the CDC's past problems in accurate reporting of data relating to pediatric vaccines, their connection to a spike in Autism and some overlooked or omitted data connecting race to elevated rates of Autism in African American boys.
Watch Rev. Mohammad's address here.
--
Follow the author of this story on Twitter and Facebook: