Kia is getting a lot of praise online for its new "participation trophy" commercial that aired during Sunday Night Football this week.
In the ad, a father walks with his son after his youth football team "won every game." He spots the trophy in his son's hand and asks to look at it.
"Participant," the plate on the trophy reads.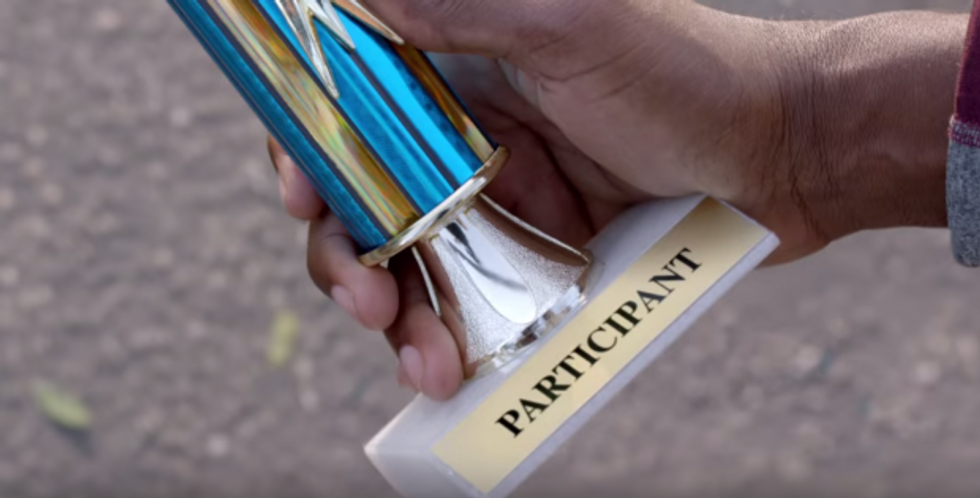 Kia
"Participation trophy — but we won every game," the father thinks to himself. "Why do we get the same trophy as all those teams we beat? Are we going to start ending games with hugs instead of handshakes?"
That's when the father peels off the "participation" plate and writes "Champs" on the trophy.
"Here you go, champ," the dad says as he gives it back to his son.
Check out the ad, originally released earlier this month, below:
Here are just some of the reactions online:
Love that new Kia commercial with the participation trophy

— DJ DIRTY LOOPS (@GeorgeChrencik) October 12, 2015
I wholeheartedly endorse the message of this commercial. http://t.co/YqDLlh4f01

— Peter Matesevac (@harmonyav) October 12, 2015
One of the best commercials we have seen!!! Let us know what you think... #KIA #MIDRIVERSKIA #NAPLETON... http://t.co/Qs0mh2Ng1E

— NapletonsMidRiverKia (@MidRiversKia) October 12, 2015
This is perfect. If you ain't first you're last. http://t.co/xFeF6ghzsN

— Anth. (@Anthony_Lovio) October 12, 2015
Here you go, Champ! http://t.co/Zs04iw1weU

— Jim Williams (@jwilli12) October 12, 2015
---