A Marine Corps base in Hawaii has decided to keep a controversial "God bless the military" sign that has riled some activists in recent weeks, saying that the placard serves as a "secular symbol."
The Military Religious Freedom Foundation complained late last month that the sign at Marine Corps Base Hawaii in Kaneohe Bay, Hawaii, was inappropriate and should be moved to the base chapel, but a commander has declined that request.
Commander Col. Sean C. Killeen sent a letter on Friday to the Military Religious Freedom Foundation, explaining that the sign — which reads in full, "God bless the military, their families and the civilians who work with them" — will not be taken down.
"This sign will remain in its present location and not be altered in any way," the commander wrote.
Killeen said that, following an intense legal review, it was determined that the sign is secular and does not represent a sectarian stance, the Associated Press reported.
"We will always support all service members' rights to pursue and practice their own belief sets, whether religious or not," Killeen said.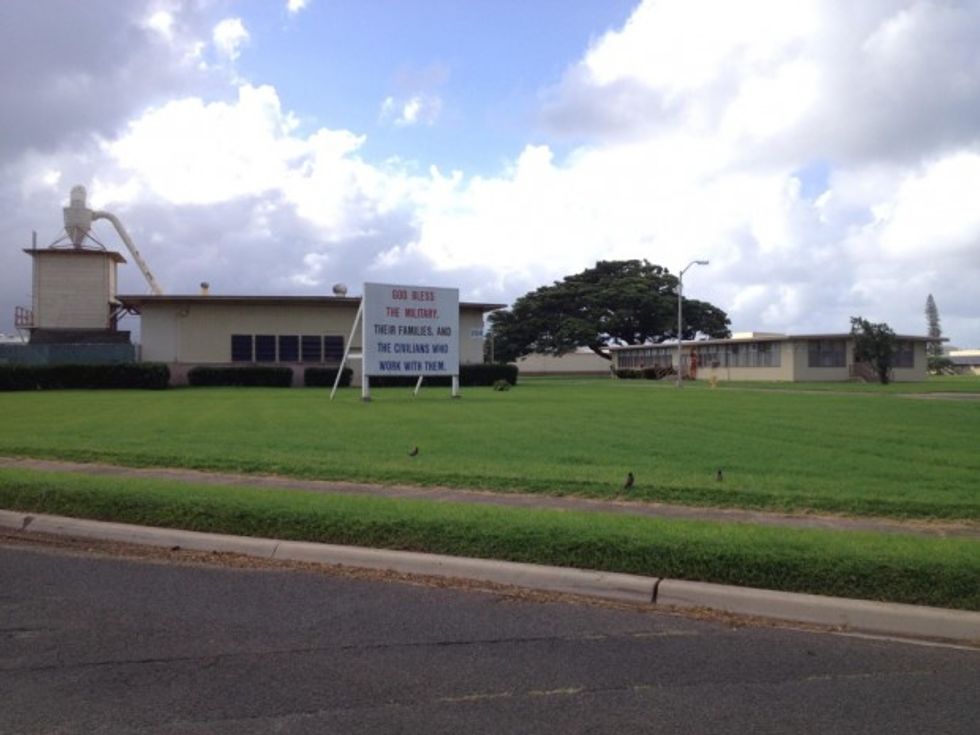 Image source: Military Religious Freedom Foundation
The move has left Military Religious Freedom Foundation president Mikey Weinstein considering a lawsuit, according to the Associated Press.
As TheBlaze previously reported, Blake A. Page, an assistant to Weinstein, wrote a letter to Killeen last month, calling the sign a "brazen violation of the No Establishment Clause of the Constitution" and said that it "it sends the clear message that your installation gives preference to those who hold religious beliefs over those who do not."
"We recognize the value that religious activity brings to the lives of many, however this sign is not in keeping with the time, place, and manner restrictions required by law [or] for any military commander to bolster religious principles through the official authority given to their rank and position," Page wrote.
The Military Religious Freedom Foundation asked that the sign — which was posted to offer support for troops who would be deploying in response to the Sept. 11, 2001, terror attacks — either be moved to the chapel or that other signs be displayed featuring different messages about God, though that latter request was not addressed in the military's response to the grievance.
In a response to Killeen, Weinstein wrote that he "completely rejects both your comprehensively wrong decision and your extremely faulty legal analysis in the matter below."
Weinstein is continuing his demand that other religious messages be permitted to be put on display, including signs that represent "the Church of Satan, the Baha'i Church and the Jedi Church."
"Failure to timely allow these additional religious message signs by you, Col. Killeen, only serves to exacerbate the unconstitutionality of your bigoted decision below and will open wide the door to potential Federal Court enforcement litigation," Weinstein wrote. "Among many other Constitutional violations, your decision also violates the implicit equal protection mandates of the 5th Amendment and the explicit equal protection mandates of the 14th Amendment."
Follow the author of this story on Twitter and Facebook: