Amid ongoing controversy surrounding undercover and investigative videos purporting to show Planned Parenthood selling fetal body parts, the organization has announced that it will no longer accept any payment in relation to its fetal tissue programs, the Associated Press reported.
Despite not accepting money — which Planned Parenthood has said was only ever used to cover costs associated with its donation program — the organization will continue to offer fetal organs and tissue for research purposes.
This new policy was detailed in a letter that Planned Parenthood president Cecile Richards sent Tuesday to Francis Collins, director of the National Institutes of Health, with Richards proclaiming that the organization's new stance goes above and beyond what is legally required.
Watch the first undercover video below (caution: disturbing themes):
"Planned Parenthood's policies on fetal tissue donation already exceed the legal requirements," Richards wrote in the letter, according to the AP. "Now we're going even further in order to take away any basis for attacking Planned Parenthood to advance an anti-abortion political agenda."
The organization, which has been under fire since undercover videos from the pro-life group the Center for Medical Progress started being released back in July, said that California and Washington are the only states in which about a half dozen clinics run fetal tissue programs.
Those clinics will continue their programs without accepting any money for what Planned Parenthood said was restricted to mere reimbursement for transportation and other costs that were incurred.
"I don't think it will have a huge impact on their budget," Dawn Laguens, Planned Parenthood's executive vice president, told the AP. "For Planned Parenthood, this was always about one thing — honoring the desire of women to contribute to lifesaving research."
She continued, "It was never about money."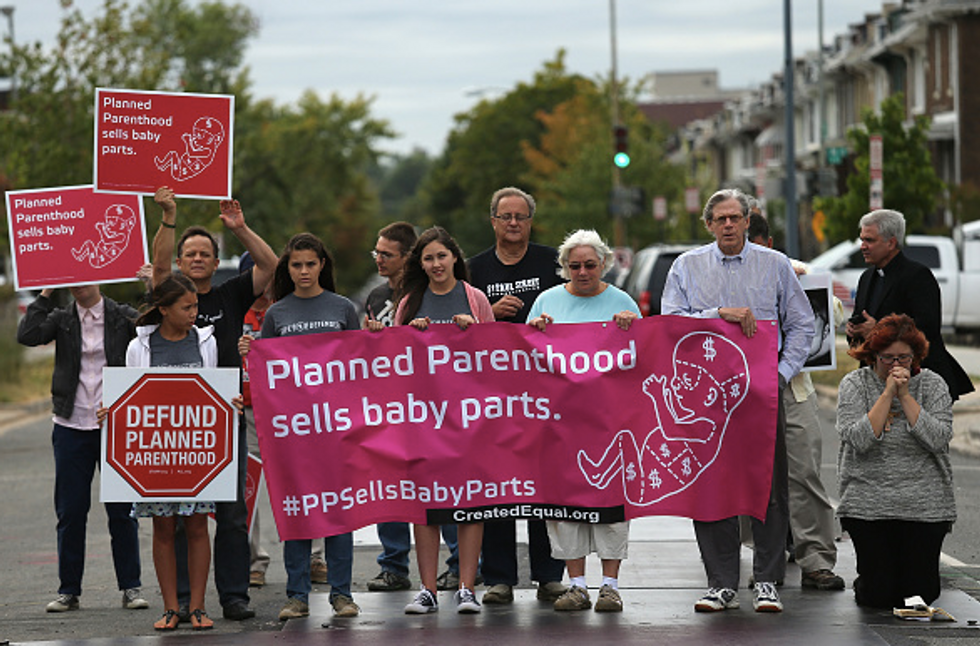 Right to Life advocates block 4th St. N.E. during a sit-in in front of a proposed Planned Parenthood location while demonstrating the group's opposition to congressional funding of Planned Parenthood on September 21, 2015 in Washington, DC. (Win McNamee/Getty Images)
The announcement comes after months of protests following the videos, which purported to prove that Planned Parenthood has profited from fetal donation beyond merely covering its costs.
The furor even landed Richards in front of Congress for a heated debate about her organization's practices.
This is a breaking news story. Stay tuned for updates.