A writer for The New York Times posted a profane message aimed at Jeb Bush on his Twitter account Wednesday night, then deleted it when it gained widespread attention.
"F*** you Jeb Bush for telling poor people they need stronger families to not be poor. Poverty weakens families," Times news assistant Philip Richardson tweeted.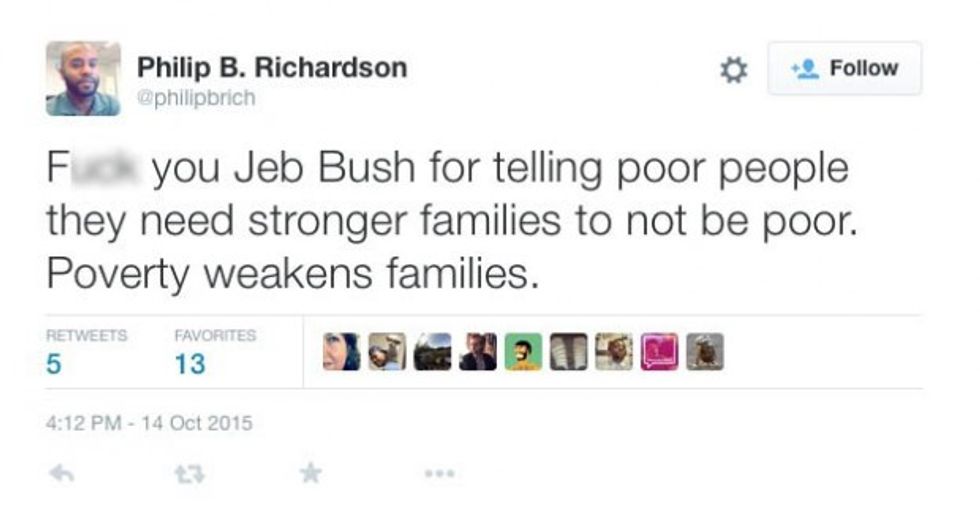 Image source: Twitter
Previously, the Times writer asked, "Who is this beautiful and brilliant black boy grilling #jebBush at New Hampshire Town Hall Meeting?? #blacklivesmatter."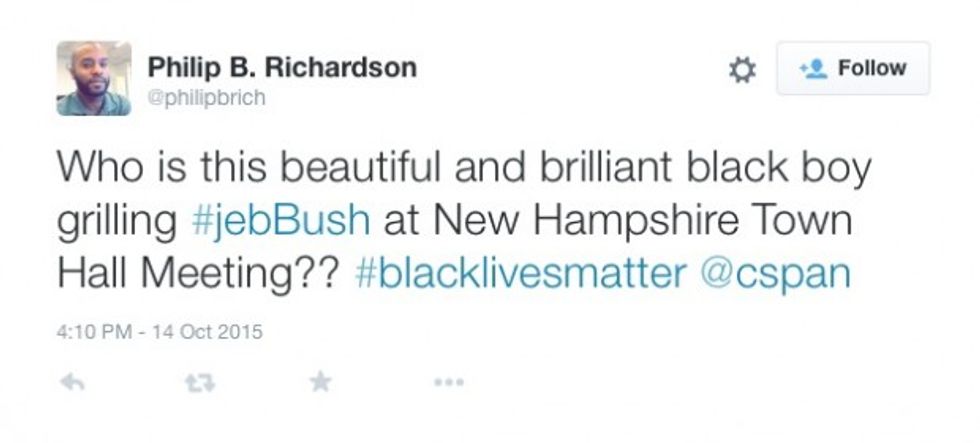 Image source: Twitter
After the publication of this story, a New York Times spokesperson provided the following statement to TheBlaze:
"This tweet was completely inappropriate. Philip Richardson is a news assistant on The Times's clerical staff, assigned to the photo desk. He is not a reporter or editor and is not involved in political coverage. Nevertheless, tweets like this are inappropriate for any Times newsroom staffer, and managers will take the necessary steps to deal with the situation."
Tim Miller, communications director for the Jeb Bush campaign, said the former Florida governor's plan calls for solving poverty through community safety, strong families, access to jobs and a revamping of education.
Miller told TheBlaze that Richardson's tweet just exemplifies the kind of attacks Bush has faced.
"At least he's being open about the hostility towards Jeb's conservative, pro-family philosophy," he said.
Editor's note: This story has been updated to reflect comment from The New York Times.
—
Follow the author of this story on Twitter and Facebook: