Secretary of State John Kerry expressed support for Israel's right to defend itself amid a renewed wave of terror attacks, but omitted any mention of Palestinians being behind the violence.
Kerry's expression of support Thursday followed scathing Israeli government criticism of the State Department spokesman who day earlier said Israel had used "excessive" force against Palestinians.
"We strongly condemn terrorist attacks against innocent civilians, and there is absolutely no justification for these reprehensible attacks," Kerry said at Indiana University. "We will continue to support Israel's right to defend its existence."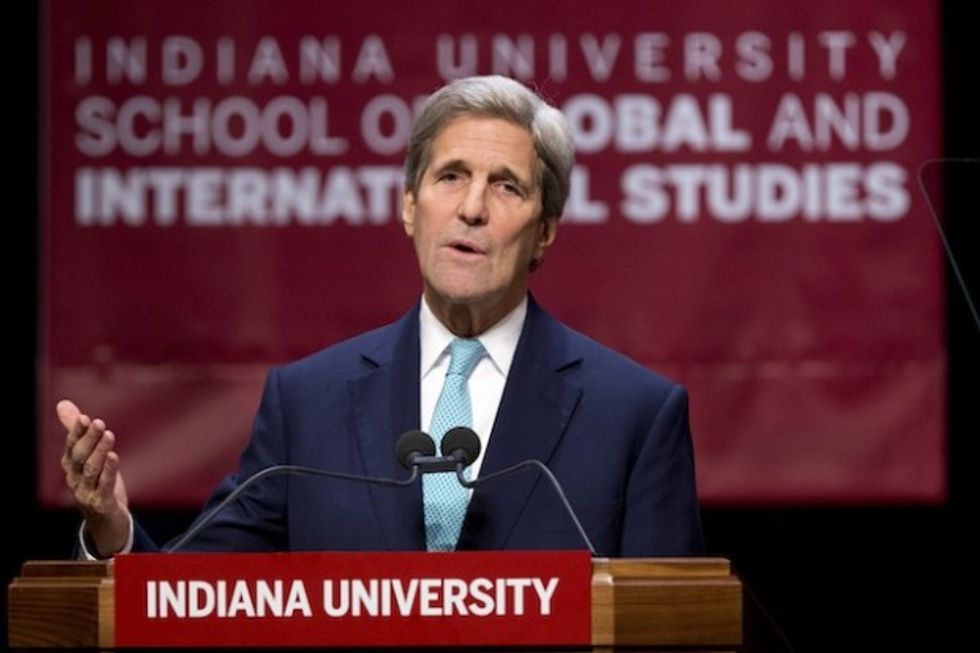 Secretary of State John Kerry talks about foreign policy priorities during a speech at Indiana University in Bloomington, Ind., Thursday, Oct. 15, 2015. (AP Photo/Michael Conroy)
Kerry described the recent stabbing attacks on buses and on city streets as "outrageous and unjustified attacks on innocent civilians who were simply trying to go about their daily business in Israel, the West Bank, Gaza, Jerusalem."
Kerry announced that he would be traveling to the Middle East in the coming days to try to calm the tensions.
It was unclear that if by naming Gaza, Kerry intended to censure Israel over an airstrike of Hamas facilities over the weekend that killed a Palestinian woman and her 2-year-old daughter.
The IDF said it had struck Hamas weapons manufacturing plants following the launching of two rockets at southern Israel.
Palestinian officials in Gaza said the two were killed when the explosion from the Hamas site caused a nearby building to collapse.
Without mentioning Palestinian Authority President Mahmoud Abbas, Kerry said the U.S. government would "continue to stress the importance politically and privately of preventing inflammatory rhetoric, accusations or actions that could lead to violence."
Israeli Prime Minister Benjamin Netanyahu on Wednesday blasted Abbas for promoting the false claim that Israel had shot dead a 13-year-old Palestinian boy who on Monday stabbed two Israelis, including a boy his own age riding his bicycle.
The Israeli Government Press Office on Thursday released video and photos of the boy, Ahmed Manasra, to debunk Abbas' claim that the boy was dead or had been shot, neither of which were true.
Earlier Thursday, Israeli Public Security Minister Gilad Erdan blasted the State Department as "hostile to Israel" and "foolish" after spokesman John Kirby described Israeli defensive actions to thwart stabbing attacks as an "excessive use of force."