President Barack Obama called for restraint on the part of both the Israelis and Palestinians Friday.
But he added that Israel has a right to enforce the law to defend its citizens against violence amid the latest wave of Palestinian attacks on Jews throughout the week that has prompted a crackdown by Israeli forces.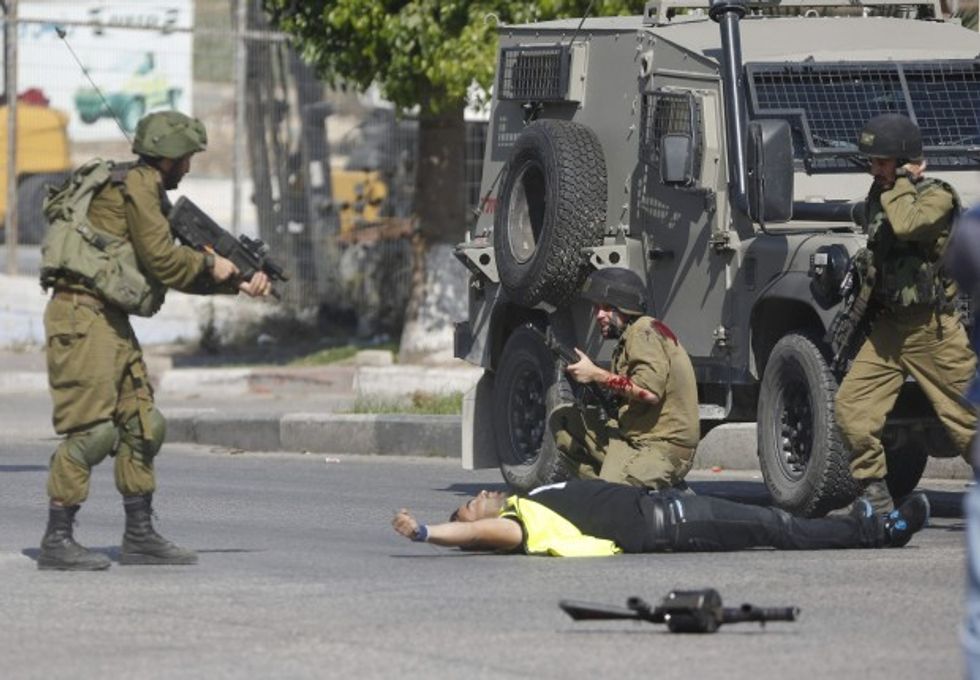 An Israeli soldier shoots a Palestinian holding a knife after he stabbed another Israeli soldier, seen kneeling, during clashes in Hebron, West Bank, Oct. 16, 2015. The Palestinian man wearing a yellow "press" vest and a T-shirt identifying him as a journalist stabbed and wounded an Israeli soldier before being shot dead by troops, the latest in a monthlong spate of attacks. (AP/Nasser Shiyoukhi)
"We condemn in strongest possible terms violence directed against innocent people and believe Israel has a right to maintain basic law and order and protect its citizens from knife attacks and violence on the streets," Obama said during a joint White House press conference with South Korean President Park Geun-hye.
Obama said it was up to Israeli Prime Minister Benjamin Netanyahu and Palestinian President Mahmoud Abbas to "tamp down" the violence.
"We also believe it's important for both Prime Minister Netanyahu and Israeli elected officials and President Abbas and other people in positions of power to try to tamp down and get all people in Israel and the West Bank to recognize this kind of random violence isn't going to result in anything more than more violence and more insecurity," Obama said.
"I don't think we can wait for all of the issues that exist between Israelis and Palestinians to be settled in order for us to try to tamp down on the violence right now," Obama said.
The president again called for a two-state solution as the only way to ensure security.