Senate Republicans will push for legislation that would cut federal funding to sanctuary cities — areas that do not prosecute illegal immigrants.
Sen. Pat Toomey (R-Pa.) announced in the Republican weekly address Saturday that the Senate will vote on legislation on Tuesday that would prohibit allocating federal funds to sanctuary cities. Toomey cosponsored the legislation by Sen. David Vitter (R-La.) which also includes the contentious Kate's Law — a five-year mandatory minimum sentence for illegal immigrants who reenter the U.S. after being convicted of an aggravated felony.
"These sanctuary policies are dangerous, and they undermine enforcement of our immigration laws," Toomey said.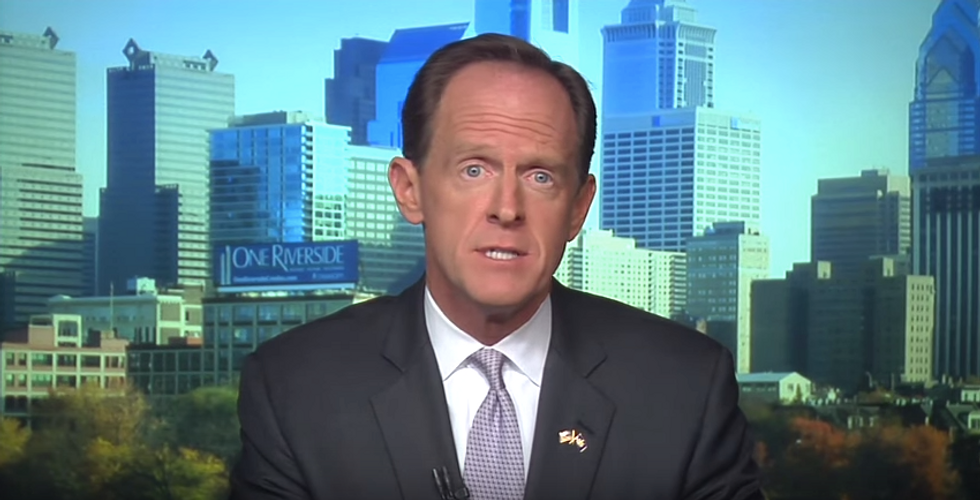 Sen. Pat Toomey (R-Pa.) advocates for legislation that would cut federal funding to sanctuary cities. (Image source: YouTube)
In his address, Toomey recounted the tragic story of Kate Steinle, the 32-year-old who was killed as she was walking with her father after an illegal immigrant opened fire on a pier in San Francisco — one of the so-called sanctuary cities. Francisco Lopez-Sanchez, who is facing charges for the shooting, had previously been deported five times and convicted of multiple felonies.
"That shooter should not have been on the pier that day," Toomey said.
Kate's Law, which critics admonish would do nothing to advance criminal justice reform, is named after Steinle.
Toomey said the legislation was less about immigration and more about "stopping criminals."
His push to end sanctuary cities is echoed by many GOP presidential candidates, including Louisiana Gov. Bobby Jindal who said in September that he would support jailing and prosecuting mayors of such cities. Republican presidential frontrunner Donald Trump has also repeatedly called for an "end" to sanctuary cities.
Despite strong Republican support for legislation that ends or punishes sanctuary cities, some Democrats have called it an attack on immigrant communities.
"We can do all the politicking we want. We can do the so-called 'Donald Trump Act,' which simply denies the cities and towns their dollars to hire police officers while attacking immigrant communities," Rep. Xavier Becerra (D-Calif.) said in July before the House passed their own legislation that punishes sanctuary cities. "Or we can actually do things that improve the lives of Americans."
According to The Hill, the Obama administration has previously threatened to veto legislation that would block funds to sanctuary cities. But in his address, Toomey argued that even some in the Obama administration are critical of sanctuary city policies.
"President Obama's own Secretary of Homeland Security has declared that sanctuary cities are, quote, 'not acceptable' and 'counter-productive' to public safety," Toomey said. "After all, we're talking about criminals who the Obama Administration already has deemed dangerous enough to deserve removal from our country."