Rep. Elijah Cummings (D-Md.), top Democrat on the House Select Committee on Benghazi, once again slammed the committee for not being "transparent" or fulfilling its job.
Appearing on CBS' "Face the Nation," Cummings said the committee needs a "complete transparent record" and called for Rep. Trey Gowdy (R-S.C.), chairman of the committee, to release all of the transcripts from their interviews. Again, the Maryland congressman criticized the committee for "zeroing in on Hillary Clinton" which he said was evident by who the House committee interviewed.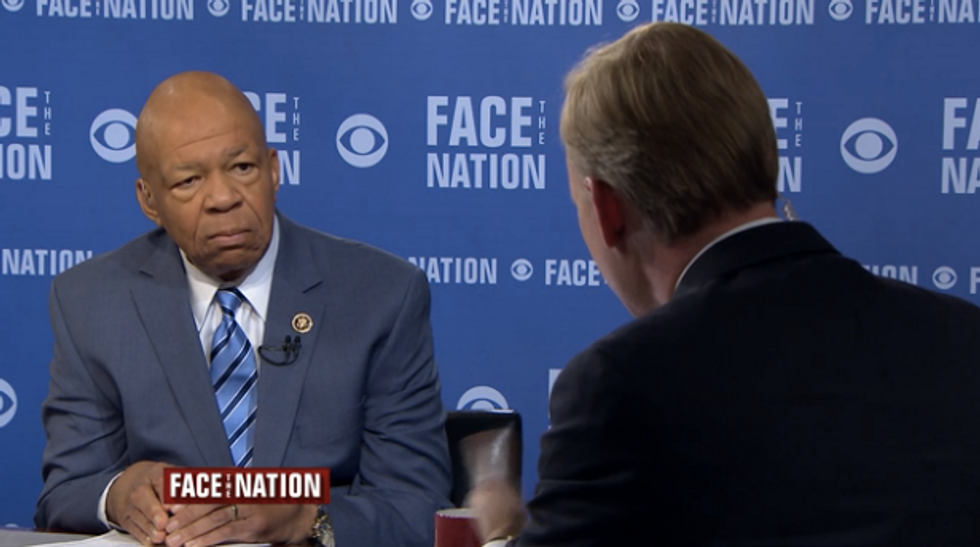 Image source: CBS News
"The fact is, this is a Benghazi committee. Perhaps another Committee on Oversight might want to look into all that," Cummings said, referring to Clinton's controversial use of a personal email server. "We have actually strayed away from what we were supposed to be doing. And again, I'm looking for transparency."
Cummings said he plans to release the Democrats' report that includes a variety of unclassified interview transcriptions this week.
"I can tell you, out of all the things Mr. Gowdy and others have been accusing Hillary Clinton of over the last three years, not a witness verifies any of that," Cummings said.
Cummings also said the House Democrats' report will also show that Clinton, who is set to appear before the committee later this month, was not involved with the security on the ground in Benghazi and will detail whether she was responsible for weapons moving between Libya and Syria.
Cummings also said it "was absolutely not true" that Clinton ordered U.S. troops to stand down during the 2012 attack — something he said was also evidenced in his report.
"I'm calling for Mr. Gowdy to release all of the transcripts so the American people can see what they paid for," he said.
"At some point we have to move from politics to policy," Cummings said.