Ahmed Mohamed, otherwise known as "Clock Kid," was dubbed the "American Muslim of the Year" by a Muslim civil rights group.
The Council of American-Islamic Relations awarded the 14-year-old the honor over the weekend during the organization's 21st annual banquet in Arlington, Virginia. The Washington Examiner reported that the award was in the shape of a clock.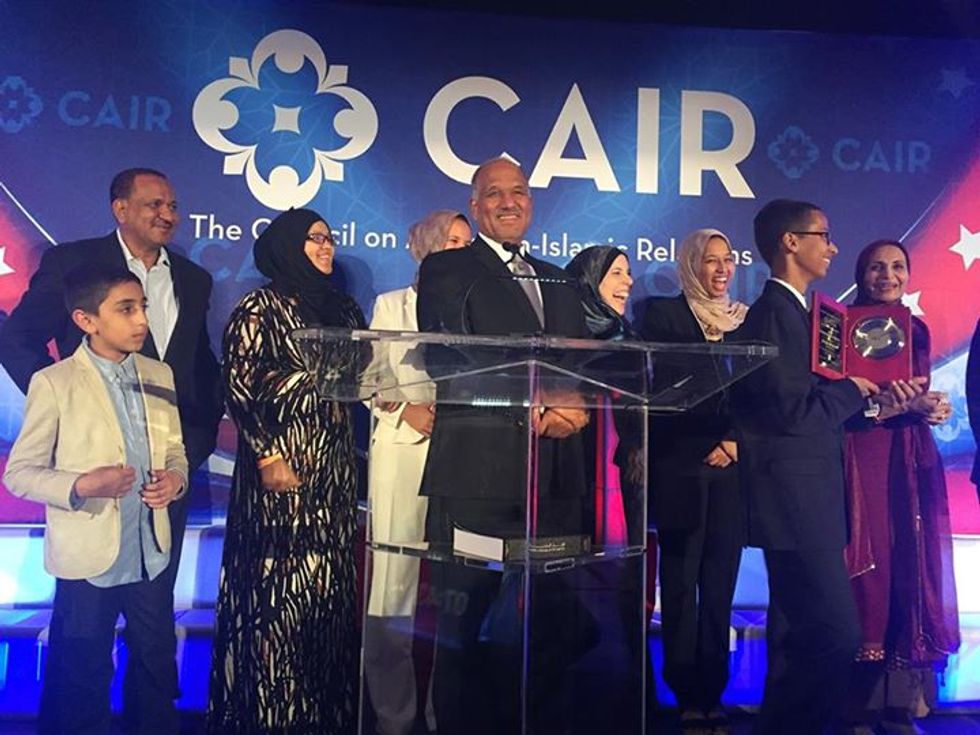 Ahmed Mohamed, second from right, was named "Muslim of the Year" by the Council on American-Islamic Relations Saturday. (Image via Facebook/CAIR)
"I just want to stop discrimination for everyone, not just for religious, but for all races as well," Mohamed said at the event, according to the Examiner.
CAIR said on Facebook that the event was overpacked and extra tables were needed to accommodate all of the guests.
Aside from Mohamed, other winners at the event included the Republic of Turkey, which received the 2015 Humanitarian Award, and Dr. Hisham Altalib, who won the Lifetime Achievement Award.
Mohamed first made national headlines in September after he was detained for bringing a homemade clock to school that authorities and school officials said resembled a bomb. Just last week the teenager traveled to meet Sudan's President Omer Hassan al-Bashir — a leader who has been accused of war crimes and orchestrating genocide.
"I am coming home, tell the world I am coming home #sudan," Mohamed said in a tweet Tuesday prior to landing in Sudan.
The young student is expected to attend the second annual Astronomy Night at the White House Monday night.  
In #WashingtonDC!! pic.twitter.com/M1aXBsPQle

— Ahmed Mohamed (@IStandWithAhmed) October 16, 2015