"California is burning."
So said Gov. Jerry Brown in August. While it's true that the state has seen more than its fair share of wildfires this year, some climate scientists and experts have come out to say that his connecting these incidents to global warming, as he calls for action to curb it, is somewhat misplaced.
According to the Los Angeles Times, Brown called the state's recent wildfire situation "a real wakeup call" to address pollution that contributes to global warming. But experts interviewed by the Times said there was not enough evidence to say climate change played a role and noted that land management practices were a more pressing issue when it comes to these fires.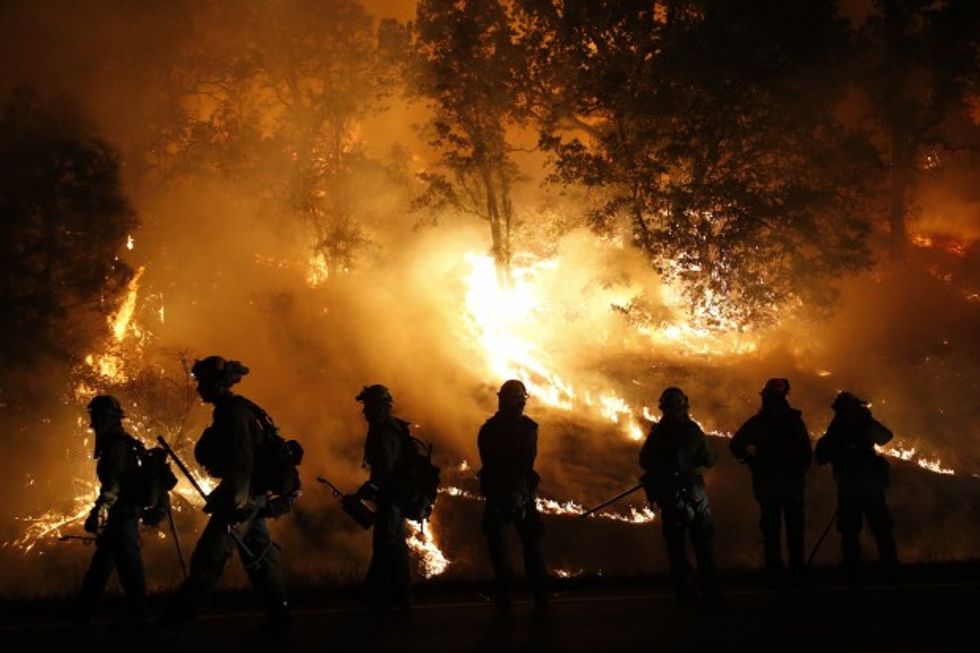 Firefighters with the Marin County Fire Department's Tamalpais Fire Crew monitor a backfire as they battle the Valley Fire on September 13, 2015 near Middletown, California. The fast-moving fire has consumed 50,000 acres after it grew 40,000 acres in twelve hours and is currently zero percent contained. (Stephen Lam/ Getty Images)
The Intergovernmental Panel on Climate Change has said with "very high confidence" that incidents of wildfires in North America are "increasing and are likely to intensify in a warmer future with drier soils and longer growing seasons."
The Los Angeles Times reported Roger Pielke, a climate scientist at the University of Colorado who has been accused of being a climate skeptic (something he says it is a lie), takes issue with how Brown is linking California's current wildfires to climate change and a call to curb carbon pollution. Pielke accused Brown of "noble-cause corruption" and here's more on why from the newspaper:
Pielke said it is easier to make a political case for change using immediate and local threats, rather than those on a global scale, especially given the subtleties of climate change research, which features probabilities subject to wide margins of error and contradiction by other findings.

"That is the nature of politics," Pielke said, "but sometimes the science really has to matter."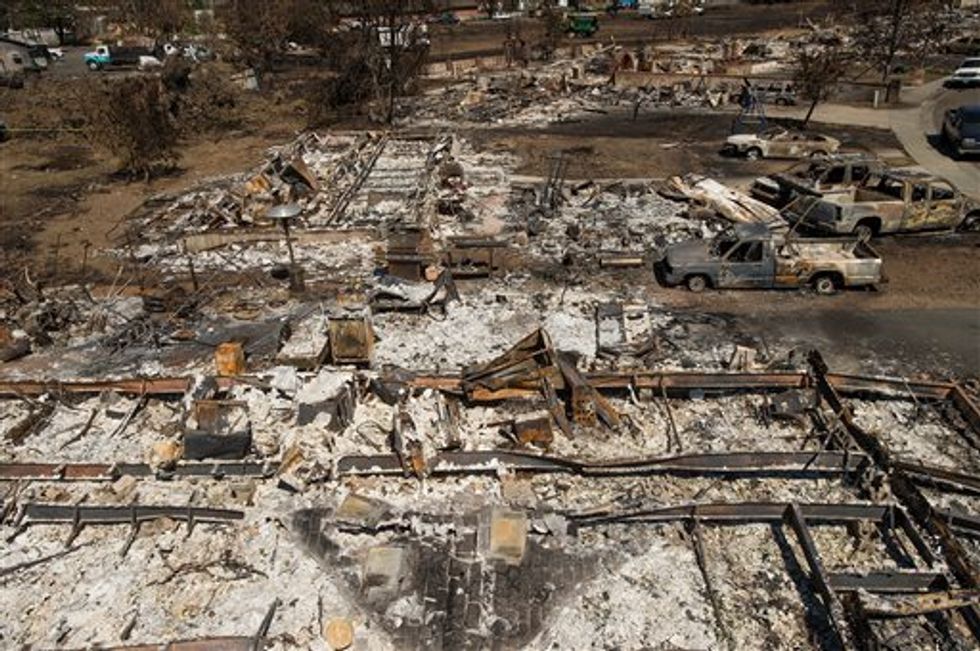 Destroyed homes and vehicles scorched by the Valley fire line Jefferson St. in Middletown, Calif, on Monday, Sept. 21, 2015. According to fire officials, the blaze ranks as the sixth worst wildfire in California history after destroying more than 1,000 structures, burning more than 75,000 acres and leaving at least three people dead. (AP/Noah Berger)
That science, the Times went on to report, includes that climate models predict warmer weather resulting in more forest fires in "future decades" and has suggested that areas of higher elevation will be more affected. The Times pointed to a study published earlier this year that found climate change was not a cause of California's historic drought but that it did lead to increased evaporation, which made the drought's impact worse.
The newspaper also cited experts saying that land management plays a major factor in the state's wildfire situation as well. Here's more on that aspect from the Times:
Fire behavior specialist Jeff Shelton, who provided daily forecasts for the Rocky fire and, later, the Jerusalem fire, said he could not attribute their behavior to climate change. He cited the summer's dry weather, an abundance of fuel created by a lack of previous fires, and steep slopes that allowed the fires to spread quickly.

Ecologists said their behavior was typical of natural chaparral fires, which burn infrequently but intensely.

A regional staff member in Brown's emergency operations office called the fires "unprecedented," a description then used by the administration for other conflagrations.
But those burns were classic plume-dominated convection fires, fed largely by an abundance of combustible material, fire scientists said.

"They are more and more common because we have more and more fuels," said Joaquin Ramirez of Technosylva, an international fire modeling company based in San Diego.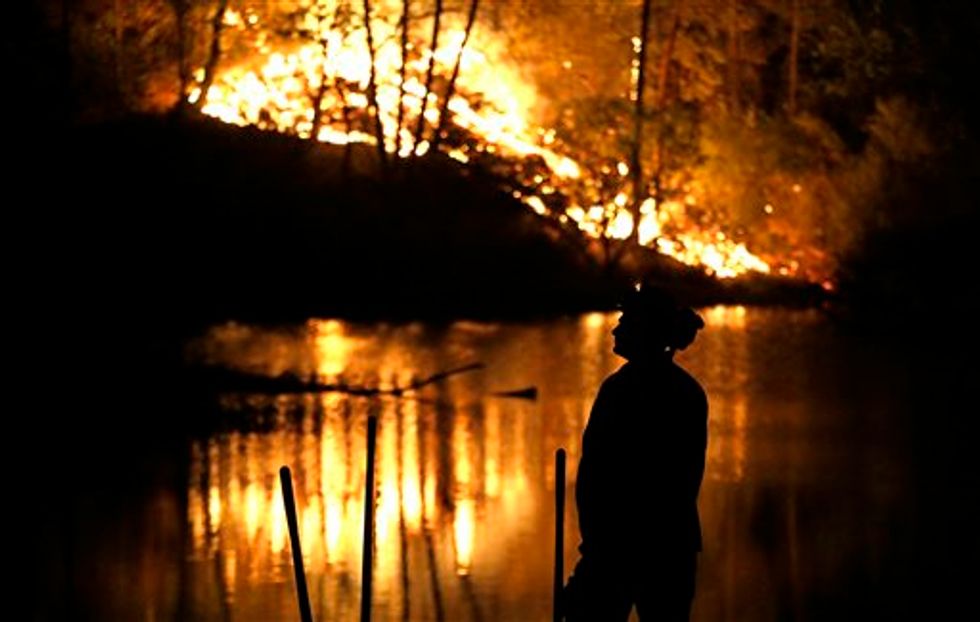 A firefighter stands near a wildfire in Middletown, Calif., on Sunday, Sept. 13, 2015. Two of California's fastest-burning wildfires in decades overtook several Northern California towns, killing at least one person and destroying hundreds of homes and businesses. (AP/Elaine Thompson)
Brown signed legislation on Oct. 7 that requires 50 percent of the electricity sold to retail customers in the state to be from renewable energy by 2030.
"California has taken groundbreaking steps to increase the efficiency of our cars, buildings and appliances and provide ever more renewable energy. With SB 350, we deepen our commitment," Brown said in a statement.
Earlier this month, scientists at the University of Wyoming reported finding historical evidence of extreme wildfire seasons in the Rocky Mountain region. Such fires happened hundreds of years ago, after global temperatures had risen slightly, the researchers found, suggesting that fire seasons like the last bad one in 2012 could become more commonplace because of global warming.
The researchers studied layers of charcoal particles in the sediment beneath ponds in northern Colorado's Mount Zirkel Wilderness, the Casper Star-Tribune reported.
Core samples from the bottom of the ponds showed that wildfires 1,000 years ago were more than two-and-a-half times more frequent than they were in the 20th century.
"This is real evidence things burned more. We're not speculating," said Bryan Shuman, a co-author of the study published in the scientific journal Proceedings of the National Academy of Sciences and geology and geophysics professor at University of Wyoming. "We're showing things really happened. It really was warmer here, and when that happened, there were more fires."
Temperatures rose on average by about 1 degree during the medieval period because the sun was warmer and brighter, Shuman said.
The climate cooled again as the sun's rays dimmed. But temperatures have been rising again over the past few decades, this time by about 3 degrees, Shumer said.
While fires might be bigger and more frequent in the immediate future, that might not be the case long term. The mud samples show that after a couple of hundred years, the increase in fires slowed.
The drop might have been caused by a change in the forests such as fewer trees or a lower density of trees, Shuman said.
—
The Associated Press contributed to this report.