Before the Senate Judiciary Committee even held a hearing on a bill to lighten sentences for drug offenders and other non-violent criminals, the White House expressed their plans to take advantage of reported bipartisan support.
"We certainly are pleased to see there are Republicans on Capitol Hill who also want to see our criminal justice system more cost effective more fair and have it result in communities with lower crime rates," White House press secretary Josh Earnest told TheBlaze. "There aren't a lot of opportunities in this area for Democrats and Republicans to work together in a way that is good for the country and a way that this process has started out in bipartisan fashion and we hope it continues that way."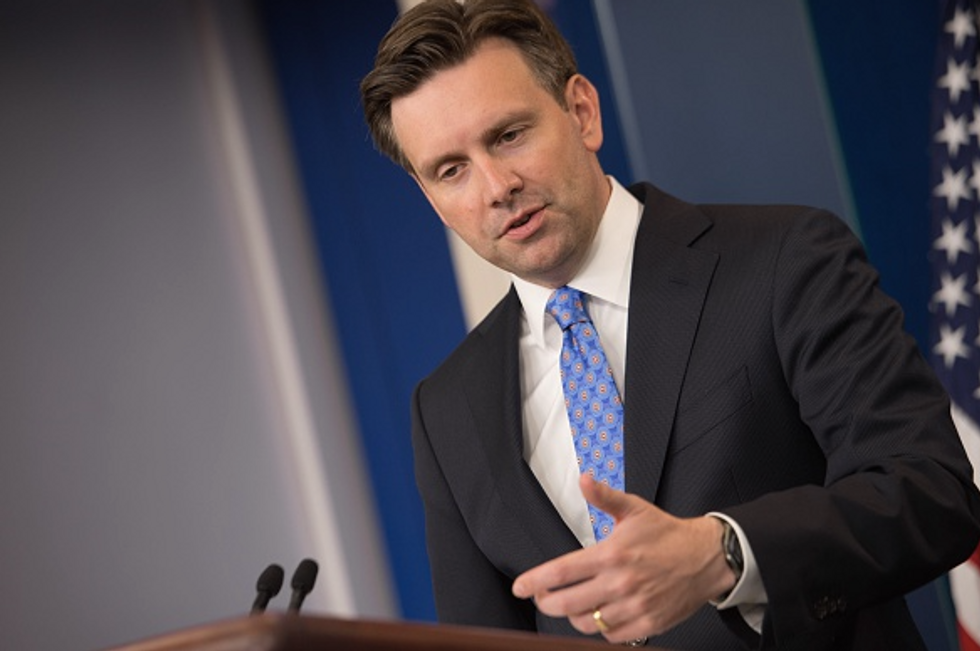 White House press secretary Josh Earnest (Nicholas Kamm/AFP/Getty Images)
He added, "One of the reasons it's so conspicuous is there aren't very many areas of possible, fruitful, bipartisan cooperation. We intend to make the most of this one."
The Sentencing Reform and Corrections Act would shorten mandatory sentences for repeat drug offenders and give federal judges greater discretion on sentencing. It could allow prisoners to apply for clemency retroactively.
Democrats pushing the bill are Sens. Dick Durbin (Ill.) and Charles Schumer (N.Y.). Key advocates on the Republican side are Sens. Mike Lee (Utah), Rand Paul (Ky.) and Lindsey Graham (S.C.).
However, several law enforcement organizations have raised concerns. The National Narcotics Officers Associations Coalition, FBI Agents Association, National Association of Assistant U.S. Attorneys, National District Attorneys Association, Major County Sheriffs Association, Federal Law Enforcement Officers Association, National Immigration and Customs Enforcement Counsel of the AFGE and the National Sheriffs Association have each written letters either opposing the legislation or outlining concerns.
Chiefly, law enforcement groups have said that mandatory minimums have helped reduce crime over the last three decades. Meanwhile, there is already a high recidivism rate.
TheBlaze followed up by asking Earnest about these concerns.
"One of the goals of criminal justice reform is to see what kind of goals we can take to reduce that recidivism rate," Earnest answered. "That kind of recidivism rate is not good for public safety and it's certainly not good for individuals who have gone through our criminal justice system."