The chief representative of the Palestine Liberation Organization appeared on CNN Wednesday and criticized Israeli police for fatally shooting a man who ran at officers with a knife.
"The Israelis are being the judge and executioner at the same time," Amb. Maen Rashind Areikat told host Jake Tapper. "They had had chances to apprehend the people after they shot them."
Tapper immediately corrected the PLO representative, telling him, "If you run at a cop in this country you'll get shot."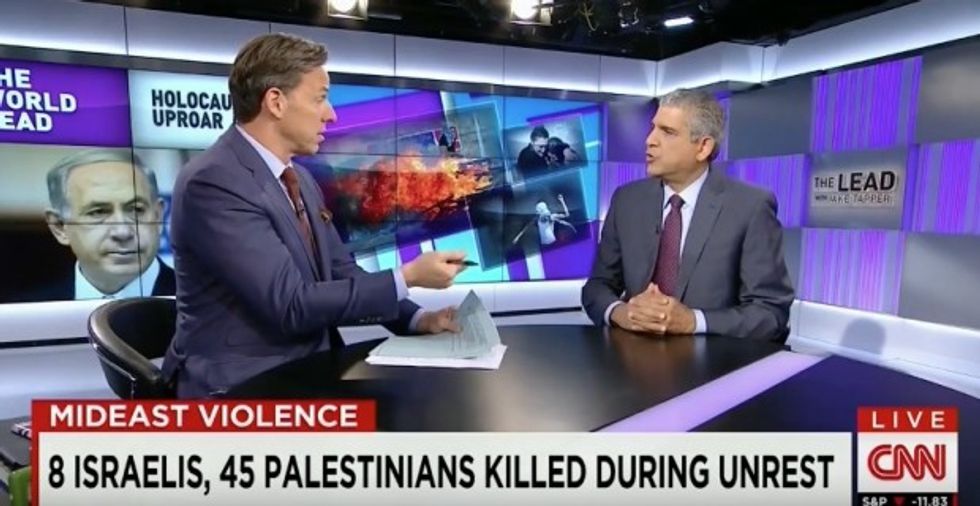 Image source: CNN / YouTube
Areikat then claimed that officers in the U.S. would only shoot to injure.
"Yeah, but policemen try to stop the attacker. They try to shoot to injure him. And if they injure the person they arrest the person and apprehend them," he claimed.
Tapper was not seemingly satisfied with the argument.
"If I have a knife, and I run outside here and I go at a cop with a knife, I am going to get 'executed.' That's how it works," he said.
The exchange took place as a weeks-long string of deadly stabbings spark fear in Israel and renewed tension in the area.
Watch the Exchange:
—
Follow the author of this story on Twitter and Facebook: