Former Secretary of State Hillary Clinton pushed back during Thursday's House Benghazi Committee hearing after Rep. Martha Roby (R-Ala.) claimed her comments on Libya didn't match up with what State Department employees reportedly wrote in emails.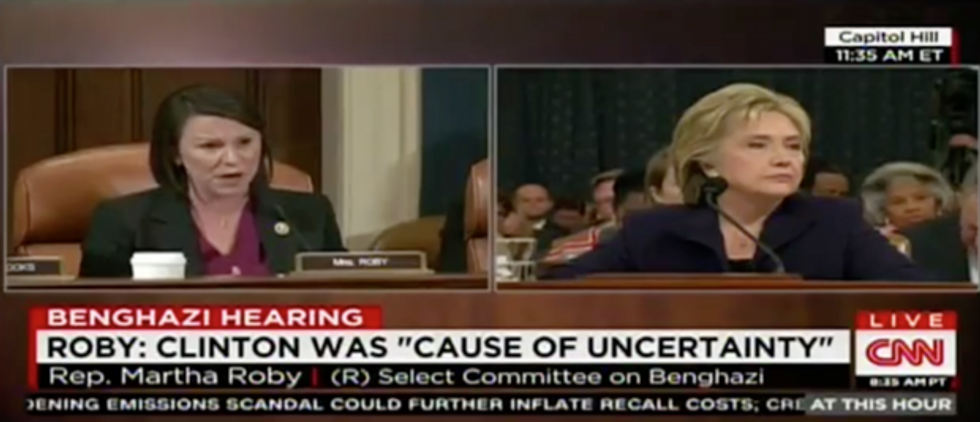 CNN livestream
The exchange started with Roby reading directly from a "troubling" 2012 email reportedly sent from State Department staffers:
"Also the secretary asked last week if we still have a presence in Benghazi. I think she would be upset to hear 'yes, we do.' But because we don't have enough security, they are on lockdown."
In her response, Clinton didn't initially address the reported email and instead said one of the reasons for the CIA presence in Benghazi was to combat the "proliferation of weapons." She also said there was a "constant, continuing effort" to find ways to help in Libya.
"One of the problems we faced is that the Libyans did not really feel that they could welcome a peacekeeping mission," Clinton added. "That made it very difficult."
That's when Roby interrupted.
"If I may, I hear what you're saying but this email says something very, very different," she said.
"I can't speak to that," Clinton responded. "I can just tell you what I was doing and I was doing a lot."
"Sure, but this was your staff and it has to make me wonder if they had this conversation with you, why they would make it up," the lawmaker said.
When Clinton claimed again she had no "recollection" of the conversation detailed in the email, Roby asked her to "turn to tab 31 because it's right there."
Eventually, Clinton claimed they were not part of "the secretary's staff" but were "in the State Department with thousands of other people."
Watch the exchange below:
---
Editor's note: This story has been updated with Hillary Clinton's claim that the State Department employees who wrote the email cited in this report were not part of "the secretary's staff."