Scientists in Australia weren't trying to find a solution to the problem of mercury contamination, but in a happy accident, they developed a new substance that could actually perform that public health benefit.
Described in a news release from Flinders University as a "dirt cheap, non-toxic polymer that literally sucks mercury out of water and soil," the substance was actually made from "industrial waste products" from the petroleum and citrus industries.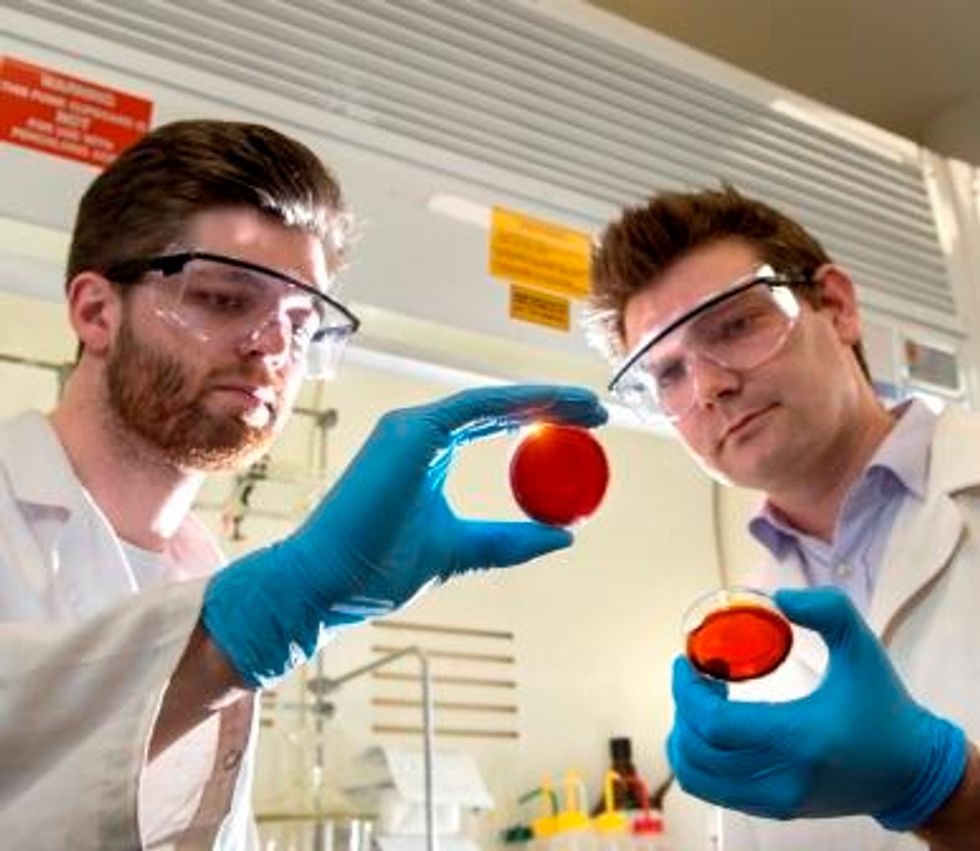 Flinders University chemists Max Worthington and Dr. Justing Chalker hold petri dishes of the new polymer they developed from waste products that absorbs mercury. (Image source: Flinders Unversity)
At the beginning the polymer is dark red, but after it has absorbed mercury, it turns yellow. Dr Justin Chalker, one of the university's chemists who developed the polymer, said it could be used in environmental cleanups, in large bodies of water or even to coat water pipes.
According to the New Daily in Australia, the researchers initially wanted to just make a plastic out of other substances that were widely available.
Those substances ended up being sulphur and limonene.
"More than 70 million tons of sulphur is produced each year by the petroleum industry, so there are literally mountains of it lying, unused, around the globe, while more than 70,000 tons of limonene is produced each year by the citrus industry (limonene is found mainly in orange peels)," Chalker said in a statement.
So one of the components of the new mercury-absorbing polymer, Chalker told the New Daily, "literally grows on trees."
"So not only is this new polymer good for solving the problem of mercury pollution," Chalker explained in a statement to the university, "but it also has the added environmental bonus of putting this waste material to good use while converting them into a form that is much easier to store so that once the material is 'full' it can easily be removed and replaced."
The polymer could also be used as an indicator in areas where mercury contamination is suspected.
Mercury exposure, through eating of contaminated fish or shellfish, for example, can cause adverse health effects, especially to developing fetuses and young children. The Food and Drug Administration states that nearly all seafood contains some amount of mercury. Generally, the larger the fish and the longer it lives, the higher its mercury levels.
According to the World Health Organization, mercury could cause issues with the "nervous, digestive and immune systems, and on lungs, kidneys, skin and eyes."
"Mercury contamination plagues many areas of the world, affecting both food and water supplies and creating a serious need for an efficient and cost-effective method to trap this mercury," Chalker said in a statement. "Until now, there has been no such method, but the new sulphur-limonene polysulfide addresses this urgent need.
The study on the new substance was published in the journal Angewandte Chemie International Edition.
(H/T: Reddit)